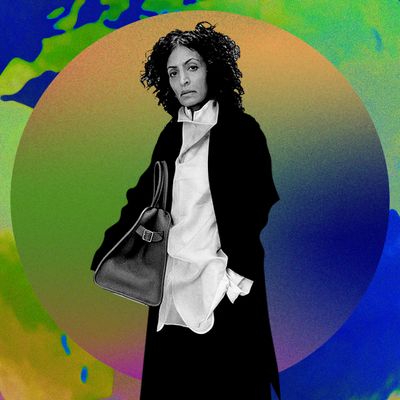 Photo-Illustration: by The Cut; Photo: Neelam Ahooja
Stylist Neelam Ahooja built her entire brand on re-creating looks from The Row. She does it on Instagram and now, YouTube, where she provides extensive reviews of The Row products. Why? Designers Mary-Kate and Ashley Olsen just get it. The Row offers a quiet approach, one that's without the logos and flashy emblems, marked by collections that transcend seasons and trends, making it worth the investment. Its idea of luxury is quality. And though the price tags are indeed hefty, Ahooja shared with the Cut her methodology behind building an enviable collection that prioritizes conscious consumerism on a budget.
Start a wish list
Ahooja's wish list, which includes a few select in-season styles, prioritizes items from past collections that she missed out on the first time around — for example, this alligator-skin Margaux bag by The Row, which rivals an Hermès bag in price. It's available in four different sizes as identified by the width of the bag — 7.5, 10, 15, 17 — as well as a multitude of materials and colorways. The aficionado points out in a comprehensive review the more subdued styles of the tote, already in her possession.
Prioritize accessories
Ahooja refers to accessories as "meaty purchases," meaning they have the power to elevate any look and will earn their worth per wear: "When you have those things, you can take a pair of vintage Levi's with a plain white tee and put that with your Zipped boots, big coat, sunglasses, and oversize bag and suddenly you look like you're head-to-toe The Row."
Some key pieces the stylist suggests investing in? A pair of sunglasses, an oversize bag, and shoes that make a statement without being loud, like the brand's coveted caged fisherman sandals (known among OG fans as the "Gaia") or the leather Zipped boots.
Don't sleep on sale season
Unlike Chanel, Louis Vuitton, and a host of other designer brands, The Row does go on sale. Currently, FWRD has plenty of discounted shoe options; Net-a-Porter has The Row's fall knits up to 50 percent off; Nordstrom has a little bit of everything on sale (but with limited inventory); and Saks Fitfh Avenue even has the brand's kids collection marked down, too. You're welcome.
Shop secondhand
Outside of fashion's seasonal markdowns, Ahooja cites secondhand shopping as a great way for consumers to get their hands on more expensive items for a fraction of the retail price. Between the boom of the market and the influx of options in terms of retailers dedicated solely to reselling, finding something from past collections is easier than ever. The creative frequents e-commerce sites like the RealReal, eBay, and Vestiaire Collective as both the customer and vendor in some instances (though she prefers posting her pieces on Instagram selling directly to her followers).
"I've been shopping pre-owned for many, many years, but recently with my love for The Row, it's really enabled me to fill out my wardrobe," Ahooja says. "It's allowed me to have more of the things that I want and, even more importantly, experiment a little more."
It's a marathon, not a sprint
Be patient and be persistent. In other words, if you want something, sometimes you have to play the long game. "When it's meant to be, it will come back up," says Ahooja. "You may have to wait three years, but it will be there."
Also, contrary to what most vintage experts say, she also suggests not giving up on a secondhand piece just because it's a little beat-up, arguing that you really never know its true potential, especially when you have a skilled tailor and cleaners on hand to bring it back to life: "I recently just bought a coat that I had been hunting for three years. Ashley Olsen had worn it a few years ago and I loved it. I didn't buy it right away and missed the opportunity. I had almost given up and then one day, there it was, but it had definitely been very loved, meaning there were stains and pilling. But I took it to my cleaners and she did such a great job, it almost looks brand-new."
Read the fine print
Ahooja reminds consumers to always be aware of a seller's return policy so that on the off chance it's not a fit, you're not stuck with an expensive item that you can't enjoy. "Absolutely make sure that an item is returnable and refundable," the collector says. "If you're not pleased with it, you're just never going to wear it. So even if you paid 20 percent of the retail price, it's still not worth it."
Like many other luxury collectors, Ahooja has the things that she buys to wear but eventually part ways with and the pieces that will remain in her own personal archive; she cares for both the same. Setting the scene, she first describes her open-concept closet as a "little museum" with no closed shelves, which allows her to keep eyes on what she already owns and makes getting dressed a breeze. She keeps her more special items tucked away in their original packaging (tissue paper, dust or garment bags, boxes, etc.), to protect them from elements such as sunlight. Keeping these pieces in such good condition is her way of showing the utmost respect to the next potential owner, should she decide to ever part ways with an item.
For more from the Cut Shop team, follow us on Instagram and Twitter, where we share our best new finds, favorite styling tricks, and more.