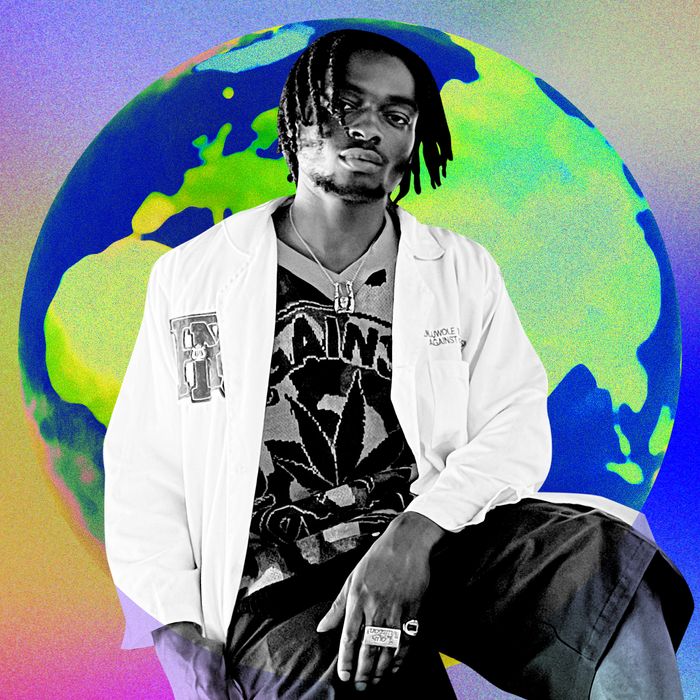 Photo-Illustration: by The Cut; Photo: Courtesy of Wole
Oluwole Olosunde walks down the sidewalk on 38th Street in Manhattan with an entourage of a dozen people. On this July afternoon, he is dressed more for style than the season. On his feet, Adidas high-top sneakers are adorned with perky plush bear heads. And over a knit vest and long shorts, he wears a white lab coat.
The jacket is a reminder that, until this year, Olosunde, 25, led an unusual double life: emergency-department nurse by night and fashion designer by day.
The midtown field trip is part of Olosunde's daylong class, "How to Make It in the Garment District," which he began in May, offering a crash course on the fundamentals of building a brand in the Instagram era.
The big draw of the class is the ten-stop walking tour of Garment District fabric suppliers, trimmings shops, patternmakers and sampling experts. Along the way, Olosunde points out the durable zippers he prefers for jeans and where he found a great deal on corduroy. "This entire area, and everything I've shown you so far, is a network," he tells the students after stopping in front of an unremarkable building. Inside, his favorite seamstress has a studio on the seventh floor.
Osulunde's students, mostly in their 20s, take his class seriously. (The price of admission is $750, after all.) They typically have day jobs in media or retail and didn't train as designers. Most make clothes at home, sewing from scratch or altering pants and jackets with patches and embroidery. A few sell their wares at outdoor markets or online. But almost everybody already has "a brand," in today's parlance, meaning less of a commercial enterprise than a high-concept elevator pitch and a logo, typically formalized by an Instagram account instead of an LLC registration.
The class is intended for self-taught designers who lack the advantages of fancy fashion-school degrees or family connections. And while Olosunde is the teacher, Virgil Abloh could be considered the textbook. Olosunde was inspired by the late designer's circuitous route to the highest levels of luxury after starting his career studying architecture. "Now there are multidisciplinary designers who offer a unique perspective on fashion because they didn't take that traditional route," Olosunde says. "That's what made Virgil so special."
Olosunde was raised in Brooklyn by Nigerian immigrants. He learned to sew at a local tailor's shop while studying for his nursing degree at the University of Buffalo. He worked at New York Presbyterian and managed to save tens of thousands of dollars, which he used to launch his line. For his own brand, Against Medical Advice, many of his designs, like knit bomber jackets and vests, are printed with X-ray images of humans or embroidered with illustration of chromosomes in striking color combinations.
Olosunde assures his students they don't need to be able to even sew or sketch well to have a sample made in the Garment District. A conversation, and a point of reference, can suffice instead.
One of Olosunde's students, who goes only by the name Scarlett, received a different message when she studied fashion in college at Texas Tech. "It was 'You sew, and you do it very well, or there's no other option for you,'" she says. Scarlett, 26, flew in from Miami the morning of the class. She works in retail and as an assistant to an entertainer, and she started making pieces for her line, Mood Swing Studios, last year, including the multicolored, spray-dyed jumpsuit she's wearing to the class. "Right now, I'm just making certain samples and doing stuff for myself to try to get my vision out there by being on Instagram," she says.
Meeluhn Blanc, 27, says she was too intimidated to venture into the Garment District before attending Olosunde's class. She has been sewing her first collection at home while working at a gym, but needs help with more complex pieces. "I was thinking there's a secret code to go by," she says.
Olosunde's syllabus skips over the role of runway shows and offers no tips on getting noticed by Vogue. Department stores get only a passing mention. Instead, he debates the merits of different brands of "blanks" — the plain T-shirts that serve as essential canvases for graphics and logos — and praises Telfar's "Bag Security" made-to-order strategy. "He's the preorder God," Olosunde tells the students.
Even though Olosunde's business is still small scale and direct to consumer, it makes for compelling Instagram content. His account caught HBO's attention and helped him land him a spot on its 2021 streetwear-design competition, The Hype. (He was eliminated halfway through the series.)
Early in the schedule, he divides the students into groups and asks them to brainstorm how they would repurpose a thick crewneck sweatshirt. He applauds a team that proposes turning it into a jacket by adding a zipper down the front.
"I'm always thinking of ways I can repurpose things that I love or silhouettes that are already existing," Olosunde tells them, pointing to his customized Dickies shorts as an example. "It's kind of manifesting the Dickies collab before it even happens."