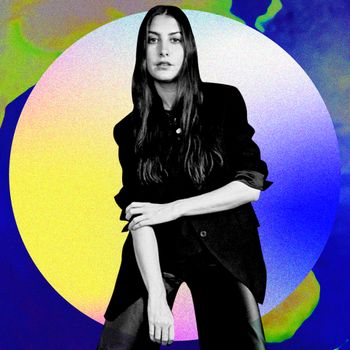 Photo-Illustration: by The Cut; Photo: Morgan Maher
While TikTok is often telling us what we need to buy next (think Shein hauls and videos that urge you to drop what you're doing and go to Target), the most sustainable way to shop is to not shop at all. However, we understand the dopamine hit of wearing something new, and to remedy that, stylist Allison Bornstein is teaching us how to "shop our own closets." Bornstein subscribes to a couple of methods: one she calls "finding your three words" and another she describes as "fashion wellness."
According to Bornstein, everyone from Emma Chamberlain to Amal Clooney has three words that can sum up their style, and these words can help guide you to buy less, sport an outfit that is authentic to you, and look great at the same time. "Shopping your own closet was a response to the overconsumption and the influence of social media and micro trends," Bornstein says. "We see so much newness and so many different trends and aesthetics on the internet, and then we look at our own closet and we're like, Well, I don't have that. Do I need it?"
Here's what she told us about her method.
First, find your three words
The first word is what you wear all the time, and that can be a color, texture, or silhouette. "These are what I call the regulars." Next, Bornstein says the second word is "aspirational." What do all of your fashion icons have in common? Finally, Bornstein says, "I like to think of the third word as more of an emotional word." Bornstein wants you to think about how your clothing makes you feel. (Hers are classic, elegant, and '70s; mine are classic, playful, and feminine.)
Coming up with your three words will not only help you hone in on your personal style, but can play a role in shopping more sustainably too. "When you're shopping and there's something that feels like it's really calling to you, and maybe you like it, but it doesn't go with your style, those are kind of the times to call upon your three words," Bornstein said. It's easy to shop impulsively, but your three words can keep you in check. "You don't have to get these words tattooed on your chest," she says. "These words can change. These words will change, but these are guidelines to keep you focused."
You can even choose words that spell out your commitment to sustainability. Bornstein recommends words like "thoughtful," or "considered" (which she says describe Joan Didion), but you can also go with words like "functional" or "high-quality."
Think creatively about trends
Do you need to buy something new every time another -core comes along? The answer, to Bornstein, is no. If you're looking to participate in a new trend or want to re-create a look you love, she says to start by looking through your closet and pulling the pieces that remind you of it: "A lot of the time, we'll realize that we have what we need."
For example, if she wanted to have a Barbie-core moment despite not owning any hot pink, the stylist says she would start with a funky pair of platform heels she owns and incorporate them into her outfits more often. This allows her to do Barbie-core, but on her own terms, which will also make you feel better than just attempting to fit yourself into the existing trend. "If you're inspired by a look, it won't feel like you're copying and pasting somebody else's aesthetic," Bornstein says. "By shopping your closet, you're using your own things that you already love."
Carve out time to come up with looks
Bornstein does this while watching The Real Housewives. Try stuff on; take photos. This will help you create your own personal look book that you can refer to in moments when you can't decide what to wear. Pay attention to how you feel in the looks; this gets back to Bornstein's idea of fashion as wellness.
Okay, you are about to buy something. Ask yourself these seven questions first.
Bornstein asks herself seven questions before she buys something, and by doing this, she is intentional about her purchases and slows down her consumption process — two things that lead to a more sustainable wardrobe. "We have to remind ourselves that we don't need to buy everything just because we love it," she says. Here are the questions:
1. Do I like this?
This may seem like a simple question, but Bornstein makes sure to do this preliminary check to make sure she actually likes what she's looking at. "For example, a lot of times, we'll buy things because we feel like we need them, but we don't actually like them," she says.
2. Will this make getting dressed easier?
One way to be sure that you're going to wear a garment is if it makes your life easier, not harder.
3. Do I have something that serves the same purpose?
While you don't have to limit yourself to one of everything, asking this question can make sure you don't buy anything unnecessary that you won't wear.
4. Would I be willing to give something up to have this item?
You don't have to swap out another piece of clothing from your closet each time you buy something new, but this question helps you think more deeply about how much you want the piece.
5. Will I have to buy something else to make this work?
"That's always a good thing to ask yourself because we don't want this one purchase to lead to a bunch of other little purchases that are only in our wardrobe to make this one piece work," Bornstein says.
6. Does it suit my style?
Think back to your three words and determine if the piece fits with them. Sometimes, we might see something we like on someone else, but that doesn't mean we have to buy it.
7. Can I see myself wearing this in a year?
"A lot of times clients will say, 'Do you think that this piece is too trendy?' or 'Do you think that this is gonna go out of style?' And what I'd normally say is that it shouldn't really matter," Bornstein explains.
If it passes the seven questions test, add it to cart.
Lastly, remember, you can wear the same thing on multiple occasions.
There's no reason to be ashamed to repeat outfits: "It doesn't signal that we don't know what to wear," Bornstein says. "It signals that we do know what to wear and we can keep wearing it again."
If Fran Lebowitz can wear the same look all the time, you can too.