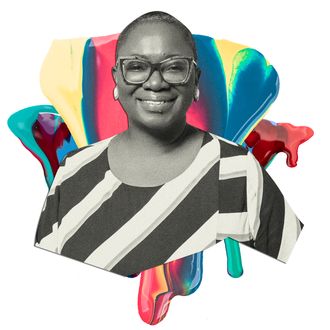 Photo-Illustration: by The Cut; Photo: Michael Rowe
The Root editor-in-chief Vanessa De Luca is a media veteran. Before moving to the site in 2021, De Luca was known as the editor-in-chief of Essence Magazine, a position she held for over five years, and her work has appeared in Glamour Magazine, Life Magazine, and, of course, Essence, where she started as a writer and editor in 2000. In 2005, she became the executive editor of the magazine, a position she held until 2008. After a brief hiatus, De Luca returned as executive editor in 2011 and eventually became editor-in-chief in 2013. She left the position in 2018 to run Medium's ZORA Magazine, a digital publication for Black women, and was the editor-in-chief of the site until joining the Root.
De Luca describes her 20-year career in media as "serving the Black community," something she continues to do at the Root. "We have the Black community's best interest at heart, and none of us takes that lightly. We understand that we have a huge responsibility to serve the audience, whether it's through the website, live events, or videos," she says. As the Root expands its mission from online publication to live events — De Luca is especially proud of the Root Institute, an annual conference that brings Black politicians, activists, thinkers, and entertainers together — the editor-in-chief has a lot on her plate. De Luca lives in New Jersey with her husband John and their two rescue dogs. Her two children, Myles and Madison, are currently in college. Here, she tells the Cut how she gets it done.
On her morning routine: 
The only time that I'm not on my phone is when I'm asleep. It is the first thing that I grab in the morning. I wake up around 4:30 because we have two dogs. They wake up early and they want to be catered to, to be fed and walked. It helps me because I'm able to go into our system at work and see how we did overnight — what stories are trending, what might need to be shifted on the home page. I'm also always checking Twitter.
I'm not a breakfast person. By eight o'clock, I'm looking to see what our audience development team is recommending in terms of trending topics. We're constantly thinking, "What are the breaking stories of the day that we should be paying attention to?" I live in Jersey, so I have a long commute on the New Jersey Transit, and that's when I jump into Slack. Slack is my best friend. I'm on my phone constantly, looking to see what's going on and communicating with our deputy editor on edits. We divide and conquer.
On the sanctity of lunch:
I believe in lunch. I always make sure that I take an hour for myself, and I leave the office. I'm not one of those "eat lunch at my desk" kind of folks. I think it's healthy to get out, walk around a bit, and maybe discover a new place to eat. It's my favorite time of the day because, even though I'm still checking Slack and email, I take time to give myself a really good meal. It's something I do not compromise on because it's important to take some time for yourself and regroup, have a moment to think about what happened in the morning and what you have going on in the afternoon. What can you control? What can you not control?
On being a working parent: 
When my kids were younger, there was a lot of guilt that I felt about not being home. But one thing I did not compromise on was advocating for my children. Whenever they needed me to be at school, that was always a priority, no matter what else was going on at work. And that fight is something that helped me a lot as I grew in my own professional development, because I became a lot clearer around what I stand for and making sure people understood that. It's about integrity and owning your power and understanding that there are things you can ask for, and it's okay.
On coping with stressful situations at work:
I will step away and just call my mom. I'll tell her what I'm doing or what I'm going through. She's retired now, but she was a working mom, so she understands the mechanics of the day-to-day struggles and stresses. I remember very vividly my mom sharing the things she would go through at work with me. She'd come home and say, "I had such a stressful day because of X, Y, Z." I appreciate it because it made me understand, "Okay, this is what people go through. It's not weird. These are the things you have to go through in your work life." It gave me a sense of security that, no matter what I had to face, I could handle it.
On career setbacks:
I started working at Essence in 2000 and worked my way up to becoming executive editor over a number of years, at which point I really wanted to be editor-in-chief. I tried out for the position, didn't get it. I stayed, working toward that goal, and then tried out for it again a couple of years later. I still didn't get it. So I had to reassess and see what the lesson was in that. What I came to was that there were things that I needed to learn. There were parts of the editor-in-chief job that I just wasn't ready for. And that was hard. It's a gut punch when you want something so much and you don't get it, but ultimately I was able to realize that goal, and the timing was perfect because I was able to utilize the time when I wasn't in that role to learn how to do this job. It wasn't time wasted.
On maintaining a strong sense of self:
When I worked at Life Magazine, the editor-in-chief and I had a conversation where she advised me that I was never going to be a star writer. I had to absorb that and sit with that, but I also wasn't going to let that stop me from going where I wanted to go, because that's just one person's opinion. I ended up leaving there and going to Essence, where I had my longest tenure as a writer and editor. You have to decide yourself, "Is what this person's saying true? Do I believe it? Do I feed into it or do I have another belief?"
Ultimately, you are responsible for your own decisions. As a Black woman, you're constantly being bombarded with messages of what you cannot do, what you can't achieve, what you are not ready for, what you are not capable of, what you haven't done. It's endless. You have to fortify yourself and believe, "I have to trust myself at all costs, because if I don't, then I will fail."
On self-care:
I'm a proponent of therapy. It's allowed me to have a space where I can talk about what's really going on in my life and figure out what I think of myself. We all deserve that. People need to get comfortable spending time with who they are, figuring out what they stand for, what they believe, what drives them, what touches their hearts. If you don't know, that's a problem.
On how she winds down: 
I have a long commute, so I try to get out of the office between four or five, but I'm still available. The entire time I'm checking to see what stories have come in, how I can support, what needs to be posted, what needs to be scheduled for tomorrow, all of that. There's not a moment where I'm not engaged until I get home around six. I try very hard to shut everything down by seven and focus on what's going on at home. I love to cook, so I usually spend an hour in the evening cooking our dinner and preparing a meal. I get a lot of satisfaction out of creating something that is nourishing for my family. I also have a culinary degree, so it helps me keep my skills up. Food is restorative for me. That's something that I don't want to deny myself for lunch and dinner.
This interview has been edited and condensed for length and clarity.