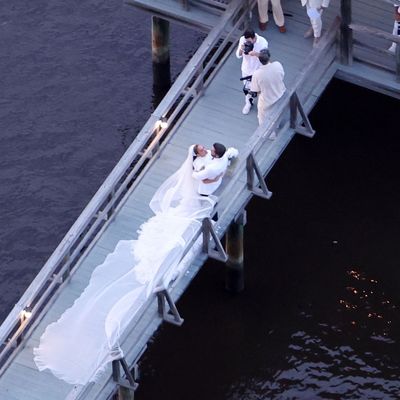 Photo: ENAV, CLTN, LYNX, JOLA, GRHO, RM/BACKGRID
Can you wear white to a wedding? Apparently, at Jennifer Lopez and Ben Affleck's wedding, it's a requirement. During the duo's second set of nuptials at Affleck's home in Georgia, which was problematically built as a plantation replica (Why are celebrities hell-bent on getting married at plantations and plantation-adjacent facilities? Just stop.), guests showed up in all-white attire. The director Kevin Smith posted a photo from the evening, tweeting, "This is as formal as I've been dressed since maybe my First Communion when I was 7." The guests were also reportedly treated to goodie bags in the form of monogrammed, unironic "JB" tote bags.
It's admittedly a shock that J.Lo, a true Leo through and through, relinquished any bit of attention on her big day, although her custom, backless Ralph Lauren dress was hard to miss. But perhaps she made up for it and refocused the spotlight on her by donning an astronomically long veil? It's hard to say just how long the hairpiece was, but it did take up the better part of an entire bridge and drag well out of the frame of many wedding-day pictures. And in multiple photos from the event, there are several people holding or tending to the veil all at once, making this piece of fabric an A-lister all on its own thanks to all of those handlers.
Maybe the ornamental nature of this veil simply came down to J.Lo wanting a more theatrical outfit than the one she wore to their low-key Las Vegas wedding last month. At her first wedding, she wore a sleeveless Alexander McQueen frock, which she called "a dress from an old movie" (did we ever find out which movie?) that she had been saving for "years and years." The musician later switched into a Zuhair Murad dress, bringing the total wedding-dress count to at least three — of course, excluding any she wore in her movies Marry Me and The Wedding Planner. Move over, Mary Fiore!