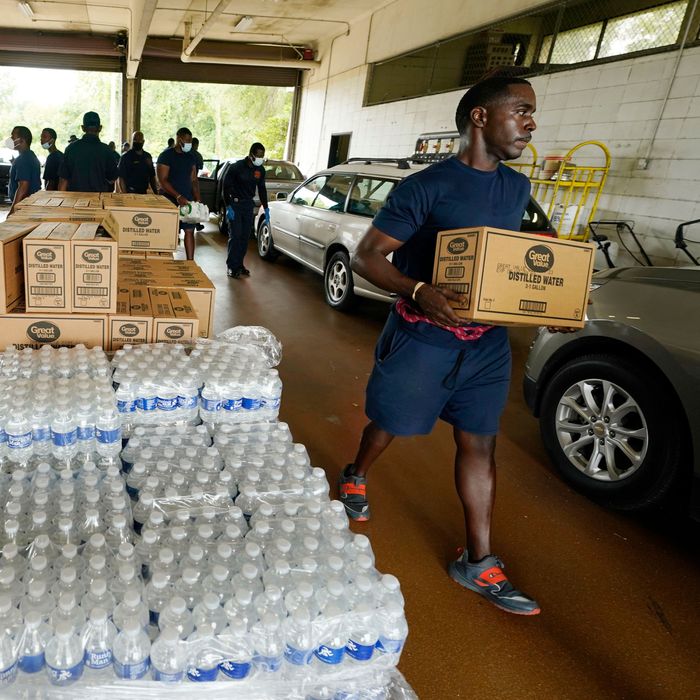 Photo: Rogelio V. Solis/AP
This week, Mississippi governor Tate Reeves announced that the city's long-suffering water system was failing, indicating a water shortage for basic needs like drinking water, plumbing, and firefighting. Reeves subsequently declared a state of emergency, allowing Mississippi to direct funds toward the crisis, but state officials have said Jackson residents will be without drinkable water "indefinitely." Jackson, Mississippi's capital city, is home to roughly 150,000 people with another 30,000 in surrounding communities affected.
As a result of the water crisis, public schools have shifted to virtual learning, many public restrooms are unusable, and some state facilities are without air conditioning amid high summer temperatures. Jackson city officials have attributed the cause of the crisis to flooding of the Pearl River, but Governor Reeves has said the exact cause was unknown and likely a result of an undermaintained and "poorly run" city-managed water treatment plant.
Residents have been directed not to drink the tap water, which Reeves warned is "raw water from the reservoir being pushed through the pipes." Local government efforts to distribute bottled water are underway, but the city temporarily ran out on Tuesday.
Repairing the state's water system will take considerable time and funding, but in the meantime, there are a number of ways to help Jackson residents amid the crisis. Below, a few suggestions.
Donate funds for water to community organizations
Community and mutual organizations in Jackson and Mississippi are working hard to distribute bottled water, which is currently the most critically needed form of assistance. Maisie Brown, a Jackson State University student and activist, has shared a number of these organizations on Twitter.
Operation Good has begun collecting and distributing water cases to local households, but need funding to continue — their CashApp for donations is $operationgoodms.
Immigrant Alliance for Justice and Equity is supplying water to Jackson residents from its headquarters at 406 W. Fortification St., and are collecting funds via Venmo and CashApp at @IAIEofMS.
Mississippi Rapid Response Coalition, a group of many smaller local organizations, is raising funds for water through ActBlue, a registered charitable organization.
Cooperation Jackson is a cooperative network aimed at economically empowering the local community. They're currently raising funds specifically intended to assist the homeless, the elderly, and those with limited transportation.
If you can provide on-the-ground support: Drop off water locally, or volunteer to help distribute.
Working Together Jackson is a local coalition calling for water donations to distribute in South Jackson. The organization has said donors can bring potable and non-potable water to the New Horizon Church International (1770 Ellis Ave.). In addition to water donations, that church is accepting cash donations, along with the Greater Allen Temple AME Church on 1650 Topp Ave. (CashApp: $GATAMEC).
City officials have said that people in the Jackson area who wish to volunteer should email rapidresponse@peoplesadvocacyinstitute.com.