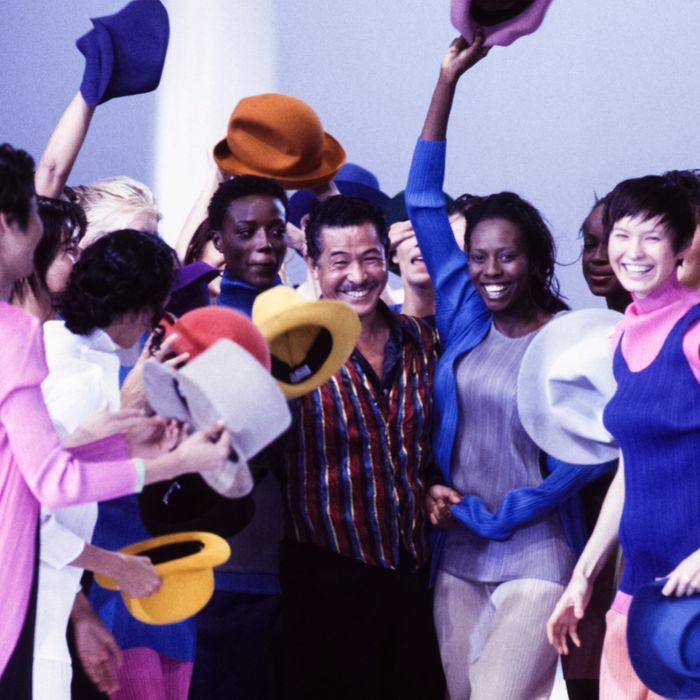 Issey Miyake after his show in 1993.
Photo: PAT/ARNAL/Gamma-Rapho via Getty Images
Issey Miyake, who pleated his way into fashion history — though he preferred to be known as a designer of clothes, not fashion — died on August 5 at the age of 84, the Miyake Design Studio announced today. The cause was liver cancer.
Miyake reigned for more than 50 years as one of the greatest designers of his generation, revered by his fellow designers and by the artists, architects, and thinkers who were loyal — in some cases, to the point of exclusivity, nearly cultishly so — to his clothes. Steve Jobs, the late Apple founder, famously wore only Issey Miyake turtlenecks after trying (and failing) to convince Apple to make Miyake vests a company uniform. ("Everybody hated the idea," Jobs told his biographer, Walter Isaacson, so Miyake instead made enough black turtlenecks for him to wear for the rest of his life — which he did.) But Jobs was only the most famous devotee. The artists Christo and Jeanne-Claude, famous for wrapping monuments like the Reichstag and the Arc de Triomphe in fabric, swathed themselves in Miyake. Suzy Menkes, the International Herald Tribune's fashion editor, famously wore little else in recent years, and the architect Kengo Kuma is a professed fan. Miyake might have emerged with a guard of pathbreaking designers from 1970s and early '80s Japan — Kenzo Takada, Yohji Yamamoto, and Rei Kawakubo among them — but, like theirs, his influence has hardly waned. Last week, I met the young curator and art writer Antwaun Sargent on a 90-plus-degree day in Brooklyn. I was sweating in denim; he was breezy in black shorts and a sleeveless vest in Miyake pleats.
Kazunaru "Issey" Miyake was born in Hiroshima on April 22, 1938, and seven years later was present when the atomic bomb devastated the city. His mother died three years later from radiation poisoning, and Miyake to the end of his life preferred not to talk about the experience, though he remembered it vividly. ("When I close my eyes, I still see things no one should ever experience," he wrote in a rare essay about it for the New York Times in 2009, encouraging a visit by President Obama to the city in the name of peace. "A bright red light, the black cloud soon after, people running in every direction trying desperately to escape — I remember it all.") After studying graphic design in Tokyo, he moved to Paris and the school of the Chambre Syndicale de la Couture. In Paris, he worked in the ateliers of Guy Laroche and Hubert de Givenchy, but he was equally impressed by the student revolutions of May 1968, which he witnessed firsthand. Couture was stuffy; young people protesting in T-shirts and blue jeans struck him as more modern. After a vacation in New York, he gave his notice to Givenchy and returned to the city to work for the American master Geoffrey Beene. Six months later, he returned to Tokyo. In 1970, he founded Miyake Design Studio.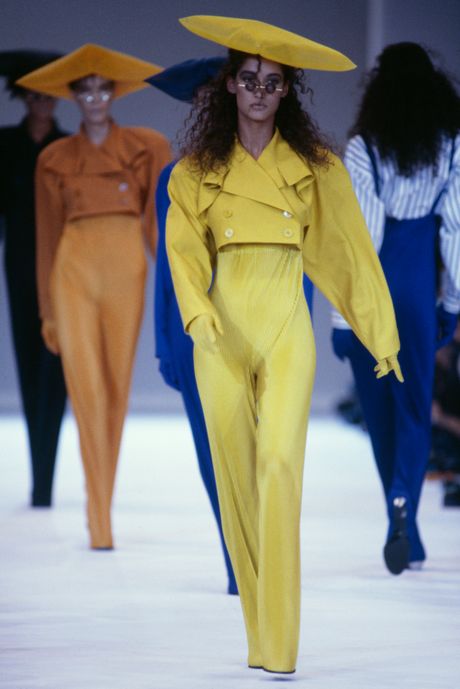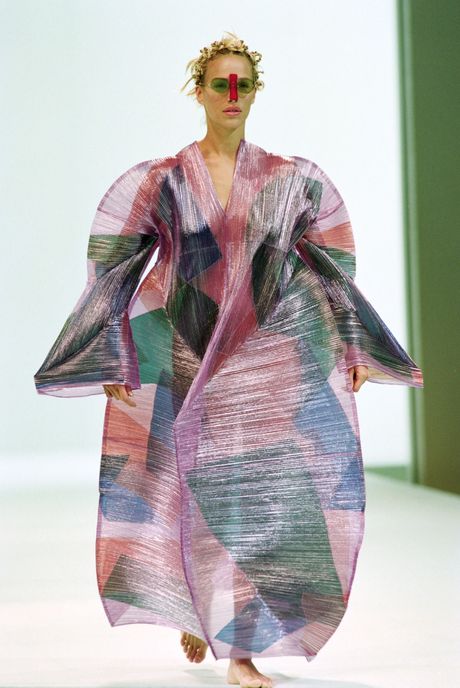 Miyake's designs — sculptural, architectural, engineered almost as much as designed, often from a single piece of cloth — required a little readjustment for those used to the darts, seams, and curves of much of French fashion, but he quickly found success nonetheless. Bloomingdale's bought his collection in 1971, and in 1973, he began showing on the runway in Paris. He started small but within a decade was selling millions of dollars' worth of clothing worldwide. "Issey Miyake's time has come," a young Anna Wintour announced in the pages of New York in 1982. "He is, at 43, Japan's leading designer, and, with the eyes of the fashion world fixed firmly on the Orient, his clothes, his proportions, suddenly look right." The rest of America was a little slower on the uptake — "Issey, how do I work this?" a would-be wearer was quoted while wrestling with a raincoat in the 1985 Time magazine cover story that would dub him the "Maestro of Style" — but not for long. "They used to say, 'It's like a sack of potatoes,'" Miyake told an interviewer. "Now they understand my clothes."
In 1993, Miyake introduced Pleats Please, the collection for which he is best known. He had been experimenting for two years to develop a heat-pressing technique to iron permanent pleats into polyester jersey — to achieve the effect, the fabric is cut and sewn at twice the size of the final accordion-pleated garment — and created a full collection of unmussable clothing. (Fortuny's famous pleats will eventually go slack, a Miyake hand once whispered to me, but not Issey's. His are even machine washable.) Like the tectonically plated Bao Bao bag, another signature, Miyake's pleats have been a reliable mainstay, even among fickle fashion types. A men's pleats collection, Homme Plissé, was introduced in 2013.
As other houses went through acquisitions and ownership dramas, Miyake Design Studio remained independently owned, allowing Miyake the freedom to guide its destiny — and personally sign off on every item, even after he stepped back from the day-to-day management of design — and to collaborate with like-minded artists, like the great photographer Irving Penn, who published a monograph of his photos of Miyake's work, and Shiro Kuramata, the late Japanese architect and industrial designer who designed some of Miyake's early stores and the bottles for some of his perfumes. Frank Gehry, the Pritzker-winning architect, designed both the space and the crushed-metal sculptures for Miyake's Tribeca store, which opened in 2001.
Miyake believed in the human connection between people and their clothes — "I believe in a human being and a piece of cloth," he would say — and the joy of wearing them. (Fuku, the Japanese word for "clothing," his company liked to point out, also puns on "fun.") But apart from his friends, colleagues, and studio, Miyake left no immediate survivors. According to Miyake Design Studio, there will be no funeral or memorial service.