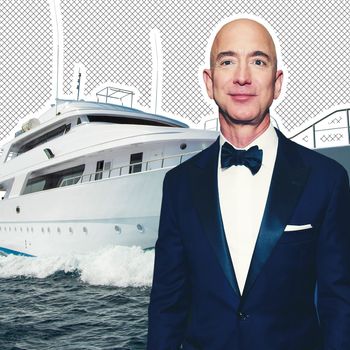 Photo-Illustration: The Cut; Photos: Getty Images
Residents of Rotterdam, rejoice, for Jeff Bezos's giant superyacht is officially (almost) out of your waters. Rotterdam citizens were furious earlier this year when reports suggested that Bezos would be paying to disassemble (and then reassemble) the city's Koningshaven Bridge, also known as De Hef, to allow his massive 417-foot-long yacht to pass through.
Now, months after the initial uproar, Bezos's boat has been quietly rerouted, slinking away in the middle of the night — not an easy feat considering the boat is being built to house three deck levels, a swimming pool, and a helicopter landing pad (not to mention the accompanying baby yacht).
Citizens of Rotterdam swore in February that, should Bezos's superyacht traverse the De Hef bridge, they would pelt it with eggs in protest. So, naturally, when it finally came time to move the still-unfinished vessel, called Y721, out of its current Dutch shipbuilding yard, the decision was made to tow it away under cover of darkness. Like a huge, 200-foot-tall bandit.
According to a video captured by Dutch Yachting, a yacht-enthusiast news channel on YouTube, Bezos's pet project left the shipbuilding yard at 1 a.m. and arrived at the yard in Greenport, Rotterdam, sometime around 3 a.m. The website claimed that the yacht actually took a roundabout way out, passing by four bridge openings to make a 24-mile route, supposedly opting out of an alternative 14-mile route to avoid passing under De Hef.
The superyacht's construction will continue in the Greenport yard, far away from De Hef and the angry, egg-holding residents of Rotterdam.