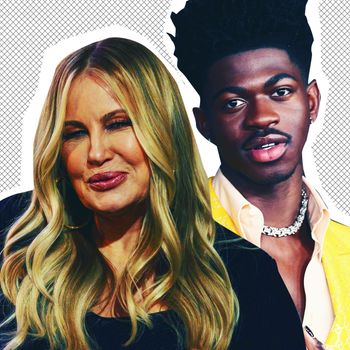 Photo: RB/Bauer-Griffin/GC Images/Steve Granitz/FilmMagic
Lil Nas X has won Grammys, topped charts, and put out some of the most talked-about music videos in recent memory. But now he has the opportunity to do something truly spectacular: collaborate with Jennifer Coolidge.
Coolidge is currently enjoying her Emmy nomination for The White Lotus and prepping for the release of season two, which means she's got a lot of press to do. And, in a recent interview with Variety, the veteran comedian revealed a surprising request: She wants to be in a music video with Lil Nas X. The question, it seems, was in reference to her appearance in Ariana Grande's "thank u, next" video, asking if she'd like to appear in another one. "I could plant the seed, I'd be in Lil Nas's next video," Coolidge said. "I'm just gonna put that out there." Um, yes. I need this — no, the world needs this.
Lil Nas X is known for being extremely online, but the rapper has yet to respond to the interview clip, which was posted on Twitter. Once he sees it, however, I have to imagine he's going to pick up the phone ASAP. Just imagine what these two could do together. The man who re-created an entire episode of Maury for promo and the woman who helped cement the "bend and snap"'s place in pop culture could only make magic.