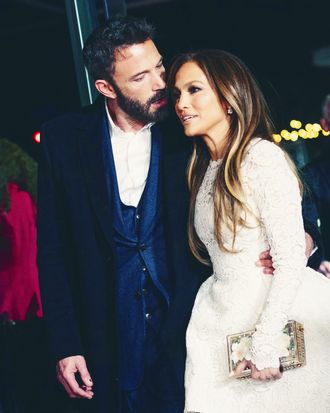 Photo: VALERIE MACON/AFP via Getty Images
This weekend, J.Lo and Ben Affleck followed up their casual Vegas wedding with part two: a big three-day event at Affleck's sprawling estate in Riceboro, Georgia. As with all things Bennifer, it was heavy on nostalgia — Affleck bought the estate in 2003, when the couple was first engaged, and they were planning to get married there before they called their engagement off. Which is romantic, assuming you ignore the fact that the estate is actually an imitation plantation house designed to reference the property's history as a rice plantation worked by slaves and Creek Indians.
Per WTOC, Affleck's Hampton Island estate is built on land once owned by Roswell King, a slave owner and plantation manager. King lived adjacent to the island, where the slaves' quarters were and where, in 2000, the property's owner at the time enlisted an Atlanta architect to re-create "an antebellum estate," which included a main house, a guest house, and horse stables. The property is also reportedly home to an unmarked slave graveyard. Affleck bought the estate a few years later, and he and J.Lo reportedly had plans to build a chapel on it before they broke off their engagement.
This is not the first time Affleck's connections to slave owners have made headlines. In 2015, WikiLeaks released a spate of Sony e-mails that included messages from Affleck asking the PBS show Finding Your Roots to leave out a segment in which he learns his great-great-great-grandfather was a slave owner in Savannah, about an hour north of his Riceboro house. That clip never made it into the episode — PBS later admitted that Affleck had "improper influence" over the editorial process — which focused instead on Affleck's mother, a Freedom Rider in the Civil Rights Movement. Amid accusations that he was trying to cover up his family history, Affleck addressed the controversy in a Facebook post in 2015, writing:
I didn't want any television show about my family to include a guy who owned slaves. I was embarrassed. The very thought left a bad taste in my mouth … I regret my initial thoughts that the issue of slavery not be included in the story. We deserve neither credit nor blame for our ancestors and the degree of interest in this story suggests that we are, as a nation, still grappling with the terrible legacy of slavery. It is an examination well worth continuing. I am glad that my story, however indirectly, will contribute to that discussion. While I don't like that the guy is an ancestor, I am happy that aspect of our country's history is being talked about.
Affleck's family history aside, the couple's choice to get married on a former slave plantation is, unfortunately, far from unique. Dozens of former plantations now function as wedding venues, and a handful of celebrities have gotten married at sites with a similar history to Affleck's, including Reese Witherspoon and Ryan Phillippe in 1999 and Hailey and Justin Bieber in 2019. In 2020, Blake Lively and Ryan Reynolds apologized publicly for holding their 2012 wedding at South Carolina's Boone Hall Plantation, which features a row of intact slave cabins called Slave Street. In a Fast Company interview, Reynolds said he and Lively were "deeply and unreservedly sorry" for the decision. "What we saw at the time was a wedding venue on Pinterest. What we saw after was a place built upon devastating tragedy," he said. Pinterest and other wedding-planning sites have taken some responsibility for promoting these spaces as party venues. In 2019, five of them pledged to make changes around their treatment of former plantations, including removing language like "charming" or "elegant" that romanticizes the sites of mass atrocities.
The Cut has reached out to Affleck's representatives for comment and will update this post when we hear back.