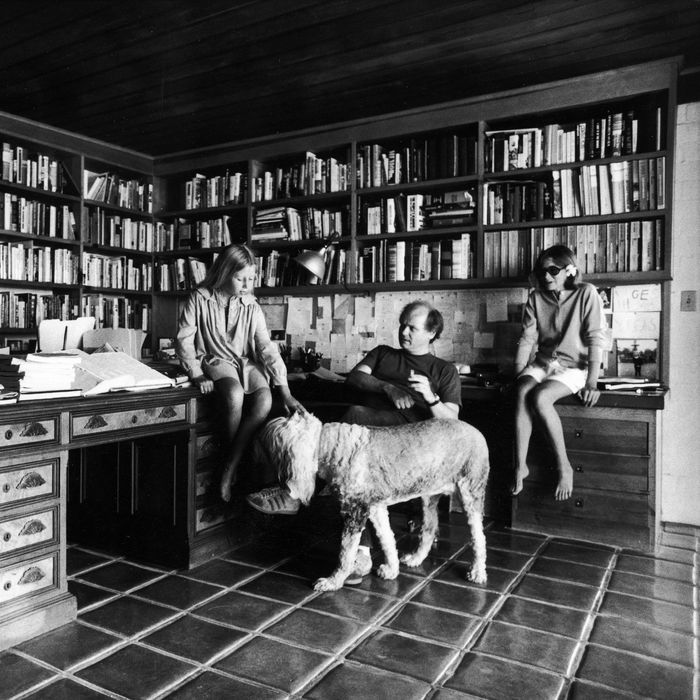 Ah, to own a stapler from this room …
Photo: John Bryson/Getty Images
Time to stop buying farmers' market tomatoes and start saving because Joan Didion's estate sale is fast approaching. Stair Galleries has announced that "An American Icon: Property From the Collection of Joan Didion," a vast collection of objects from multiple homes Didion lived in over the course of her life, will take place on November 16. I hope you are prepared to consider how much you'd shell out for a pasta strainer from Didion's kitchen.
I probably do not need to tell you that Didion, who passed away in December of last year, was both a legendary writer and woman of taste. Despite what Harry Styles may tell you, we do not know what it was like to actually live in one of Didion's homes, but we have plenty of photographic and film evidence of her living spaces, which were a lot busier than her fashion style but no less chic. (Remember how cool she made wire fruit baskets look?) And now, for what is probably a very high price tag, you may get a tiny piece of Didion's home to take back to yours.
Didion's beloved style has proven lucrative in the past: In 2014, she sold two pairs of her sunglasses for $2,500 each to fund her nephew's documentary about her. This sale is a tad more expansive: It will include art, décor, furniture, books, and other knickknacks collected from Didion and her late husband John Gregory Dunne's homes in California and, later, New York's Upper East Side. There will be paintings from her artist friends like Jennifer Bartlett and Ed Ruscha, other glamorous artifacts, like photographs by Patti Smith, furniture, and family heirlooms — plus Didion's beautiful kitchenware. No word on whether the items on her iconic packing list will be up for sale, but please keep it in your prayers.
Proceeds from the sale will be donated to a yet-to-be-announced charity. Starting on November 4, the gallery will show the items up for sale in a gallery exhibit in Hudson, where you can surround yourself with the detritus of Didion's life at your leisure. I imagine there will be some very tight security.