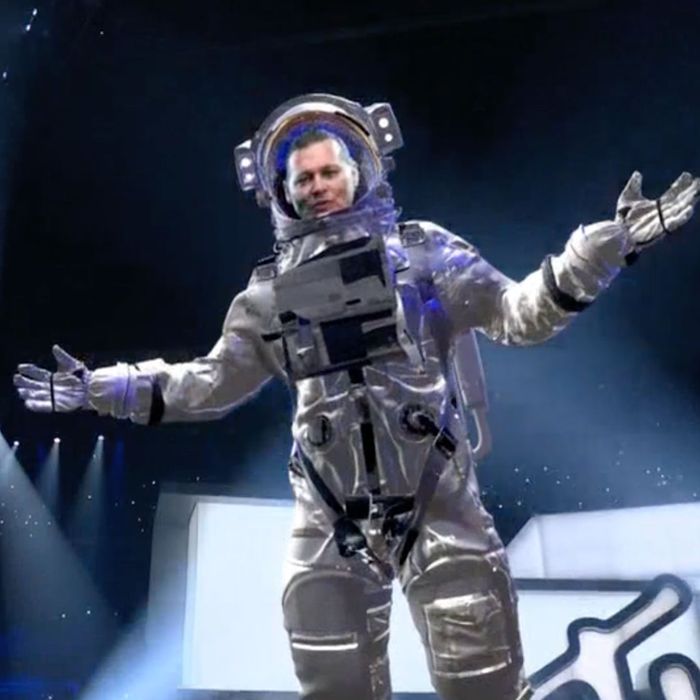 Of all the people in all the galaxy, MTV could not find someone other than Johnny Depp to be the face of the moon person at the Video Music Awards? In a very confounding turn of events, Depp made a prerecorded cameo at the network's Video Music Awards on Sunday night — an unsettling stop on his current comeback tour. Seriously, who asked for this?
Depp appeared briefly during the show before a commercial break, delivering a message to audiences from the giant moon person suspended above the stage. (Depp himself does not appear to have been in the costume, but his face was projected onto the surface of the moon person's helmet.) "I just want you guys to know that I'm available for birthdays, bar mitzvahs, bat mitzvahs, weddings, wakes — any old thing you need," he said in one appearance. (In another brief appearance, he reportedly explained that he "needed the work!")
It's funny (it's not), because he was supposedly "canceled" after his ex-wife Amber Heard accused him of abuse, remember? Of course, he wasn't, in part because fans and the media painted him as the "good guy" despite the fact that he once texted a friend that he wanted to drown Heard, set her on fire, and "fuck her burned corpse afterward to make sure she's dead." Since winning his defamation suit against Heard — though he himself was found guilty of one count of defamation against her — Depp's comeback has involved a TikTok debut, touring with Jeff Blake, and the announcement that he will be directing an upcoming project co-produced by Al Pacino. And now he's a moon person. Who knew being "canceled" meant getting so much work?