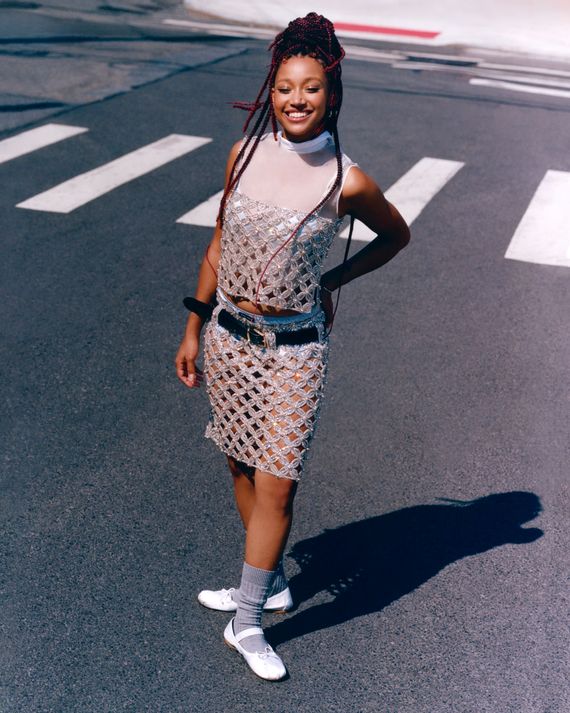 Miu Miu
tops (2), skirt, bra, brief, belt, socks, and shoes,
available at miumiu.com.
Jennifer Fisher
Classic Cuff bracelet and Natasha Huggies earrings,
available at jenniferfisherjewelry.com
.
Photo: Lea Winkler
"Every generation has a new wild beast to tame," Amandla Stenberg tells Hunter Schafer with sincere urgency in her voice. Theirs, as members of Gen Z, is big tech, or "the Wild West of the internet," as Stenberg puts it.
The 23-year-old actresses are lounging in their respective homes in conversation for Stenberg's July-August Cut cover. From her couch in Brooklyn — Schafer is posted up in her Los Angeles living room — Stenberg is going on about the metaverse and augmented reality. "I traverse the metaverse," Stenberg says, "the multiple digital realms."
It's perhaps exactly what you'd expect (or not) from a longtime member of Hollywood's vanguard of promising young stars. Since Stenberg's breakout moment, which came a decade ago when she starred in the first installment of the Hunger Games franchise, she has consistently worked across film and television, inviting both acclaim and criticism along the way. Soon, she will take on the lead role in the highly anticipated Star Wars series The Acolyte, but now she's taking a tiny break after starring in one of the wittiest, horniest films of the summer, Bodies Bodies Bodies, Halina Reijn's A24 slasher-comedy whodunit based on a spec script from "Cat Person" short-story writer Kristen Roupenian and adapted further for the screen by Sarah DeLappe.
Bodies Bodies Bodies follows a group of privileged 20-somethings hiding away at one of their parents' mansions while a tropical storm roars outside. Stenberg stars as Sophie, a former core member of the friend group who has recently left the group chat for a stint in rehab and who brings her socially awkward girlfriend, Bee (Maria Bakalova), to meet the gang during a "hurricane party," much to the chagrin of Sophie's friends, played by Pete Davidson, Rachel Sennott, Myha'la Herrold, Lee Pace, and Chase Sui Wonders. When they all decide to play a game (the titular Bodies Bodies Bodies) in which one of them must "kill" the rest of the crew after turning out the lights, things take an unshockingly deadly turn. Problematic personas be damned — these frenemies get really nasty, throwing verbal daggers at one another by calling out their misunderstandings of "gaslighting," "triggering" language, and "safe spaces."
It's a biting satire that dissects a culture that breeds a self-righteous sensibility that can be — unfairly, solely — pinned on Gen Z. "I've been canceled so many times," Stenberg half-jokes to Schafer during their conversation over Zoom, in which both of them squeal with delight several times at the mere sight of the other.
Amandla Stenberg: Get cozy, Hunty. I have to try to recollect the first time I ever met you.
Hunter Schafer: The first time we met was at our friend's ex's house. Then I moved to L.A. and was so kindly taken into your gay-ass friend group here — and the rest is history. When you first told me about Bodies Bodies Bodies, were you already attached to play the character of Sophie? Or were you just getting the script and later going to figure out which character was your tea?
Amandla: Well, this is the hot goss: Originally, we were talking about you potentially being Sophie's girlfriend, Bee.
Hunter: I wasn't sure if we were going to talk about that in this interview, but yes.
Amandla: I also thought of myself as a potential Bee candidate, but I realized Sophie would probably be more challenging — to lean into those more extroverted and animalistic tendencies. Not that I don't possess those, but they're not the parts of myself that you recognize immediately when you meet me.
Hunter: That's definitely more of a few-years-into-knowing-you kind of reveal.
Amandla: The long con.
Hunter: Were you looking for a character that would show another side of yourself?
Amandla: I never feel I'm looking for a specific type of character. I thought the writing of the script was so layered, synced, and gloriously trashy. I felt like I was part of this friend group. I hated them and I loved them — and I understood the intellectual-competition game that they played with each other. I reviled them and abhorred them and still wanted to keep spending more time with them, which was fascinating.
Hunter: There's not necessarily one likable character that I think the audience is supposed to side with, right? You're not really sure who to trust.
Amandla: They embody many layers of hypocrisy, and that is the point of the characters. You're not supposed to love them. It's okay if you love them a little bit, though.
Hunter: In the past couple of years, I've noticed I don't want to watch things about good people. I don't know if you've ever experienced this. I think that's why Succession did such a number on us — because everyone is just fucking nasty.
Amandla: This funny thing happened with the birth of cancel culture in which we started canceling characters. I actually feel that is detrimental to what film is supposed to be about, which is putting terrible people on screens and laughing at them sometimes when necessary. That's a very healthy way for us to expel our demons. If we can take our demons and splash them across the silver screen and take a good look at them, maybe we can be more aware of them, and maybe we can laugh while we do it, and then the ego death comes a little easier.
Hunter: The ego death! Do you feel an overlap with Sophie at all, as far as her demons and your demons? Or your angels and Sophie's angels? How easy was it for you to step into her?
Amandla: A bit too easy, I'm afraid, love. Like a Slip 'N Slide. There are elements of her that I aspire toward but don't feel I have in myself naturally; there are elements of her that scare me.
Hunter: Like what?
Amandla: She's ruled by her desire, and so she makes her feelings and needs known to the world. There are elements of that I can relate to, but I don't center my own desires in the same way. It's such great fun when you know you're not playing a good person — you're really liberated from any and all judgments that you might make of yourself. And it then becomes really fun to explore the nastiest parts of yourself. I think we all have that experience with someone in your life whose love is given to you a little too easily and then taken away from you a little too fast. It fluctuates in that cycle: love-bombing and then retracting. I knew Sophie was going to be like that from the jump — someone who isn't an anxious attacher.
Hunter: Who would you want to be stranded with in a hurricane party?
Amandla: If we're talking about practically, someone who's going to really make sure that we get out of our location safely and onto new horizons safely, I'd probably pick Myha'la because she really is the embodiment of her character: She's deeply logical and fastidious and giving and on point and just clear as a whistle. Who would I choose to be trapped in a hurricane with on a nonutilitarian tip? It would probably be you, because I know at least we'd go out with a bang.
Hunter: We would just go straight into the eye of the storm. Bodies Bodies Bodies satirizes Gen-Z culture and the other generations' response to it. What do you think is the most misunderstood trait of a typical Gen-Z person like you and me?
Amandla: I think people think that we are stupid because we look at our phones. People who are not part of our generation think that we are disconnected from reality because we look at our phones, not understanding that the landscape of reality is shifting to multiple dimensions.
Hunter: That's something you know maybe better than many people in our generation.
Amandla: Because I play VR? I'm a big Oculus user, Meta user. Sheesh. I traverse the metaverse, the multiple digital realms. That is where we are heading. It is inevitable. I think augmented reality is the future. It's going to arrive yesterday, and I'm so excited to show you the augmented-reality game that me and Myha'la worked on. We were fully scanned in 3-D. I'm playing a hacktivist, and my job is basically to stop the corporation from allowing these AR goggles to manipulate and control people's memories.
Hunter: Oh shit!
Amandla: Bodies Bodies Bodies is definitely about big tech, manipulating people's memories and relationships and fears and values and language and culture. You originally asked me if this film makes fun of Gen Z, and, yes, it does, but it more so makes fun of the culture that we exist in, not necessarily us as individuals. Every generation has a new wild beast to tame, and ours is this one — it's so entrenched with ego and self-image and technology in this crazy, vibrant, expansive new way. There's no legislation around it because we're in the Wild West of the internet. I think about the way information is being disseminated right now as the Roaring '20s again. But this Roaring '20s is not about flappers and Champagne and jazz and Parisians migrating and all that.
Hunter: No, it's about flexing, right? It's flexing in all of the ways you could do it in the most surface-level way and then also flexing how good of a person you might be or something.
Amandla: There's always been the Gatsby flex of social hierarchy and how you present yourself and your wealth and your access, but that was so spot on. I think what was so much fun for us to dig into was the virtue-signaling flex, the soul flex, the moral and social flex of hypercontemporary quandary.
Hunter: It's our beast to tame. I don't think anybody feels like, Oh yeah, I love our Gen-Z culture with all this righteous shit going on. But very few are bold enough to be like, Fuck it, or I'm exempting myself from this because, still, we live in it.
Amandla: You don't have a choice. We're literally on the precipice of our digital realities, which already, even if it's not tangible — we're not looking at it with our eyes; we're not touching it — the fabric of our lives is now woven with these digital platforms. Our relationships are formed through social media. Our spatial understanding of communities, other people, and other countries — we start to conceptualize them through social media. I can't even imagine kids who are born into it.
Hunter: Tea. You mentioned cancel culture — does having social-media accounts and making public appearances part of your job reveal a sense of trepidation about how you choose to present yourself online and the way people online perceive you?
Amandla: I mean, I've been canceled so many times.
Hunter: It reminds me of the tone that Bodies Bodies Bodies rides, too, in that everyone is just trying to cancel each other in the same space.
Amandla: Do I care that I have been canceled? I consider myself one of the lucky ones because now I don't have to live with some perverse, distorted Catholic guilt.
Hunter: It feels religious in that way, no?
Amandla: This guilt that seems to derive from the Catholic Church around if I am a good person or not. The world decided that I'm not going to Heaven, so I'm fine with that. See you in hell! I don't know. I've been canceled so many times but from so many different angles, from so many different sides of politics. That has really shown me that that's just my fate. I like to speak openly about the person that I am, and that invites some canceling from the far right.
Then there are folks on the far left who think that I have done things that have not been inclusive, or that I have unfairly taken up space within media, or that I'm in cahoots with the entertainment industry when it comes to representation of Blackness. These are all things that I cannot control and also that don't have much to do with me. If we lived in a culture in which people read or listened, then I think I would care a lot more. But it doesn't really matter how many times I express my true perspective on colorism or how many ways I try to decenter the privilege that I have, or it doesn't matter how I try to virtue-signal that outwardly. Outside the bounds of my community, it's not really my business. Because if I'm moving responsibly and ethically and with radical care in my immediate community, that's all I'm really concerned about at this point.
Hunter: I'm veering us back into the Bodies Bodies Bodies realm, but it ties in in a way where if you can zoom out a little bit and take out your own feelings and how you are involved in the mess of how it's working culturally right now, it's delicious to just sit back and watch. I feel like that is what Bodies Bodies Bodies lets you do, at least as a Gen-Z audience member. Did you guess who the killer was in the film before you got to the ending?
Amandla: No, but the script was so brilliantly written that I had started to suspect there was going to be some twist ending or other insane force, like the metaverse splitting open. I was so entranced from the first page. I was rolling on the floor. I was like, Oh, now they coming for this bitch's podcast? This is the craziest scene I've ever read.
Hunter: Ruthless. Tea. You can answer this with as little or as much depth as you want to, because this can be a whole thing, but Sophie is a queer character struggling with addiction. How do you feel about the film's portrayal of some of her struggles?
Amandla: I never really thought about Sophie's addiction in the context of her queerness. I never really think about addiction in the context of self-identifiers or just identifications of self. I definitely did think, however, about Sophie's position within her friend group. She lives within a group of people with an immense amount of privilege. She too has an immense amount of privilege and an immense amount of wealth. But I did think about when she was a child, what was it like to be in those environments that were dominated by primarily white people? Because at the time that Sophie was growing up, and I feel like even now, those spaces are still dominated and controlled by white people. I thought about that in her relationship to Jordan [Myha'la Herrold]. I thought about how that could contribute to the need for validation and the ways in which she outsources her pleasure.
Hunter: It reminds me of the Frank Ocean song "Super Rich Kids."
Amandla: Definitely giving "Super Rich Kids."
Hunter: Do you have a favorite horror film?
Amandla: I was a judge for the Tribeca Film Festival, and we ended up giving the Nora Ephron Award to Huesera, by Michelle Garza Cervera. You would love it so much. It's about a woman in Mexico who's pregnant and having delusions of what's happening in her body and her hands. She has to lean on her gay tía and her community of women to then have this demon expelled from her body. She goes through this really intense, scary, beautiful journey.
Hunter: You are going to play the lead role in the next Star Wars series, The Acolyte. Have you always been a Star Wars nerd? What's the most exciting aspect of being able to step into that universe?
Amandla: I had seen Star Wars, but I was not a die-hard nerd. When I got this job, it became a license to completely lose myself into the Star Wars universe and never reemerge! It's been really fun for me.
Hunter: That's a permission you've been waiting for for a long time.
Amandla: I can spend all my time in the Star Wars universe! It's so awesome. I get to think about the Force, and starships, and various species. I get to pore over every detail of the lore that already exists, which has been so fun because, also, Star Wars, it's a user-generated universe. So Star Wars fans basically created Star Wars.
Hunter: It's a pretty vast universe, right? There's a lot to it, right?
Amandla: She is vast. She is thick. It's this collaborative relationship between the fans and the universe itself to create this entire world. So, yeah, I'm flipping out. It is such a delight to have to actually get paid to lose myself into a space universe for a long time.
Hunter: Our jobs are so crazy. Do you get a lightsaber?
Amandla: I don't think I can answer that.
Hunter: What other artistic medium have you not tried yet that you would like to try?
Amandla: I want to paint a really large mural. Maybe we should paint a house. I would like to direct a feature-length film. I think about it every day of my life — and then every day of my life, I get another job, which is good for me.
Hunter: It's a good thing. We're young; we have lots of time. Well, if the Earth doesn't explode.
Amandla: It starts to feel a little more absurd, the whole directing thing, once you consider the Earth exploding from the core. I've been really enjoying everything that I do and not thinking about everything I do having lasting impressions on the planet.
Hunter: The beauty of painting is that it's just about the brushstroke in the moment and the colors and the yummy liquid texture of the paint.
Amandla: Have you been painting?
Hunter: I have. My stuff is covered in watercolors because I'm working on a new project that I'm not going to say anything about yet, but it's pretty cool. What is a routine or practice that makes you feel taken care of?
Amandla: I don't know, man. These days, I'm grateful to sit down on my own couch. It is such a privilege. I'm doing it as we speak, and I feel on top of the world. I know if my curiosity dies, then I die inside, so I'm trying to stoke the flames of my curiosity. That will keep my lust for life, and my empathy as well, alive.