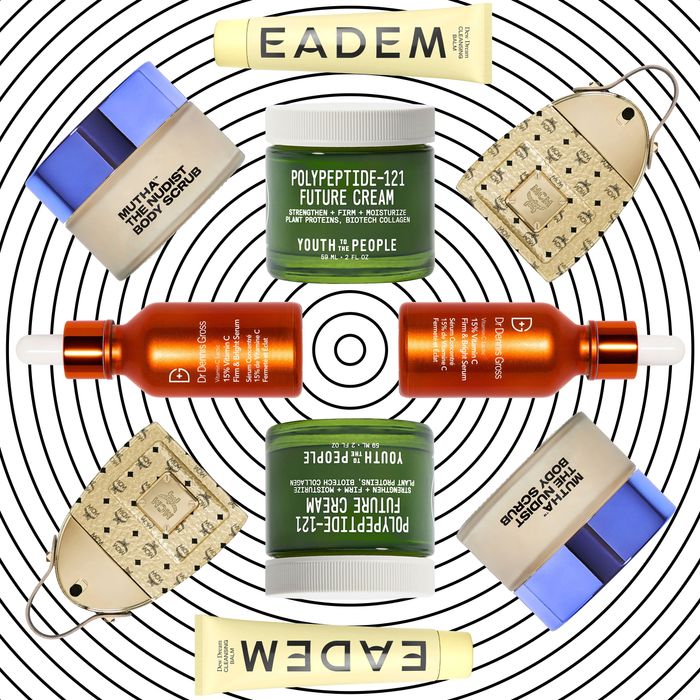 Photo-Illustration: The Cut; Photos: Retailers
Let's be real: July was hot, like scorching hot. I kicked the month off in the humid streets of New Orleans with my foundation melting off my face (definitely not making my best foundations list), and I ended the month in New York's sweltering heat wave.
Sorry to the new bold eye-shadow palettes, the National Lipstick Day launches, and that new foundation that might've changed the tone for the month, but July simply wasn't a month to test makeup — despite the plethora of makeup launches. Instead, I leaned toward testing out newly released products that were all about improving my skin's texture.
Out of all the ones that I tried throughout the whole month, these seven skin- and body-focused launches earned my love from the get-go.
I don't think Mutha is capable of making a "bad" product. When I saw it was launching a body scrub, I instantly knew that my body routine would only get better, and I was right. With its blend of oils and brown sugar, the Mutha Nudist Body Scrub gently exfoliates the body without harshly stripping the skin, and it instantly leaves the skin with a smoother and more nourished texture. The icing on the cake is following it up with the brand's body oil *chef's kiss*.
This came out at the tail end of June, so it's technically not a July launch. I did test it out throughout the month, and the review is in.
As someone who usually prefers an essence over a toner, this changed the game for me. I think I might even be a toner girl now. While most toners say they "brighten the skin instantly" without seeing much of a difference, this one visibly showed brighter skin after one use. The natural glow it left was so much that I forgot to apply my moisturizer because it provided the hydration my skin needed, too.
Thanks to TikTok, this eye cream went viral immediately after it launched and sold out on Sephora. And I understand the hype. When I tried it myself, it was the smoothness and hydration that sold me. While there are a ton of eye creams on the market, this one is thicker than most I've used, but it doesn't take forever to melt into the skin. As someone who lives for a lightweight eye cream, I'm afraid I've suddenly been sold on thicker ones after trying this.
This is only Eadem's third product since it launched last year, but I knew it would be a new top-shelf favorite because all of its products are holy grails, especially for melanin skin. This cleansing balm is formulated to hydrate and calm the skin while removing makeup and excess oils. A dime-size amount is all you need to lather your entire face and remove even the most stubborn makeup. In just a few weeks of owning it, it has replaced the cleansing balms I used to have in rotation.
Dr. Dennis Gross has been in the lab! The brand's best-selling IPL serum has been a favorite of mine for years because it does wonders for reducing my hyperpigmentation. This month, though, I put the serum in the back seat to test out the brand's latest vitamin-C serum. While I haven't been using it long enough yet to see how well it fades my dark marks, I do love its nonsticky formula and how it's been leaving my skin extremely glowy. Verdict: If you love the IPL serum, you'll love this too.
Peptides have been a trending ingredient in skin care lately, so whenever I see a new product highlighting them, I'm instantly curious. And this one did not disappoint — so much so it landed on my running list of all-time favorite moisturizers after testing it for only a month. The cream is thick but deeply hydrating and leaves a dewy finish. The most impressive thing about it is that the moisture lasts all day without becoming greasy. This was the MVP beauty product that saved my life (and skin) in NOLA when my foundation failed me.
Say hello to the one non-skin product that I fell in love with this month: MCM's Ultra perfume. When the brand first launched a perfume last year, I was hesitant on the scent because it was a bit too floral for me. Its latest drop, though, has woody undertones and tuberose notes bottled in a metallic-gold micro-MCM logo backpack and reminded me of another favorite fragrance of mine: Carolina Herrera's Good Girl Eau de Parfum.