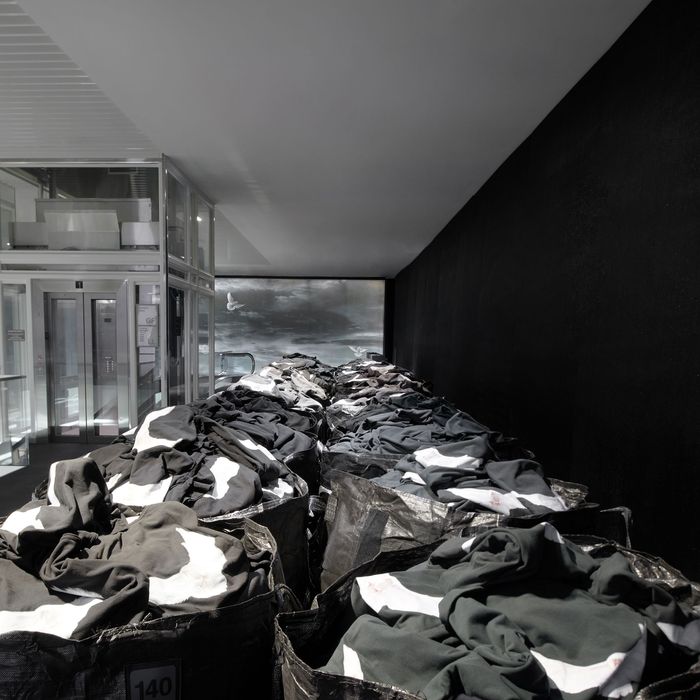 Photo: Courtesy of YZY Gap
Ye has responded to criticism of how his latest Gap collection is presented — instead of hangers, clothes were displayed in 40 oversize black Frakta bags planted on the floor and separated by color, size, and style — and he makes no apologies. To give you some backstory: Earlier this week, a shopper posted a photo on Twitter that showed those large bags still sitting in the middle of the store. They wrote, "This is how they are selling Yeezy GAP. The sales associate said Ye got mad when he saw they had it on hangers and this is how he wanted it. They won't help you find ur size too, you just have to just dig through everything." Interesting. And not everyone was a fan. "As a former visuals manager, I can say this would make me quit my job if I were still on the visuals team," one person commented on Twitter.
Today, in an exclusive interview with Fox News at the Gap Times Square store, Ye said, "Look, man — I'm an innovator, and I'm not here to sit up and apologize for my ideas," when asked about the insensitivity of putting clothing in bags. Apparently he thinks that's exactly what the media wants. Perhaps we just wanted an explanation? Also, he wants us to "not clown" innovators because it'll make them "less brave," and he says the clothes are not, in fact, in garbage bags but construction bags. Hm.
Here's what my experience was like when I visited the store takeover three weeks ago. The Gap store had been transformed into what, to me, looked like the inside of Ye's mind. Shoppers rummaged through the bags on the floor and made their selections, choosing from an array of tees and hoodies in three colors: black, dark blue, and gray. Uniform, one would say.
I didn't know people still camped out for products until that morning when I saw a sea of people outside Gap's Times Square location. Despite the fact that the latest Yeezy x Gap launch was just announced at 6:30 p.m. the night before, people were wrapping around the block for Gap to open its doors.
These products weren't just another Yeezy drop, it was first time that Yeezy Gap, engineered by Balenciaga, was available to shop IRL, and fans (and surely some resellers) didn't want to miss it. So when the doors finally opened at 10 a.m., shoppers were greeted by employees wearing signature Yeezy x Gap tees, black pants, and black rain boots. Like Ye.
At the entrance of the store, there are floating avatars, a part of the brand's newly released virtual game. The game is a peek into the metaverse from Ye's creative vision, an experience that allows you to create your own avatar, choosing a complexion and dressing it in Yeezy clothing. The game features your avatar floating with doves, a symbol of peace, the same symbol that's adorned on the back of Yeezy Gap's merch.
Watching shoppers excitedly hold up and look through the clothing reminded me of a flea market, but a Ye version, of course — dimmed lights, eerie sounds, and imagery of flying doves in a gray sky projected on large screens at the back of the store.
When the collection first dropped in February, it sold out almost immediately. But almost five months later, Ye is bringing the experience to stores to make the project more accessible. He wants to change the way people dress, and for me that meant an avatar donning thigh-high boots, which honestly isn't very far from what I would normally wear. As I played with my avatar in a virtual world, I couldn't help but think that we would in fact be seeing more people donning Yeezy in the coming months. So if you see someone with a dove painted on their back, know they are in their Ye era.
This post has been updated.