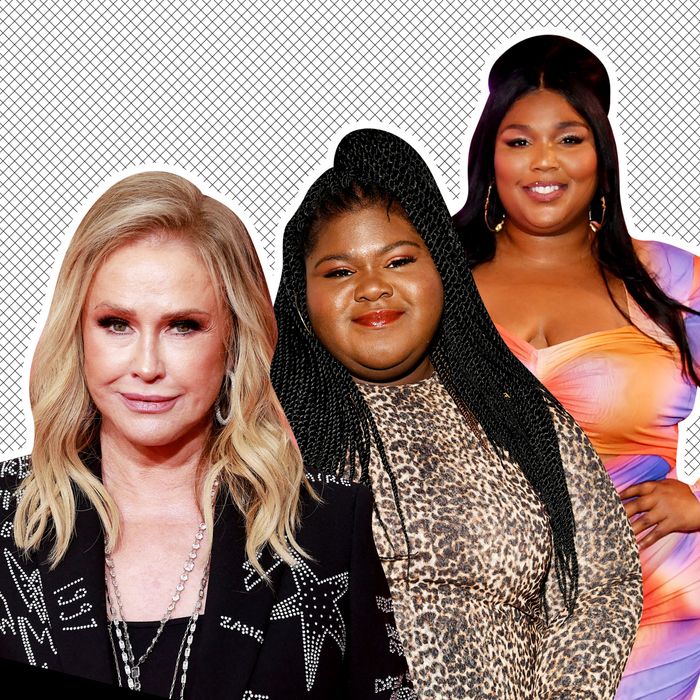 Photo-Illustration: by The Cut; Photos: Getty Images
Kathy Hilton is many things — she's rich; she's a Housewife; she's, uh, rich — but one thing she is not, apparently, is a woman capable of telling two famous Black women apart.
The Real Housewives of Beverly Hills cast member and mother of Paris and Nicky Hilton revealed this particularly cringeworthy fact about herself during an appearance on Watch What Happens Live when she identified Lizzo as "Precious" — as in the title character in the movie Precious, a.k.a. a movie Lizzo did not star in. Hilton made the error during a game of "Will! Kathy! Know Them!?" The game was simple: Andy Cohen showed photos of various well-known celebrities and asked Hilton to try to identify them. Spoiler: She could not.
"Who is this lady?" Cohen asked when Lizzo popped up on the screen. Hilton appeared confused, saying, "I feel like I do … Precious?" What followed was incredibly awkward laughter and attempts from Cohen and Hilton's co-star, Crystal Kung Minkoff, to make the moment less horrible. "She is precious, though. Lizzo is precious," Minkoff said. Yeah, that's not helping.
There are many, many things wrong here besides the fact that Lizzo is one of the biggest artists currently releasing music on planet Earth. First, Precious is not even the name of a famous person but of a character played by Gabourey Sidibe. She was nominated for an Oscar, she's an author, she's been on TV and in film for over two decades. Second, Lizzo and Sidibe don't even look alike. They have completely different faces.
Sidibe has yet to comment on the awkward mix-up. Lizzo, on the other hand, made it clear she's too busy enjoying the success of her new album to care, sharing a trio of sexy photos from her vacation with the caption "Meanwhile…"