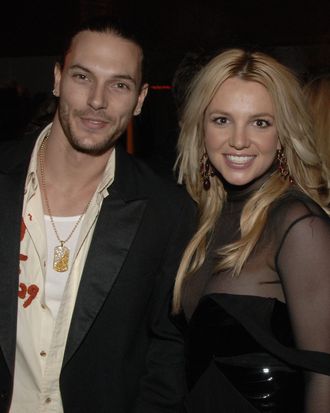 Photo: Larry Busacca/WireImage for Sony BMG Music Entertainment
Through all the highly publicized twists and turns in Britney Spears's conservatorship and her legal battles against her father, Jamie Spears, her ex, Kevin Federline, has maintained a seemingly safe distance from the controversy. But now, for whatever reason, somehow Federline has returned.
In a new television interview with ITV News, Federline went on the record about his feelings regarding Spears and their sons, Sean Preston and Jayden James. Part of the conversation will air at the end of this month — according to interviewer Daphne Barak, the full exchange would've been "too hurtful" to broadcast — but quotes from the special have already reached Spears and her new husband, Sam Asghari. They are less than impressed.
Federline; his wife, Victoria Prince; and his children — including Jayden James, 15, and Sean Preston, 16 — reportedly participated in the interview, which was filmed at his home in Los Angeles and made headlines last weekend after the Daily Mail published a teaser. Despite the article's efforts to paint Federline as a family man who wants to live outside the spotlight, the interview seems to revolve largely around Spears, her conservatorship, and, for some reason, her Instagram.
He specifically pointed to Spears's love of posting nearly nude selfies (which comply with Instagram's nudity policy and often include strategically placed emoji), claiming the photos have a negative effect on their teenage sons. "I try to explain to them 'Look, maybe that's just another way she tries to express herself.' But that doesn't take away from the fact of what it does to them," he said. "I can't imagine how it feels to be a teenager having to go to high school." He also claimed that their sons, who did not attend Spears's recent wedding to Asghari, "have decided they are not seeing her right now," noting, "It's been a few months."
The former backup dancer and DJ further claimed that he decided to do the interview in the hopes of getting Spears to understand the effect her Instagram has on her kids. "If there was a way — any way — I could possibly say something to just open [Britney's] eyes — but I haven't found that yet. I feel like, if I found that, I'd be on the phone trying to tell her," the Daily Mail reported him as saying. Federline also shocked fans by saying he'd welcome Jamie Spears back into his sons' lives with open arms despite the fact that Federline has a restraining order against Jamie after an alleged conflict with one of the kids. "I don't have any hard feelings towards Jamie Spears. People make mistakes. I feel bad for him. I feel like he's been put through the wringer."
After excerpts from the interview were published August 6, Asghari and Spears took to Instagram to push back. In a message shared to his Instagram Story, Asghari noted that Spears's Instagram selfies "were implied nudity, which can be seen in any ad for lotion or soap." He also claimed there was "no validity to his statement regarding the kids distancing themselves," adding, "It is irresponsible to make that statement publicly." Spears's husband then questioned the timing of Federline's tell-all — just a few years before his sons turn 18 and Spears will no longer have to make child-support payments. "Kevin's gravy train will end soon, which probably explains the timing of these hurtful statements," he wrote before pointing out Federline's support for the conservatorship.
Spears later wrote on her own Instagram Story, "It saddens me to hear that my ex husband has decided to discuss the relationship between me and my children. As we all know, raising teenage boys is never easy for anyone." She suggested that any distancing between her and her kids started "LONG before Instagram" and called the new statements "HURTFUL." She also hinted at her parents' involvement in her relationship with her sons, writing, "My mother told me, 'You should GIVE them to their dad.'" On Sunday, she shared another statement on Instagram. "Reminder that the trauma and insults that come with fame and this business not only affect me but my children as well !!!! I'm only human and I've done my best." She also defended her social-media presence, writing, "Other artists have made much worse when their children were extremely young !!! During my conservatorship I was controlled and monitored for nearly 15 years … I needed permission just to take Tylenol !!! I should embark on doing WAAAY more than going topless on the beach like a baby !!!!"
In a since deleted post on Instagram, Spears expanded on her relationship with her children, claiming that they would visit "2 days a week" and spend their time in their rooms. "There's being rude then there's being HATEFUL," she wrote. She said that she "TRIED and TRIED, and maybe that's why they stopped coming here !!! I wanted them to love me so much that I might have overdone it !!!" She also alleged that Federline had weed in his home, which is legal in California.
In response, Federline issued another Instagram post. "I can not sit back and let my sons be accused in this way after what they've been through," he captioned a series of cell-phone videos, posted August 10, which show Spears shouting at her sons. "As much as it hurts us, we decided as a family to post these videos the boys took when they were 11 & 12. This isn't even the worst of it. The lies have to stop. I hope our kids grow up to be better than this."
The first clip is dark, but it appears to have been filmed in one of the boys' bedrooms during an apparent disagreement about lotion. "This is my house," she scolds them. "You all better start respecting me. Are we clear? … You all need to start treating me like a woman with worth." The next two clips seem to come from a single car ride and show Spears arguing with her sons. It sounds like Jayden went into an ice-cream shop shoeless, she took away his phone, and both brothers disagreed with the punishment. Although Spears does yell and swear at the boys in the videos, she also tells them, "I don't know what to say, but I do care more than you know."
It's worth noting that when these videos were filmed, Spears was still under her conservatorship — an arrangement she has said left her feeling "traumatized," "so angry, it's insane," "depressed," and thoroughly disrespected. By Thursday morning, Federline had removed the post, but the videos were widely circulated.
Spears's attorney, Mathew Rosengart, condemned Federline's actions. "Britney Spears is a brilliantly talented, extremely hardworking icon, who is rightfully beloved and respected by millions around the world. The same, unfortunately, cannot be said about Mr. Federline," he said in a statement. "Whether he realizes it or not, Mr. Federline has not only violated the privacy and dignity of the mother of his children, he has undermined his own children, whose privacy he should protect." Rosengart called Federline's decision to post private videos "cruel, bottom of the barrel stuff" that could open Federline up to legal issues "including, but not limited to, implicating cyberharassment and cyberbullying statutes." Rosengart said that he was "working with Instagram" to ensure Federline doesn't violate its user terms and that his team is "exploring all appropriate relief against him." Rosengart concluded, reiterating Spears's request to deal with this privately, saying, "We urge Mr. Federline to act with a measure of grace and decency and to cease from publicly discussing private matters, which benefits no one."
It's unclear how much contact Federline and Spears have had since her conservatorship has been dissolved. The couple currently shares 70-30 custody; the boys reside with Federline, their stepmother, and their two younger sisters. Spears pays Federline over $20,000 per month in child support. The exact amount hasn't been reported, but Federline officially requested an increase from $20,000 per month to $60,000 in 2018, and the two parties reached a settlement in 2019, when Spears was still under conservatorship.
This article has been updated.