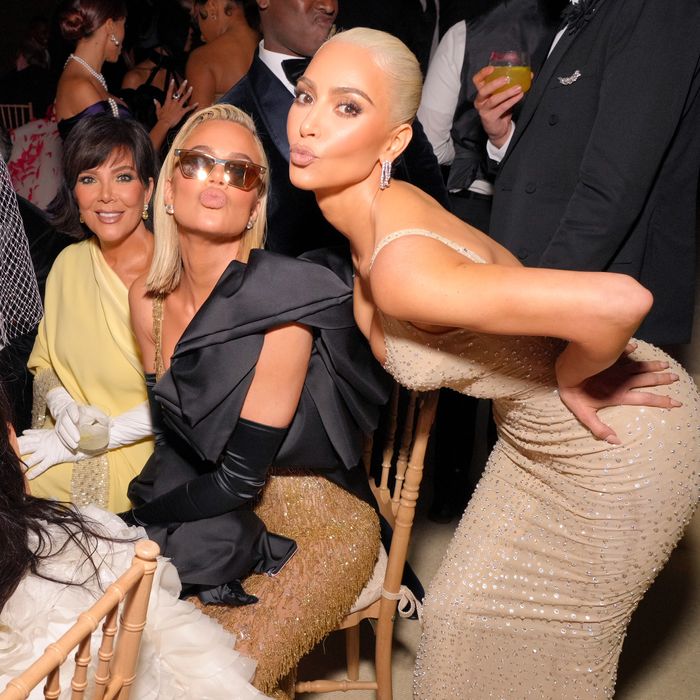 Photo: Kevin Mazur/MG22/Getty Images for The Met Museum/Vogue
One day, Kardashian news timing will be studied in celebrity 101. This weekend alone, Khloé Kardashian welcomed her second child with ex Tristan Thompson, and reports of Kim Kardashian and Pete Davidson's rumored breakup took over the discourse.
A representative for Khloé confirmed late on Friday that she and Thompson welcomed a baby boy via surrogate. This is their second child together — they also share 4-year-old True Thompon — and Thompson's fourth overall. News that the former couple were expecting another baby went public just last month, several months after Thompson admitted to cheating on Khloé in court documents relating to a paternity suit. A paternity test would later confirm that he had fathered a child, Theo, with Maralee Nichols. (He also shares a 5-year-old son, Prince, with Jordan Craig.) In a statement confirming the news, Khloé's rep clarified that the child was "conceived in November" — in other words, before Khloé and everyone else learned of his paternity suit.
Baby news is normally a big, reality show–worthy celebration — who could forget when Kourtney Kardashian helped deliver her own baby, or when Khloé gave birth to True while the family awkwardly tip-toed around Thompson's cheating rumors? But the arrival of Khloé's son is, for now, being kept mostly private. After Khloé confirmed the baby news in July, a source told E! News that she had tried to keep the news out of the press, saying she wanted to "protect her mental health from judgment from the public as a result of Tristan's actions." (If you looked at Twitter the night it was confirmed, you'd understand her reasoning.) Now that the baby is actually here, what better way to keep "judgment from the public" at bay than to have another competing news story in the press? Like, say, your sister's breakup? Cue reports of Kim and Pete's split after nine months of dating.
Neither Kim nor Pete have confirmed the news of their split, but reports claim that the couple simply fizzled. One source told E! News that their work schedules and long distance ways "made it really difficult to maintain a relationship." Meanwhile, Entertainment Tonight quoted a source claiming that Kim just "didn't feel ready for something serious with him." (She couldn't have thought of that before he got her name branded on his chest?) But despite being unconfirmed, the story of Kim and Pete's relationship demise has completely taken over the Kardashian narrative this weekend, a coincidence fans have been quick to point out on Twitter.
Call it fate, call it Kris Jenner, either way you have to admit the timing is pretty, uh, konvenient.