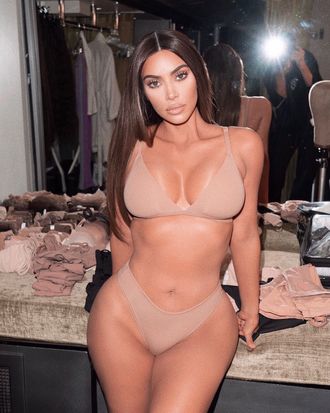 Kim Kardashian is talking rhapsodically about panties. "It's like the one product that we really can't keep on the site," she tells me, Zooming from her all-white sanctuary in Calabasas, California. "We're always sold out."
Kardashian used to not wear underwear all that much, finding it to be "really irritating and annoying" and usually opting for shapewear alone instead. Now, obviously, she wears Skims. Under everything. (Well, almost everything. She didn't wear them under her infamous Marilyn dress at the Met Gala because she was wearing Skims below-the-knee shapewear. "I had to, just to get a little bit of extra squeeze in there," she laughs.)
Kardashian typically doesn't like dipped thongs, she continues, "because it can make you have a little pouch." But after her signature five rounds of fitting — she does this with her Fits Everybody dipped thong specifically — she got to a place with the fit that she liked. "To this day I still do every single fitting," she told us. She then fits all the sizes on different body types and heights. "I wanted the width of them to be perfect, I needed to make sure that it dipped enough but still had enough coverage, they had to stretch," Kardashian says. The result? A very, very comfy pair of underwear.
In 2019, Kardashian came for a well-established multimillion-dollar industry, competing with longtime undergarment brands like Victoria's Secret, as well as luxury brands like La Perla and Agent Provocateur. As the story goes, the idea for Skims came to her after slipping on some other brand's shapewear and seeing a seam in the front or back and saying to herself, This makes no sense to me, what's the point of wearing shapewear? While customers love the shapewear and viral lounge dresses, about 50 percent of first-time Skims shoppers check out with underwear in their cart, which has become the brand's fastest-growing category.
A 2018 Allied Market Research report said that changes in lifestyle and the rise of hygiene awareness are causing mass growth in the intimate market. By 2025, the firm expects the global market to reach $325.36 billion. In 2022, Skims was reportedly valued at $3.2 billion. Since the Fits Everybody styles were developed and launched in 2019, the brand has sold over 300,000 pairs. Recently, Skims dropped the collection in pink, and it sold out for users within a minute.
The secret to Skims' success isn't that its founder is arguably the most famous person in the world — well, not just that. Kardashian works with a privately owned factory that allows her to get the quality she wants, she says. "I was extremely specific and it took a really long time to find a factory that can make seamless shapewear."
With their help, Kardashian developed an "exclusive," never-before-used material. She also used technology to accomplish the smoothness and stretch. It's a technology so wild that she doesn't even know how they came up with it, but she knew immediately when she felt it that it was right. Like many things today, technology is where the market is turning to accomplish the sharpest fit.
"I wanted it to feel really smooth under clothes," she said. And from the work she's done around shapewear, she knew that smoothness actually has to do with stretch. Kardashian wanted underwear that could stretch, allowing the customer to wear them in the way that looked best for their body type. (Kardashian's preferred way of wearing them is really high on the sides for a "sporty, sexy vibe.")
This is all great and everything but still, I was skeptical. I had a pair sent to me from the brand and they sat in my drawer for a while. I'm not really a thong girl — they're too uncomfortable, unflattering under clothing, and irritating. That changed when I needed a pair of underwear for the gym and everything else was in the laundry. Midway through the workout I realized I'd forgotten I was wearing them and on my frequent mirror peeks, I noticed there was no panty line showing through my leggings. So I decided to put them to an even tougher test: under a dress. Surprisingly, the high-cut fit was flattering on my shape (I'm a size ten) and I wasn't self-conscious about lines bulging through my dresses.
So fine, I'm admittedly a convert who has joined the ranks of Skim wearers who didn't want to like them but now can't imagine life without them. That's the Kardashian blessing and curse.