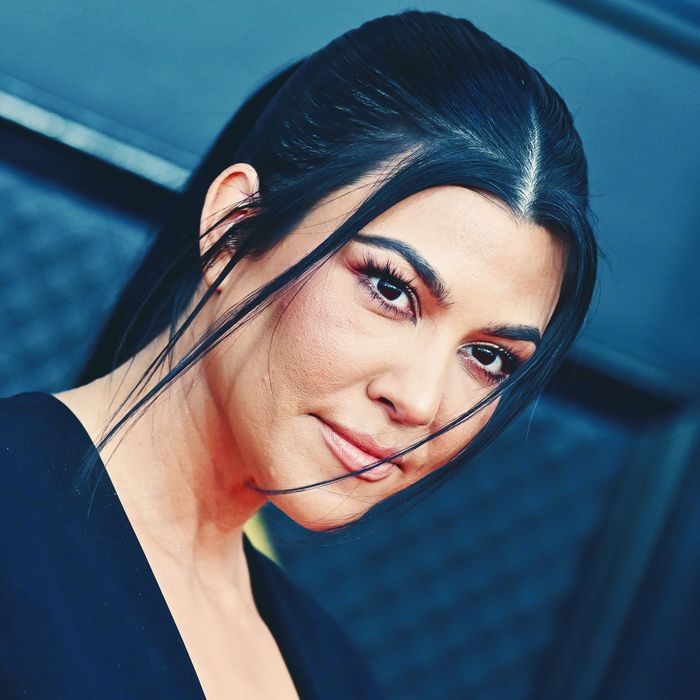 Photo: Axelle/Bauer-Griffin/FilmMagic
A bathroom selfie is a tried-and-true form of content. Over the years, it's evolved from the epitome of Myspace cool to a dating-app red flag. And for Kourtney Kardashian, it has evolved into full-on bathroom photo shoots, now complete with urinals in the background.
Kourtney's most recent round of Instagram photos from backstage at one of her husband Travis Barker's shows is certainly, uh, eye-catching thanks to prominently featured urinals. Lots and lots of urinals. Eagle-eyed commenters even spotted some suspicious bodily fluid in one of them. That's gonna be a no from me, sorry Kourt.
Posing with urinals is only the latest evidence that Kourtney really loves a bathroom photo shoot. She poses sitting on bathtubs, at the sink, and in front of toilets. And this is, amazingly, not even the first time she's posed with a urinal. Kourtney posed in front of them at the 2021 VMAs with her now husband and Megan Fox and Machine Gun Kelly, though she and Fox were more strategically placed to block the actual porcelain from view. This time, they are in full display. Personally, I have never been in a public men's room and thought, This would be great lighting for the gram. But then again, I'm not a Kardashian wearing a lacy romper and a pink trench coat.