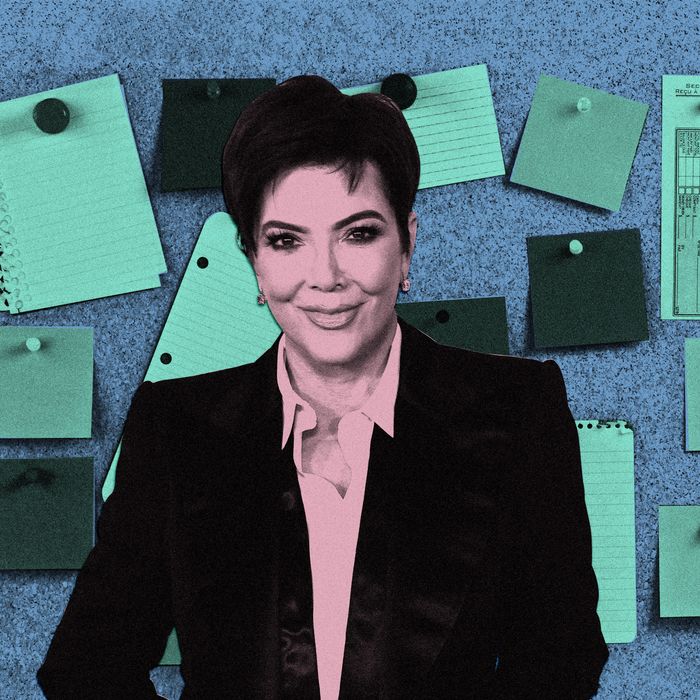 Photo-Illustration: The Cut
For the duration of one hour and 46 minutes, spread across 11 MasterClass videos, Kris Jenner, the world's most prolific momager, shares her wisdom on "the Power of Personal Branding." Though it may seem like another money-grab from the queen of monetization, Jenner's installment of the online-education platform piqued my interest as someone who wondered if maybe this would be the final push I needed to get my social-media act together.
In her MasterClass, the mother of the "world's first influencer" (her words) gives us a convoluted-but-not-entirely-wrong definition of the job: "An influencer is somebody who brings a desire to be aware of something to the table in a way that maybe you hadn't seen it before and influences you to try it." Then, her various successful "branding ventures" — such as Skims, Kylie Cosmetics, and Safely — are introduced as case studies. The class provides snippets of advice and metrics from the Kardashian social-media machine (for example: The Kravis engagement is Jenner's most-liked Instagram photo) as well as some downright confusing fun facts (evidently, Jenner does not have a talent for selecting anecdotes that illustrate her point).
As my Instagram presence will attest, I don't have much of a coherent personal brand, so I figured I could stand to learn quite a bit. As part of the digital-native generation, of which more than half of us would choose to become influencers if given the opportunity, I've always seen social media as something I would have to get better at eventually, not something I could avoid.
While influencing is relatively new, Jenner's advice started like any good business class: by asking several existential questions that sent me into a Friday-afternoon tailspin. She rattled off questions like "How do you want the world to see you?," "What are your core values?," and "What's the legacy you want to leave behind?" within 30 seconds of the first lesson. Those questions may be worthwhile to pursue, but they're disorienting when the end goal is to gain more followers on social media.
To Jenner, it seems that the point of asking these questions is that they can lead you to discover what you enjoy doing. Then, you can figure out how to make money from those activities — the ultimate capitalist cheat code. That's what the Kardashians did on Keeping Up With the Kardashians when the family sold themselves to viewers as totally "authentic." Jenner told me I should "honestly look inside myself and figure out what makes [me] truly happy," and to that, I exclaimed, "Kris, I'm trying!" The first step of personal branding is to figure out who you are, what your story is, and what you want to be known for. But how am I supposed to do that?
At the conclusion of an introductory lesson that felt a little bit like a personal attack, Jenner told me to make a vision board. Finally she was speaking my language. I lit a candle and gathered old magazines, stickers, and some markers and thought about the fine line between business influencers and spiritual leaders.
My vision board turned out to be less aesthetic-focused than what I imagine Jenner's might look like. Instead of printing out photos of real people, I grabbed phrases, headings, and patterns I thought were pleasing. In Sharpie, I wrote topics I'd like to cover in my work. While I couldn't come up with any answers about how I wanted my Instagram feed to look, I had a list of subjects I wanted to talk about.
Before Jenner dives into the weeds of social media, she spends two lessons talking about her family's unrelatable and effectively non-replicable path, which was incredibly unhelpful. In her MasterClass, she swears the reason that Keeping Up With the Kardashians was so successful was because they were authentic, real, and oversharers. They had the safety blanket of postproduction, so the family really went all out while filming — but they never abused their editing privileges, she was sure to add.
While there are many words I would use to describe the Kardashians, authentic doesn't come to mind. From plastic surgeries to photo-editing fiascoes to the plotlines that felt downright fake on this season of The Kardashians, their penchant for manipulating images is not a secret — it's the main ingredient to their success. The reason Jenner said authentic so many times that it no longer felt like a real word is because, apparently, even the Kardashians feel the need to respond to what their audience on the internet wants. (Eighty-eight percent of respondents to a Morning Consult survey say that authenticity is the key trait they want to see in influencers' content.)
The class had quite a few moments like this — bits of advice and declarations that reveal themselves to be contradictory if you think about them long enough — but that's showbiz, I guess. Although I'm supposed to be authentic, Jenner tells me I have to do some market research. She says to "find the white space" in my brand's market and fill that void. My authentic self is the starting point, but there's quite a big leap between me and the social-media influencer that the internet needs right now. I'm also supposed to pivot my brand according to my followers' feedback. It's all about reading comments, looking at what other people are doing, and using hashtags, Jenner says.
I do all my preliminary research on TikTok, a platform that the Kardashians clearly have not mastered yet (there was less talk of the lawless video platform and no hard-and-fast rules about posting on it). But today, without having a friend who knows Ryan Seacrest, that particular app feels like your best chance to become TikTok famous and use that as leverage to become actual famous.
It seems like just about anyone can find their audience by randomly going viral because of TikTok's algorithm. Celebrities like Charli D'Amelio have found multimedia success, Doja Cat's "Say So" boomed in popularity thanks to the app, and even early-2000s pop classics like Aly & AJ's "Potential Breakup Song" have found new life because of the platform. Every day, I see friends upload their own comedy, music, or BookTok videos in an attempt to "blow up." I can't say that it's working for them yet.
More frequently than I can try to teach the algorithm what I want from it, my "For You" page introduces me to another new aesthetic. The more you commit to one, the more coherent your online presence becomes and the most established your brand will be. Parts of each of these trends feel authentic, and some are aspirational in a way that is exciting to me, but no singular mold has ever felt right. I try on different elements of each aesthetic for size, from "clean girl" to "that girl" to "Barbiecore," and I am overwhelmed. For the two days that I successfully accomplish the "that girl" lifestyle, though, I feel like I've made it.
In this MasterClass, Jenner also pulls back the curtain on the Kardashians' social-media best practices. Just as I used to sit around in high school trying to decide when would be the best time to post the Samsung photos of my family vacation, the Kardashians have got posting on Instagram down to a science. The rules are to post at least three times a day to maintain a connection with your followers; to share videos in which people can hear your voice and see your face, making them feel as if you're talking directly to them; and to not skimp on the tutorials. Also, whatever you do, make sure your content is "amazing" and "fruitful." Despite all of Jenner's assertions that social media is about being authentic and creative, it's clear that the path to success is already laid out for me, right down to the persona I choose to adopt.
Jenner's girlboss identity doesn't really solidify itself until the end of the class, but when she passed along one of her favorite pieces of advice, telling me to "behave like you can't afford a loaf of bread when, in fact, you own the bakery," I was set off on a serious spiral, and I could not wait for it to end. Khloé Kardashian also made a cameo to lecture me, asking, "Without a success-driven mentality, what are you being famous for?" As I took in these lessons from Kris and Khloé, it was Kim's voice that echoed in my head: I have the best advice for women in business: Get your ass up and work.
After deciding to put in some work and pledging to hit the Kardashian three-posts-per-day rule, I missed the mark nearly every day. I experimented by sharing memes I thought were funny (branding myself as Little Miss Hits Curbs), posting articles I wrote (which felt promotional in an uncomfortable way), and sharing my love for Panera Charged Lemonades (if I had to become a real influencer, it's the one sponsorship I'd actually want). I learned that people can like Instagram Stories now, and I received supportive messages from distant acquaintances. It was fun declaring myself to the world (or, rather, my 1,134 followers) and getting a response back.
Finally, as Jenner told me to do, I planned out an in-feed post, but when it was time to hit "upload," I decided to leave it in my drafts. While I would be part of the 54 percent of people who told Morning Consult they'd become an influencer if they could, there is a part of me that knows I will never commit to branding myself. I'm not quite ready to put in the work that the Kardashians do, but ever since I watched Jenner's life lessons, I often catch myself thinking, Should I put this on my Story?