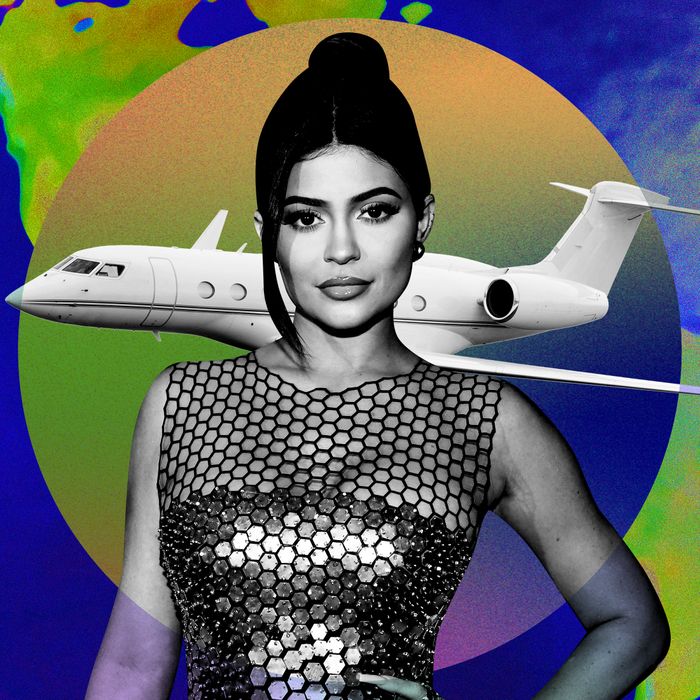 Photo-Illustration: by The Cut; Photos: Getty Images
Were you recently shocked to learn that private aircrafts are not a sustainable form of travel? Were you surprised to find out that they are, in fact, less green than flying by commercial plane? Did the news leave you aghast and breathless, wondering, "How can celebrities, champions of sustainable fashion and paper straws, also justify the use of their beloved private jets"? Yeah, me neither.
You can thank/blame Twitter account @CelebJets for bringing to light just how often celebrities are traveling via private plane. The account, run by 19-year-old college student Jack Sweeney, pulls data from public sites like ADS-B Exchange and posts automated tweets detailing flight information for celebrity-owned private jets, including how long the flight was, how much jet fuel was used, and the tonnage of carbon dioxide emitted. (Sweeney has a separate account just for tracking Elon Musk's private jet. Musk, the current richest person in the world, reportedly offered Sweeney a whole entire $5,000 to stop tweeting about his flights; Sweeney turned down the money.)
While celebrities taking private jets is nothing new, it is surprising to see how frequently their flights appear to be less than 30 minutes long. Since the beginning of August, at least a dozen flights tracked by @CelebJets clock in around 30 minutes or less. I can't remember a single flight I've been on where we didn't wait on the tarmac at least 30 minutes before eventually taking off.
This matters because just one percent of the global population is responsible for 50 percent of aviation emissions worldwide, as noted by a 2021 report from the EU's Transportation and Environment organization. According to that same report, private jets are anywhere between five and 14 times "more polluting" than commercial planes, as measured per passenger. Celebrities, they are not just like us.
While @CelebJets isn't tracking every private jet owned by a celebrity as not all that information is publicly available, it does provide a sort of microcosm of air travel as a whole, showing just how frequently a small population of the Über-rich are taking Über-short flights on their private jets. Floyd Mayweather's jet, for example, has averaged 25 flights a month this year, nearly a flight a day. The average flight journey of Travis Scott's private jet is a meager 7.31 miles. The shortest flight recorded for Oprah's jet this year is … 14 minutes. 14! (Although some have disputed the exact calculations put forward by Yard, a sustainability minded marketing agency that provides some of this analysis.)
You may have heard that Kylie Jenner's jet recently took a flight that lasted a whopping 17 minutes. (An earlier tweet incorrectly estimated the flight lasted three minutes. Please, give the "self-made billionaire" some credit.) A couple days after that flight, she posted the now-notorious "you wanna take my private jet or yours?" photo with Travis Scott on Instagram. (Apropos of everything, Kourtney Kardashian and Travis Barker were recently seen flying commercial.) Amid the news of obscenely brief celebrity plane rides, Drake defended a reported 18-minute flight, saying, "This is just them moving planes to whatever airport they are being stored at for anyone who was interested in the logistics … nobody takes the flight." Doesn't that somehow make it … worse? Taylor Swift's camp gave a similar response after she was named one of the worst celebrity offenders of private-jet CO2 emissions: "Taylor's jet is loaned out regularly to other individuals," a spokesperson for Swift told TMZ. "To attribute most or all of these trips to her is blatantly incorrect." In 2022, both Swift's and Mayweather's private jets have emitted over 1,000 times more CO2 than the average person does in an entire year. Also, it's only August.
But, again — credit where credit is due! — Taylor Swift, who appears to own at least two private jets, a F900 and a Falcon 7X, may not have been onboard for all or even most of those recorded flights. Do takeoffs and landings of a private jet account for much of its fuel usage, regardless of how many people are onboard? Sure, but as we all know, the thing about climate change is that it only happens if a celebrity is around to witness it.
With each new climate report being more hellish than the last, finding simple, everyday ways to be more sustainable is as crucial than ever. Did you know that doing the dishes in a dishwasher uses less water than washing dishes by hand? Or that, on average, private aircrafts emit more greenhouse gases each year than the entire country of Denmark? We each must do our part, whether that be being more conscientious about our water usage or not taking a 12-mile flight from Newark to Teterboro, New Jersey.
To that end, here's an easy thing celebrities can do to travel by private jet and reduce their carbon emissions:
-   Don't :)
There should be as many barriers in place as possible to deter private-jet travel. As a sign of solidarity, celebs should have to stand beside us in the TSA lines. Make them endure the chaos of Southwest's open seating. Let them see if they can resist the temptation of an Auntie Anne's airport pretzel. If they're worried about privacy, I have a solution for that as well: Wear a disguise. They're reusable, fun, probably good for method acting, and fulfill every person's dream of feeling like a spy. If you can afford more than one private jet, you can afford hyperrealistic prosthetics.
They could also try being less famous, and less rich, which I've found is an easy way to reduce personal carbon emissions.