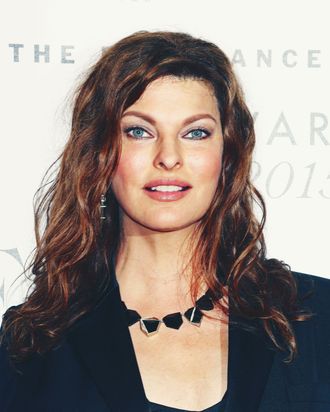 Photo: Jim Spellman/WireImage
After setting the tone for models in the '90s, Linda Evangelista is now setting the stage for a comeback. Since coming out with her story about CoolSculpting gone wrong, the supermodel has slowly been making her way back in front of the camera. This week, she made her biggest move yet, appearing on the cover of British Vogue.
This marks Evangelista's first major fashion cover since she had CoolSculpting done five years ago. She later claimed that the procedure caused her to develop paradoxical adipose hyperplasia (PAH), a side effect that she described as making her fat cells "increase," which left her "unrecognizable." She sued Zeltiq, the company behind the procedure, claiming that she had been unaware of the potential side effect. The lawsuit was settled in July. "If I had known side effects may include losing your livelihood and you'll end up so depressed that you hate yourself …" she told the magazine. "I wouldn't have taken that risk."
Evangelista says that she has tried to counteract the CoolSculpting side effect with liposuction, but nothing has worked. "I was so embarrassed, I'd just spent all this money, and the only way I could think to fix it was zero calories, and so I just drank water," she recalled. "I was losing my mind." According to Evangelista, she was so depressed she refused to leave the house except to accompany her son, Augustin James Evangelista. And though she told British Vogue that she was not "cured mentally" and still can't look in the mirror, she is slowly working her way back to her top model throne.
As noted in the article, Evangelista is mostly covered in the photos, and she openly admitted using tricks of the trade for the photoshoot. "It's going to be difficult to find jobs with things protruding from me; without retouching, or squeezing into things, or taping things or compressing or tricking," she said, adding that her facial features on her Vogue cover were formed by strategically placed tape. "That's not my jaw and neck in real life — and I can't walk around with tape and elastics everywhere."
Is she worried about potentially contributing to the beauty fantasy that inspired her to try CoolSculpting in the first place? "For photos, I always think we're here to create fantasies. We're creating dreams. I think it's allowed," she said. "Also, all my insecurities are taken care of in these pictures, so I got to do what I love to do."