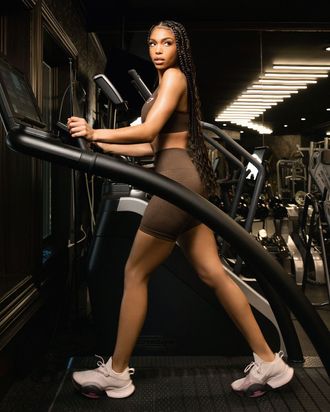 Photo: Courtesy of Gymshark
Lori Harvey has become everyone's fit crush with her disciplined workout schedule and a set of abs that match. Now, she's Gymshark's first celebrity ambassador. So what is she wearing to work out? Here's everything you need to know.
Be warned: Your wallets will suffer.
What Is It?
Gymshark's new neutrals collection isn't entirely new. Vital Seamless 2.0 has been a part of the brand's workout wear selection for a few years, and before that, they had the OG Vital Seamless collection — which is still my favorite workout set.
Compared to past iterations, the newly launched neutrals collection was made to complement every skin tone. With four shades, including a deep espresso brown, cherry brown, fawn, and a light vanilla brown, the figure contouring sets are made to feel like a second skin. The material is sweat-wicking, squatproof, and seamless, and the collection has a perfect fit that emphasizes the body's silhouette.
The leggings and shorts are my personal favorites, and apparently they are Lori Harvey's too.
Do I Need This?
Yes. Even if you're not going to the gym everyday or showing up to Pilates every morning like Lori Harvey, we recommend this because Gymshark sets aren't exclusive to working out. I've worn its biker shorts with an oversize blazer for a chic-yet-comfy errands look. The Vital Seamless collection is especially multipurpose because of its ultracomfortable fit.
As an OG Gymshark fan, I must admit that I love the first Vital Seamless collection more than the 2.0 because the material feels more breathable. However, the Seamless design is just as flattering and extremely easy to move around in. The new design of the V-neck sports bra offers light support that unfortunately isn't enough for my double D's when doing HIIT workouts, so I love to wear mine as a crop top instead.
What Are People Saying?
Gymshark has amassed a community of fitness enthusiasts that has only grown larger as they've extended their sizes and style offerings. So as usual, people are obsessed with the new hues and can't wait until they land on their doorsteps.
As for Lori, TikTok has been trying Pilates because of her, testing out her intense treadmill workout, and even trying her detailed diet, so they'll probably be shopping her Gymshark faves now, too.
How Do I Get It?
The collection ranges in price from $40 for tops, bras, and shorts to $54 for leggings, and it's available now on Gymshark's website. The vanilla-brown colorway is mostly sold out already, so we recommend you snag the other colors before it's too late.