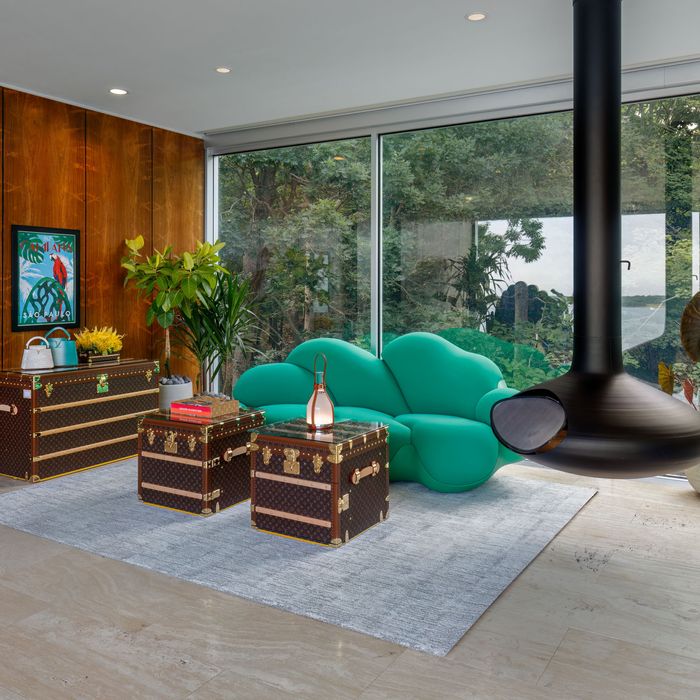 Louis Vuitton is enviably spending August on Shelter Island, the secluded 8,000-acre plot of land a five-minute ferry ride away from the Hamptons. The brand set up shop in a mid-century private residence to showcase some of its most exclusive wares, including an impressive array of its signature LV-logo trunks, which are set up as coffee tables throughout the space. (Teeny history lesson: The LV trunk was first thought of by a 19-year-old Mr. Louis Vuitton himself in the 1800s and became one of the company's first pieces.)
Okay, fine. Maybe you're not summering on Shelter Island. And maybe you — and most of us, really —don't have the funds to drop over $7,000 on a trunk–coffee table, but we like to look, no? To engage with fashion and luxury goods as art forms and spectacles of craftsmanship. Or, you know, for inspiration next time the Mega Millions jackpot is some more-absurd-than-usual number.
The studio will be open until August 7 and will also stock bags like the Capucines collection, as well as the Petite Malle — a bag that looks like a little trunk with a handle — that Nicolas Ghesquière, the label's designer, presented at his first show. Also on display is Louis Vuitton's furniture and décor collection, including a belt chair by Atelier Oï; a bomboca sofa, bulbo chair, and cocoon chair, all by the Campana Brothers; and dolls' chairs by Raw Edges.
For those of you who may choose to make the trek out to Shelter Island to behold some sumptuous beauty, the selection is on view by appointment only, so plan accordingly.