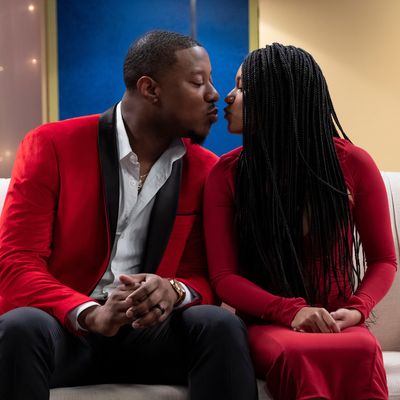 Photo: ADAM ROSE/NETFLIX/ADAM ROSE/NETFLIX
Dating shows have never been known to be all that successful. In 40-plus seasons of television, the Bachelor franchise (that's The Bachelor, The Bachelorette, and Bachelor in Paradise) has only been responsible for a handful of marriages and long-term relationships. But with four marriages in two seasons, Netflix's Love Is Blind seemed poised to prove that reality TV really could help build lasting love. That all changed this week.
First, fan-favorite season-two couple Iyanna McNeely and Jarrette Jones announced their impending divorce on Instagram, just two months after celebrating their first anniversary. "After much thought, we're saddened to share that we have separated and will begin the process of divorcing," McNeely and Jones said in a joint statement. "While we have love for each other, our lives are going in different directions, and that's okay." The couple also specifically thanked "the Love Is Blind family and Netflix," adding, "This experience has taught us so much about ourselves, vulnerability, and love. We don't regret a single thing!" Four days later, news broke that the only other couple from season two to tie the knot, Danielle Ruhl and Nick Thompson, had split. Ruhl reportedly filed for divorce earlier this month, though neither reality star has commented.
After going public with news of their split, McNeely and Jones got a personal message from the official Love Is Blind Twitter page (weird). "As you start the next chapters of your lives, thank you for opening your hearts to the Love Is Blind experience and sharing your journey with all of us," read the tweet. It seemed odd to have a Netflix Twitter account express their condolences to the end of a marriage, but then again the couple did meet while being filmed in "pods," unable to see each other until their engagement. It's all a matter of degrees.
Should both these couples go through divorce proceedings, that would leave season two of Love Is Blind with a total of zero successful couples. Meanwhile, season-one married couples, Amber Pike and Matt Barnett, and Lauren Speed-Hamilton and Cameron Hamilton appear to be going strong. So, is love blind? It might be, but statistically speaking, it's not likely. Both seasons of Love Is Blind resulted in eight engagements each (though both seasons left out two couples from the episodes). Overall, four out of 16 engagements (one-fourth) resulted in marriages, and two of those four marriages (one-half) are ending in divorce. In other words, only 12.5 percent of engagements on Love Is Blind have resulted in marriages lasting longer than one year. It's not horrible, but is it enough to prove that this "experiment" is successful? I'm not convinced.
Neither, it seems, is Netflix, which released a trailer for the second season of the Love Is Blind spinoff, Love Is Blind: After the Altar, in the wake of the divorce news. It should come as no surprise that the clip spends a lot of time teasing the end of McNeely and Jones's relationship. "Marriage is not easy, like if anybody tries to tell you it is, it's a lie," Jones says ominously. "Is this a mistake that we made or is it something that should be fought for?" McNeely adds later. But it's not all impending divorces. The trailer also teases more light-hearted matters, like Deepti Vempati's potential romance with Kyle Abrams, who admitted at the season-two reunion that he wished he had proposed to her instead of Shaina Hurley.
The show will premiere September 16.
This post has been updated.