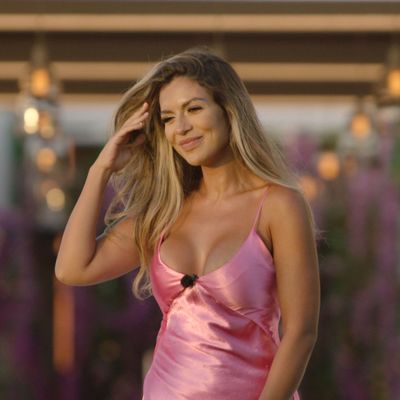 Ekin-Su Cülcüloğlu, the best reality-TV star the world has ever seen AND a total sweetie pie.
Photo: ITV/Shutterstock
Much like Love Island U.K. contestant Davide Sanclimenti, as this season of the show progressed, I fell gradually more in love with Ekin-Su Cülcüloğlu. To be clear, I was an Ekin supporter from the beginning. Her first words to her co-bombshell were an encouraging "Don't worry, I've got you girl," making it immediately apparent that she was going to bring the drama, excitement, and pizzazz that the season had been sorely lacking. The spark between Ekin-Su and the Love Island cameras was instant, her banter standing out from the usual reality-show fodder. There was no "My type on paper," no "Are all your eggs in Gemma's basket?" Instead, a typical Ekin-Su comment goes something like "You've got the color of, like, the sea. Blue. Almost like you can swim in it," as she said in reference to a fellow contestant's eye color. Even the most mundane compliment, coming from Ekin, is made hilariously poetic — which is a succinct summary of her time on Love Island overall.
Ekin-Su and Davide just won the eighth and most-watched season of Love Island, and much of that record-breaking viewership, as well as their genuinely rom-com-esque romance, can be attributed to Ekin-Su's balls-to-the wall, extremely Leo approach to being a reality star — not an influencer. Because she didn't spend her time in the villa carefully curating her Instagram marketability, she could actually have fun — and have a messy, real romance with Davide. That's right, I'm talking lovers to enemies to lovers, baby. The show has never seen anything like it, and after two dry and, frankly, boring seasons in a row, they needed this.
On Love Island, five men and five women are sent to live in a villa, where they are instructed to "couple up." Almost immediately after this pairing off, producers begin sending in "bombshells" — single contestants whose goal is to choose a lover, thus stealing them from their original partner and leaving them single. Every week, there is a "recoupling." Being single usually means you become vulnerable to elimination. The goal is, of course, to fall in love (and take home a $50,000 prize).
At least, it used to be. The early seasons of Love Island — before it had a large and loyal viewership and before Instagram fame was the expected career path for reality stars — were more emotional. The allure of starring on reality TV has always been wrapped up in celebrity, but these days most contestants openly admit they didn't come in with the expectation of finding love. Instead, they enter the villa with high hopes for brand deals or, if they're really lucky, presenting gigs or competing on Dancing on Ice. The longer you stay on the island, the higher you can expect your follower count — and potential income — to be when you come out.
Ekin-Su doesn't flatten herself to widen her appeal to audiences. It's even more obvious, now that she's out of the villa, that she had minimal IG career aspirations going in — she and Davide both are endearingly bad at social media (check Ekin's IG Story and you're likely to find millennial pauses, the comic sans font, and 2012-style selfie angles).
I can pinpoint the exact moment Ekin-Su became, for me, the realest contestant Love Island has ever seen. It was episode 27, Unseen Bits 4 (Unseen Bits, for the uninitiated, air on Saturdays, when there's no new episode, and reveal the "fun" clips from the week). This was the week that Charlie, the posh blond man of season eight (every season has one, and every season he's eliminated before he has even had a chance to fully unpack), chose to couple up with Ekin-Su and evidently soon regretted it.
In this clip, taken from their post-recoupling chat, Ekin is clearly (a) not that into Charlie and (b) in a silly, goofy mood. So when he says, "We haven't even progressed yet to a kiss," my girl Ekin-Su does not kiss that man. Instead, she terrifies him under the guise of flirting. First, she asks him if he'd be willing to wait five years to kiss her (of course he wouldn't), tells him he reminds her of the child from Home Alone and then does an impression of Voldemort to seal the deal. Charlie is left nearly speechless, except to say "Stop" and "You're being very weird, Ekin-Su."
Very weird for Charlie, but very, very, very relatable for me and every theater kid (or other variety of high-school dork) watching at home. In fact, in all of the episodes of reality TV I've watched — which is a lot, unfortunately — I've never witnessed a moment so relatable, so very real. "SHE'S A FUCKING PERSON!" is what I believe I squealed at my laptop screen the first time I watched it. Who among us has not, upon reaching the exhaustion level I'm sure she was experiencing, started to act "very weird," as Charlie so eloquently put it?
Ekin-Su does not solely reveal an entertaining personality, a flair for dramatics, and an incredibly beautiful visage. Those qualities make her an excellent reality-TV contestant, but they're not necessarily unique to her. What sets Ekin-Su apart and makes her a once-in-a-generation star is precisely what made Charlie call her a weirdo. She's smart and creative and could just as easily have become a Love Island producer instead of a contestant. As many have pointed out, she did much of the producers' work for them this season, single-handedly creating plotlines or suggesting a game the moment things started to get boring. She was never cruel or a bully, unlike some of the other cast members from her season — she was consistently named by other bombshells as being one of the first to say hello or make others feel welcome (though she isn't perfect — she famously lied to Davide about her time spent on the terrace with Jay, resulting in the most iconic and oft-quoted line of the entire series).
Who would have thought that Ekin-Su and Davide would end up being the most visibly obsessed-with-each-other couple this show has ever seen? Now that she has fallen in love, won 64 percent of the public vote, and signed the biggest brand deal in Love Island history, I want more for Ekin-Su than a million Instagram followers and multiple fast-fashion campaigns — and thankfully, it looks like my dreams are already starting to come true. She and Davide just announced that, an idea many on Twitter pitched, they'll be filming a two-week road trip through Italy and Turkey, eating and cooking and (probably) arguing. This is a promising start to the stardom Ekin deserves. I just know she could be the Oprah of the U.K. Can you imagine a daytime talk show called Earfuls With Ekin? I have pitches, people! ITV2 execs, get in touch. I want to live in a world in which nobody says "Ekin-who?" ever again.