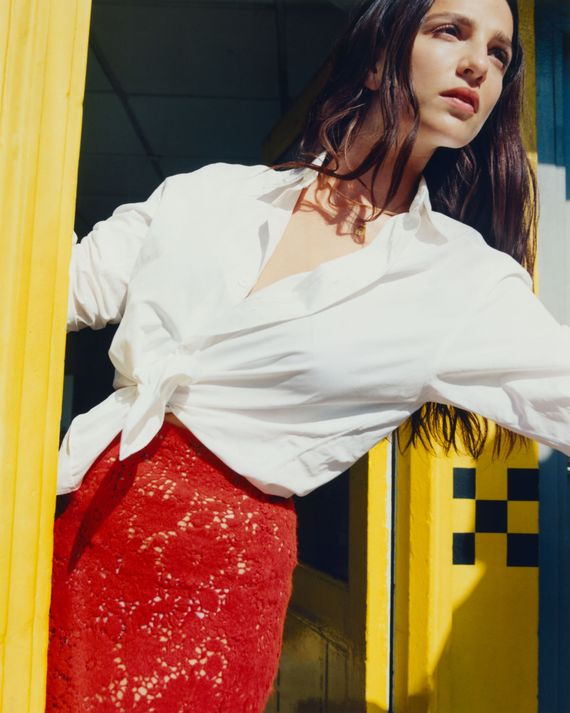 A few weekends ago, Marisa Abela went to Brighton to say good-bye to her childhood home. "I pride myself on not being a sentimental person, but I found it really emotional," she tells me, smiling sheepishly. It reminds me of something her Industry character, Yasmin Kara-Hanani, would say. Though the 25-year-old actor has lived in London for a few years, she still misses the little things about the beach town where she grew up. And with her mother selling the house in which she was raised, a new phase of adulthood is right around the corner.
This experience almost mirrors Yasmin's arc in season two of HBO's Industry, which focuses heavily on the character's familial drama outside of the workplace. While the first season follows four horny and somewhat horrible business-school graduates as they start their careers at Pierpoint, a top investment bank in London, season two greets them as third-year analysts returning to the office amid the pandemic.
This time around, they've all found their footing, but Yasmin in particular soars to new heights, fleeing the trading floor for the seemingly softer sphere of personal-wealth management. It's a decision her colleagues do not immediately understand, and when she greets the new female intern on her desk with the same harmful rhetoric and abusive demands that she was once subjected to by older male bosses, we also see that Yasmin is not so harmless. "I was excited to play this more self-assured version of her," Abela says via Zoom. "She's just sick and tired of apologizing."
Abela does not seem like the type to needlessly apologize either. She exudes confidence and a sense of comfort both in our conversation and onscreen, which she credits to watching her mother, actor Caroline Gruber, perform onstage. "If I go to a theater now and there's a small child there, you can see that they're a bit bored. I always had a lot of respect for it, especially because it was my mom's place of work," she says. "My brother and I would sit there quietly and watch whatever it was she was in."
As a child, Abela regularly performed in school plays, even winning the part of Juliet in her sixth-year production. But it wasn't until her final year, when her all-girls school invited boys in for a play — and her character had to kiss one of them — that she decided to pursue acting in college. "I think the boys clinched it for me. Is that terrible?" she asks me in a fit of laughter.
While she may not have realized it back then, practicing onstage with the guys prepared her well for her role on Industry. A banking floor may seem like the least sexy place in the world, but the characters on this show somehow make it into one, like when Yasmin slips a pair of her panties into her colleague Robert's pocket and the two exchange sexually charged glances while phoning their demanding clients. "Yasmin takes up a lot of space when it comes to her sexuality," says Abela. "It's exciting to play a young woman who is not crippled with hatred over her own body."
When we first meet Yasmin, she walks on eggshells in her new position on the trading floor. Though she is a multilingual publishing scion born into exorbitant privilege — and one of the few entry-level staffers seemingly bred for this line of work — she has a deadbeat boyfriend and an abusive boss, and we don't even know if she likes what she's doing. She quickly befriends the other female graduate in her cohort, Harper (Myha'la Herrold), and offers her the spare room in her apartment, but the social gap between the two could not be wider.
We see Harper excel at the job thanks to her intense and often irreproachable behavior, while Yasmin flounders. Her one saving grace is her intrinsic mastery of the power her sexuality affords her, especially in a male-dominated workplace. "She hears that her value is in how attractive other people find her and she's like, Well, that's good, because loads of people find me attractive," Abela explains. "And she just leans into it."
Yasmin's devil-may-care attitude toward her sexual power is exactly what drew Abela to the character in the first place. She was finishing her final year at the Royal Academy of Dramatic Art when Mickey Down and Konrad Kay's buzzy script for the series began to circulate, with murmurs that Lena Dunham was attached to direct the pilot. Because the premise involved finding unknown 20-something actors, she remembers going up against everyone in her year for a part, but she knew she wanted Yasmin because of the tagline given to her character: "Vulnerability disguised by Prada."
"If you would have told me at the beginning of RADA that on my graduation day I'd have gotten a train back that morning from Cardiff filming an HBO show …," she trails off, and I expect her to say that she would not have believed it. Instead she exclaims, "Yay!" Like Yasmin, Abela is not one to shy away from her victories.
However, there is one talent that the actor does not share with her Industry character. While Yasmin may eloquently switch between languages in the series, in real life, Abela cannot. "Unfortunately not," she says, sighing, when asked if she is fluent in French, Spanish, Arabic, and Italian, like Yasmin. But her education did include some Spanish courses, so she made sure Industry's creators wrote that in as Yasmin's secondary language, instead of French. It was particularly helpful when acting opposite Nicholas Bishop, who plays Maxim — a sexy, older family friend who manages Yasmin's family money and manages to get her into bed with him.
This season, Abela spent very little time on set in Wales with Harry Lawtey, who plays Robert, and Herrold. But as sad as she was to miss screen time with her old pals, she found it exciting to work with new actors like Bishop. "The trading floor and all the finance stuff can become a lot. Every now and then you just need a breath of a family drama or even a relationship, and this season, that's what Yasmin offers," Abela says, admitting she was surprised by the distance Yasmin has created between herself and her colleagues in an effort to succeed on her own.
Abela's work on Industry has not gone unnoticed by Hollywood either — most recently, she was cast in Greta Gerwig's Barbie, alongside powerhouse performers Margot Robbie, Ryan Gosling, Will Ferrell, Kate McKinnon, and Issa Rae. Naturally, she can't share much about the highly anticipated project, but her excitement "to be a part of something truly iconic" like Barbie and to work with Gerwig is palpable.
The actor is also a rumored front-runner for the part of Amy Winehouse in an upcoming biopic to be directed by Sam Taylor-Johnson. She blushes when asked about the late musician, but I have to know if Abela — who confidently tells me about her range of talents, from planning surprise parties for her friends to making floral arrangements — also has a good voice. She demurs, understandably, but she does tell me this: "I'm quite shy, but I sing constantly at home. I live above a florist, who overheard me singing, and she gave me a big round of applause and a bunch of flowers as if I were an opera star." Receiving a bouquet and a round of applause for a showstopping performance? Seems like that may be just the beginning of Abela's accolades to come.