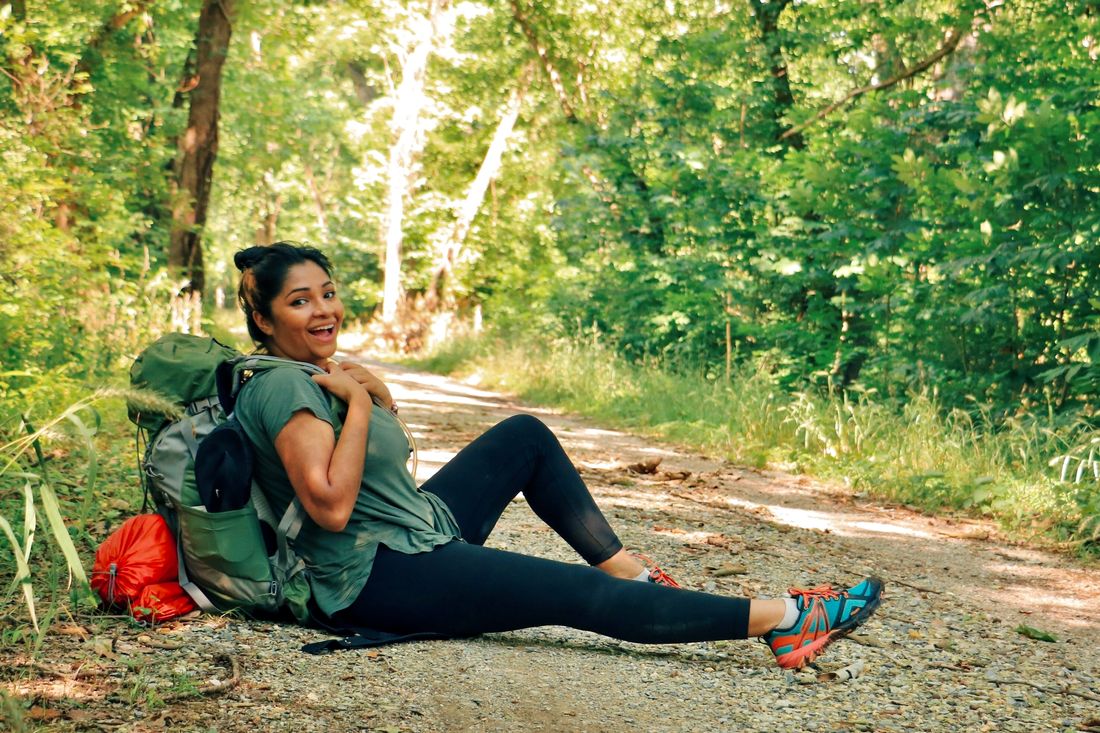 Ambreen Tariq is a "mediocre" outdoorswoman — and proud of it. The activist behind @brownpeoplecamping, Tariq lives in a suburb of Washington, D.C. and loves spending her free time hiking, bird-watching, car-camping, and cooking outside. Though she's tried more intense multi-day backpacking trips and backcountry adventures, Tariq always comes back to more accessible ways of connecting with nature. "I'm very proudly mediocre when it comes to the outdoors. I'll go a couple miles. I love going car camping," she says. "Have I done backpacking? Yes. But I love car camping. I love hauling everything and making the campsite my kitchen."
Her love for nature started at a young age, not long after Tariq and her family immigrated to Minnesota from India when she was eight. They threw themselves into learning what it meant to be an American — and the outdoors were a big part of that experience. "When spring came around, everybody in Minnesota went outside. They went fishing, they went hunting, they went camping. And so we thought that's what being American was," she says.
That first camping trip with her family was transformative. Tariq found what she calls a "sacred spiritual connection" to the land — a relationship she has returned to throughout her life. As an adult, however, she realized she wasn't seeing other people who looked like her on trails or at campsites. "Every other part of my life is entrenched in diversity. The food that I eat, the people that I work with, my music, the art, where I live, literally there isn't a single part of my life that is as white and as homogenous as the outdoors," she says.
Tariq's experience in the outdoors isn't represented in what she calls extreme adventure culture. "All the images that we've been fed about what it means to be an outdoorsman — it's always that it's an outdoors man, very masculine, very much about conquering nature," she says. The idea that you continually have to be building up to longer hikes, steeper climbs, and more hardcore thrill-seeking to be considered outdoorsy doesn't fit with Tariq's personal experience in nature — let alone her experience as a woman of color.
Brown People Camping started as a way for Tariq to digitally create a diverse, representative community of people who love the outdoors, but has since morphed into a 32,000-follower strong movement to help people of color connect with nature. Tariq also recently wrote a children's book, Fatima's Great Outdoors, to inspire children to spend time outdoors — and help our country overcome a culture of racial disparity in nature.
Feeling safe in nature is a privilege many people of color still don't have, Tariq says. National parks were only desegregated in 1945, and many protected parks and forests are in remote or rural areas where people of color have historically faced violence in sundown towns. Not to mention the fact that indigenous people were forcibly evicted from many of the landscapes where national parks exist today. Though access to parkland has increased for many people of color over the past few decades, outdoor culture still remains exclusionary. Some brands have even gotten involved: Hydro Flask has donated $2.5 million in grant money to nonprofit organizations dedicated to expanding access to natural spaces and making the outdoors more inclusive through its Parks for All program.
Whenever she spends time out in nature, Tariq runs through a "privilege checklist" in her mind: What does she have to do to remain safe that a white man doesn't need to worry about? Personally, she always makes sure to tell a friend where she's going and download a map before she leaves home. "There are certain things I will not do because I do not feel safe. I won't go camping or backpacking alone," she says. "That's never going to happen because I will never be able to enjoy myself." Tariq is not afraid of bears, snakes, or other wildlife — she's afraid of being attacked by another hiker.
She also makes sure to arrive at her camp before sunset, so she doesn't have to set up camp in the dark. Tariq also has to consider where the nearest gas station is, and whether or not she feels safe stopping in rural areas. Furthermore, data shows that only 23 percent of visitors to national parks are people of color, and the National Parks Service Tariq still has a mostly white workforce. Tariq says people of color also often face over-policing by park rangers — the best-case scenario explanation being park officials don't expect people of color to know the rules of the park, the worst-case scenario being overt targeting.
Just because you may not have experience setting up a tent or kayaking doesn't mean you can't have a relationship with the outdoors, Tariq says. Learning how to prepare for anything has been a key part of Tariq's journey toward being comfortable in nature. Even simple acts like making sure she packs plenty of food, fills up a large reusable water bottle like a Hydro Flask to stay hydrated, and chooses the right gear for the weather have helped Tariq build up her confidence.
Outdoor culture can often feel exclusionary, minimizing the ways that regular people interact with nature every day, like families having cookouts in city parks or people fishing off the pier to catch dinner. "Every time I talk about what I do, at least one person will be like, 'I love taking a walk in the park, but I'm not an outdoors person,'" Tariq explains. "I don't know why we have this need to constantly minimize ourselves and edge ourselves out because someone along the way told us that you are not enough."
It's all about finding a way to connect to nature that works for you personally, Tariq says — whether that's snapping photos for the 'gram on a hike or just sitting by a lake and watching the birds fly by. "So what if someone went all the way to Joshua Tree to take a selfie?" she says. "Why does your experience have to be the most quintessentially authentic outdoor experience?"
Ultimately, Tariq's activism ladders up to one larger goal: ensuring everyone feels a connection to nature so the entire population has a stake in the fight for climate justice. "We need to learn to love this [land] and develop our personal connection to these resources so that we will stand up and fight for them," she says. "The more people that are involved in the movement, the more we realize about the realities that are impacting people around this country and the harder we can fight for it and the stronger our body of movement will be."
This advertising content was produced in collaboration between Vox Creative and our sponsor, without involvement from Vox Media editorial staff.