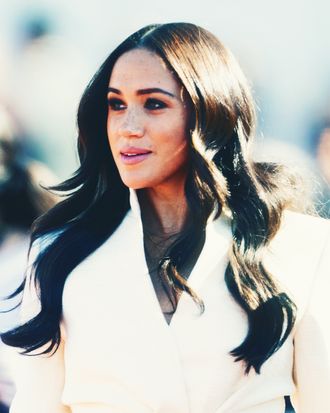 Photo: Samir Hussein/WireImage/Getty Images
On Tuesday, the first episode of Meghan Markle's podcast, Archetypes, dropped on Spotify, featuring a candid conversation about ambition and motherhood with her guest Serena Williams. According to Markle, the podcast is intended to "investigate, dissect, and subvert the labels that hold women back." And it probably won't come as a surprise that the response to the first episode has already proven her point, with critics continuing to accuse her of trashing the royal family, playing the victim, and lying.
Markle's critics were particularly enraged by a story she shared about a time there was a fire in her son Archie's nursery while she and Prince Harry were at a royal engagement. "When we went on tour to South Africa, we landed with Archie," she said, recalling that she and Harry dropped 4-month-old Archie off for a nap at their housing unit and headed to the township of Nyanga for a royal engagement. (This happened in 2019, before the couple announced they were stepping down from their roles in the royal family.)
"We finish the engagement," she said, "and they say there's been a fire at the residence. What? There's been a fire in the baby's room." According to Meghan, Archie's nanny had brought him downstairs with her to get a snack when the heater in his nursery caught on fire. "There was no smoke detector," Meghan said. "He was supposed to be sleeping in there." The couple, she said, had to ignore the incident and go to their next engagement without their son. "Everyone's in tears, everyone's shaken," she said. "And what do we have to do? Go out and do another official engagement. I said, 'This doesn't make sense. Can you just tell people what happened?' The focus ends up being on how it looks instead of how it feels."
Sounds like a pretty terrifying experience for any parent — but, apparently, not everyone agrees. Piers Morgan was quick to express absolutely zero sympathy for Meghan, tweeting that her "victimhood knows no bounds, nor does her thirst to trash the royals while making $$$ from them." Australian TV host Karl Stefanovic actually laughed through the story on-air and said, "So, just to get this right, the baby is, what, not even there? And because the baby wasn't there, she was going to have difficulties going to a function? Oh my God." He proceeded to suggest Meghan needed to "grow a set."
Meanwhile, commenters on TikTok heard this story about a mother fearing for her child's safety and immediately accused Meghan of lying. Comments on a clip of the episode are reminiscent of the vitriol directed at Amber Heard — accusing Meghan of sounding unemotional and calling her a "Class B actress" — with some directly comparing the two.
Ironically enough, that sounds like exactly the kind of sexist trope her podcast intends to call out, but apparently these commenters were too busy looking for reasons to be mad at her to actually listen.