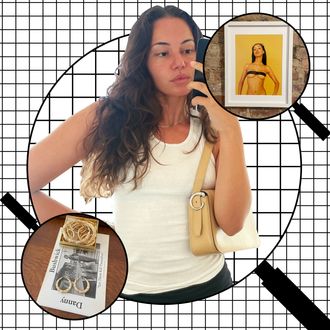 Photo-Illustration: The Cut; Photos: Courtesy of Mellany Sanchez
"Good style is smart," explains Mellany Sanchez, a wardrobe stylist and creative consultant, over the phone. "Practicality is part of the beauty of dressing." The New York native has styled model Imaan Hammam for the Met Gala red carpet, worked with Drake, and collaborated with Nike. When styling, Sanchez draws upon sharp lines, functionality, and durability above all. "I love when a silk dress is just cut perfectly and it doesn't flap up in the wind or expose everything when you bend down," she says. "That's smart dressing; that's smart style."
Sanchez also takes inspiration from feelings, as when combating the disorienting summer heat with crisp tanks and light trousers; from visual references like early Nike ads; from the work of frequent collaborator Jamil GS; and from her personal relationships, like with her family who have been in New York for generations after migrating from Puerto Rico in the 1950s.
But most of all, Sanchez stands by people-watching in New York, specifically in Queens and Brooklyn, where she was raised. "Sometimes I'll see a woman sitting and she has a hemline and a sandal working in a way where I'm like, Oh, I want to re-create that," she says.
Paying attention to those details is what makes shopping a complete experience for Sanchez. That's why she prefers to shop in person, so she can appreciate not only the design and layout of the shop and how it's organized but each employee's uniform and personal style as well.
Where did you get the inanimate object that brings you the most joy?
When I worked with Drake, I lived on the road. We went from hotel to hotel, and fortunately, I was in nicer hotel rooms where there were often beautiful desks. When I was sitting at these gorgeous writers' desks, I felt more productive. And that is the feeling that I'm always searching for with an outfit: more put together and organized in my thoughts. So I realized the power of a good desk.
I got a new desk from Lichen, a young new design studio based in Ridgewood, where I'm from. It has an in-house designer named Christine Espinal, who's amazing. She also designed these Domino benches for an event I did, which now I have in my house as a book-shelving unit.
What are some things you keep at your desk?
A journal. Every year, I get a planner from Smythson with my monogram initials. I usually do the textured leather or soft leather weekly agenda.
Where did you get your favorite piece of jewelry?
I got a pair of tiny, baby, 14-karat gold bamboo hoops from Jane's at New Top Jewelry on Centre Street. I've had a relationship with Jane for a really long time. They're the perfect little dose of New York.
Where did you get your favorite piece of clothing?
I was working with Brioni for a client, and I had the opportunity to go to its atelier in an Italian city called Penne, like the pasta. It was a life-changing experience because I'd certainly seen some factory or atelier spaces before, but I got to see all of the different suiting techniques they were doing and all of the hand stitching. It was special.
Out of that experience, the company offered me a piece, and I asked for a coat. They invited me to come in, and they took my measurements. With Brioni, I made this gorgeous brown full-cashmere overcoat. I chose the lining, which was so great because the men who work at Brioni are seasoned OG veterans of Madison Avenue.
You keep flowers from Stolen Magnolia on your nightstand. Where did you get the vase you keep them in?
I like to collect vases from Coming Soon, a small business in Chinatown.
 Where do you buy gifts?
From Crystal Voyager. She's this incredible vendor of found objects, crystals, beautiful handmade objects from all over the world, and fine-art prints.
Where did you get the item you wear the most?
Chickee's Vintage in Williamsburg. I got a pair of vintage Versus Versace cropped pants. This summer, I'm going to be wearing pedal pushers and cropped pants. And at Procell on Delancey Street, I bought an old Celine heavy silk tank dress that's cut on the bias in this way that falls away from the body. It feels like I'm wearing nothing. It's the perfect spaghetti-strap, triangle-top silk dress with nipped edges at the hem.
Where did you get your favorite item to layer?
My favorite items to layer are Italian camisoles in a blend of wool and silk. I find them when I go to Rome in little corner underwear stockists or when in New York at Zitomer's.
Zitomer's is a really old-school pharmacy uptown next to the Carlyle. On the top floor, it has really amazing barrettes and lingerie and socks. For socks, I love Maria La Rosa. I also buy a lot of Falke. As a stylist, I'm always stocking up my kit with many bits of hosiery.
Where did you get the item you'll never get rid of?
My Jamil GS photo-shoot prints. They were gifts from the artist.
One of them is of this model Yalitza who was in a really great editorial he shot for i-D in 1997, called "Boricua Girls of the Bronx." In the editorial, you never see Yalitza smile, but in an outtake you see her smiling and, I kid you not, she's wearing a gold tooth with a Nike swoosh on it. It's unreal. I love the style of that. Another print I have of his is of the Firm — Nas, Foxy Brown, and AZ — from a photo shoot he did with them. My third print is of Brandi Quiñones, an iconic model from the '90s. He and I have done a lot of work together. It's something nice to connect to because he does sell prints online.
What book changed the way you approach life?
Too Much and Not the Mood: Essays, by Durga Chew-Bose, which I picked up at McNally Jackson in Brooklyn. One day I was rereading everything that had ever been written about Phoebe Philo, and I came across something Vanessa Friedman had written at the New York Times. It was a roundup of ten women's oral histories about an experience they had with Philo and Celine while she was there. Durga wrote a tiny excerpt that was so special, sweet, and so profound that I was like, Wow, this woman is interesting, I love her words. So I looked her up, and she had this book. That's all I knew about it. The writing was just as strong. I was influenced to start reading younger writers and current creatives like Durga since I saw that she was sharing on Instagram other works she was really interested in. It reignited in me to remain focused on the communities we can accrue on social media and how to speak directly to the audience we care about.
Where did you get the item that gets complimented the most?
My Prada navy-blue leather cropped jacket from the Prada store on Broadway in Soho. It fits me like a glove and gets noticed all the time. That jacket is always kind of a shining star in my wardrobe.
I want a new pair of America's Cup sneakers, too. There's a new gray pair with straps that I'm eyeing.
"Where Did You Get That?" is our nosiest shopping column, in which we ask people super-specific questions about their very favorite objects.
For more from the Cut Shop team, follow us on Instagram and Twitter, where we share our best new finds, favorite styling tricks, and more.