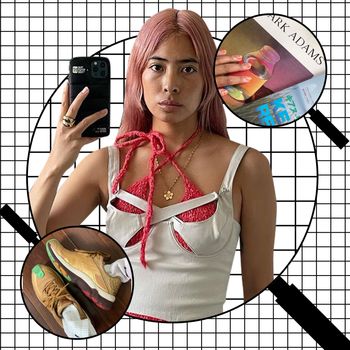 Photo-Illustration: by The Cut; Photos: Courtesy of Michelle Li
Stylist, writer, and art director Michelle Li is easy to spot in street-style photos, her signature pink hair as recognizable as her vibrant wardrobe. Li has styled actresses Lana Condor and Sadie Sink and tennis player Coco Gauff for Teen Vogue covers and shared her best beauty and fashion tips online.
Her approach to styling is strategic: She styles her outfits around one piece throughout the week, adding or changing things until she's done an intensive exploration of all the ways to wear it. She keeps a running wish list of things to add to her closet and rarely buys anything full price. "I can be a really impulsive shopper, and it's a better way of letting clothing items marinate in my mind first," she explains over the phone.
To Li, good style is all about intention and "wearing clothing that feels very personal and true to oneself," she says. "It's about curating it for yourself versus following trends." She has a handful of designers she keeps her eye on for investment pieces, including J.W. Anderson of Loewe and his eponymous brand, as well as inspiration from films such as Kill Bill.
Where did you get the inanimate object that brings you the most joy?
I bought my Tekla sheets on the website. It was like the first time I actually spent money on sheets, and it was after I broke up with my long-term boyfriend and I was like, I need to cleanse my bedroom space, and I bought a new mattress. My apartment is pretty small, so I do spend a lot of time in bed or on my couch.
What's your nighttime routine?
I eat a pretty early dinner, and then sometimes I'll go for a little night walk just to help me digest it and see the sunset. I'll come home and usually watch TV and knit, and then at around 10 p.m., I'll crawl into bed and write in my journal. I've been knitting a lot of shrugs, leg warmers and really long, skinny scarves —which I've been really enjoying. I also listen to sleep meditation; that's been really fun. It's a new thing that I've been doing, and I really liked that. My favorite journal is the Smythson journal. The leather outside is super-nice, and the paper feels really thick; the felt pen doesn't bleed through or anything.
What do you keep on your nightstand?


I have my gua sha, and I have this Kate McLeod body-moisturizing stone. It's really nice. It's a solid piece of lotion, but it smells amazing. So before I go to sleep, I'll usually rub that on me, and then I have a glass of water.
Where did you get your favorite piece of clothing?
I bought a JW Anderson dress. I saw it on the runway and thought that it was so beautiful but that I definitely wasn't going to be able to afford something like that. This was one of my favorite collections, too — it was the JW Anderson spring 2020 collection. I love the draping and the asymmetric sleeve on it. I was doing a collaboration with Farfetch and they said they could give me a store credit, and I said, "No, I don't need the store credit; I want this dress."
I've worn it with a pair of Birkenstocks before, but then I've also worn it to a friend's wedding, and this was special because it was a wedding that my brother and I got to go to together. He came to meet me in the city, and we went to the wedding, and it was the first wedding after COVID sort of calmed down. I always get a lot of compliments on the dress because it's so unique and special. It's such a different silhouette.
Where did you get the item you splurged on the most?


I waited for this Chopova Lowena skirt to go on sale, and then I bought it with some credit I had. I think it's so special, and the brand has grown so much. It's definitely a statement piece, so it's not something you could wear every single week. I'll pull it out once a month. It makes me happy just knowing I have it and I own it.
What clothing items and designers are good investments to you?
I really love investing in anything from Loewe — their quality is actually worth the price, which is really rare nowadays. I typically will make investments in knitwear because I have really sensitive skin, so it's really important to buy high-quality knitwear, in my opinion. It's mostly bags and knitwear that I feel comfortable splurging on or dresses because it's a top and a bottom.
Where did you get the item you've had for the longest time?
My mom loves getting me stuffed animals. This stuffed-animal turtle is the thing that stayed with me for the longest time. I brought it with me to New York when I first moved here, so it's always been a source of comfort for me.
Where did you get the item you'll never get rid of?
The Loewe Flamenco bag. I was debating whether to get it in the pink color because it is bubblegum pink, and I'm so glad I did because it adds the perfect pop of color. I have it in the medium size, it's perfect for holding my headphones, my notebook, my wallet, my phone, and lotion. That's pretty much all I need. Sometimes I'll bring a bottle of perfume — I really love Aesop's Karst.
It was the bag I always wanted. I told myself once I graduated from college and got a real job, I would buy myself that bag. When I got a real job, I couldn't get myself to pull the trigger, and then I finally found it on Fashionphile and bought it.
Where did you get your favorite pair of shoes?
The Asics x Kiko Kostadinov Gel Teserakt sneakers were such a sleeper hit for a while. They sent them to me, and I kept them in my closet for maybe a year and never wore them. I tried them one day, and now I wear them with everything. They make every outfit look better.
Do you have a favorite bookstore you like to shop for gifts? Is there anything there you'd gift?
I'm always popping into Dashwood and finding books that I really like. Sometimes I'll buy them and then gift them later. I usually do coffee-table books.
What's the last thing you gifted someone?
My go-to gift is always the Loewe candle.
Your lace-up Saks Potts pants were your most-complimented item. Is there anything else from the brand you have your eye on?
The main thing that I buy from Saks Potts is mostly just their leather goods because I think the fit is really nice. They're very sophisticated and fun to play around with. I was like, Should I buy these? These are not me. I always imagined they're for the sexy skinny girl because they're very low rise and the lace-up is hot and sexy, and I'm just not like that. It's been able to help me maybe explore that a little bit more but also reinterpret it as my own.
Kill Bill was a movie that changed the way you approach life. How so?
Every time I watch it, I get so much style inspiration. I end up spending hours shopping for, like, racer jackets and cool things with stripes on them. Growing up and seeing Lucy Liu in it and these badass women always really inspired me even when I was younger.
How do you prefer to shop?
I'm a big online shopper. I have the designers I really love, and whenever new seasons drop, I have a running list of the pieces I really want from that season. Once sales season comes around, I usually will pull the trigger on all the pieces that I wanted.