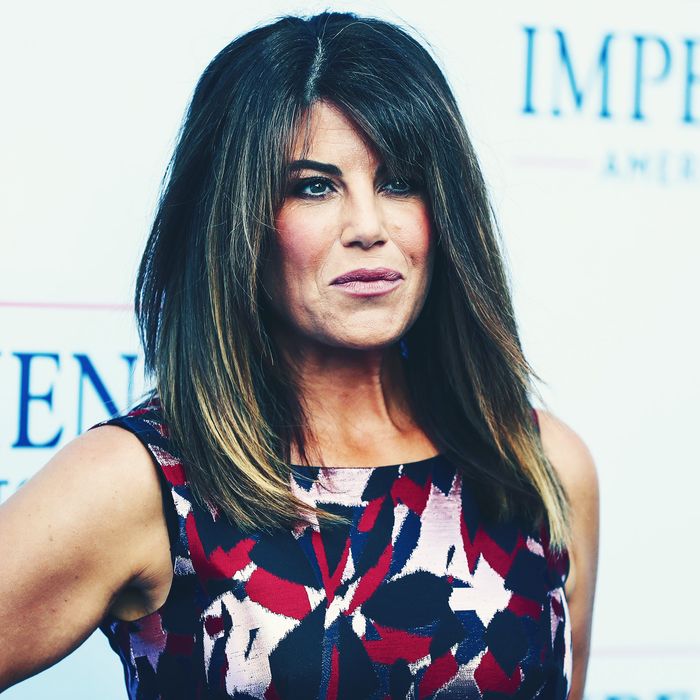 Photo: Image Press Agency/NurPhoto/Shutterstock
In the week since Beyoncé released Renaissance, her first solo album in six years, it's been met with celebration — as well as a few post-release tweaks. Beyoncé is apparently in the process of removing the interpolation of Kelis's song "Milkshake" from the track "Energy" after Kelis accused her and "Milkshake" producers Pharrell Williams and Chad Hugo of using the song without asking. Beyoncé also changed the lyrics in "Heated," removing an ableist slur that sparked backlash over the weekend. 
While she's at it, Monica Lewinsky would like to request another lyric change. In response to the news that Beyoncé would remove the insensitive lyric from "Heated," Lewinsky tweeted, "uhmm, while we're at it…#Partition." In "Partition," from Beyoncé's 2013 self-titled album, the singer references Lewinsky's infamous affair with Bill Clinton, singing, "He Monica Lewinsky'd all on my dress."
It's not the first time Lewinsky has addressed the lyric. In a 2014 essay for Vanity Fair, she wrote about the endless pop-culture references made about her: "Miley Cyrus references me in her twerking stage act, Eminem raps about me, and Beyoncé's latest hit gives me a shout-out. Thanks, Beyoncé, but if we're verbing, I think you meant 'Bill Clinton'd all on my gown,' not 'Monica Lewinsky'd.'"
Lewinsky has been speaking about the humiliation she suffered in the aftermath of the affair for decades. As she's pointed out, most of the jokes made about the 1998 scandal have been at her expense, not Clinton's, even though their affair started when he was the president of the United States and in his 40s, while she was a 22-year-old White House intern. In a 2018 Vanity Fair essay, she described the fallout from Clinton's initial denial of their affair: "As it so often does, power throws a protective cape around the shoulders of the man, and he dictates the spin by denigrating the less powerful woman."
Lewinsky clarified in the comments that she hadn't reached out to Beyoncé's team to make the request. A few commenters were quick to point out that Lewinsky has "rap song muse" in her Twitter bio, suggesting she's capitalizing on the fact that her name appears as the butt of so many jokes. (Lewinsky said in a 2015 Ted Talk that she's been name-checked in almost 40 rap songs, though the true number is much higher.) Responding to commenters accusing her of suddenly taking issue with the lyric after joking about it for years, she wrote that she uses humor "to deal with painful or humiliating things." Others took issue with the idea that, by calling out the lyrics, Lewinsky is holding Beyoncé, a Black woman, to a different standard than the countless other musicians, comedians, and public figures who've made jokes at her expense. (Likewise, Beyoncé's use of the word "spaz," which was also removed from a Lizzo song in June, is far from its first appearance in music.) Lewinsky defended her choice to specifically address Beyoncé, arguing that she brought it up in response to the news that Beyoncé is changing other lyrics.