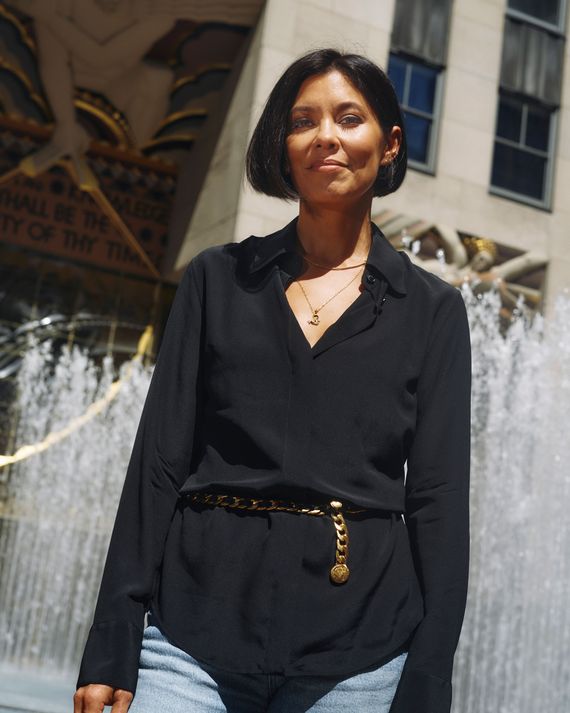 Alex Wagner has no chill. We're talking about the upcoming midterm elections in a small, undecorated corner office at 30 Rock — she'll relocate into a more permanent space once her fellow MSNBC host Rachel Maddow moves — when I suggest Cardi B as a potential guest. The rapper is not Kyrsten Sinema or John Boehner, the Democratic senator and former Republican House speaker who occupy the top spots on Wagner's list of dream guests, but the mention of the hit songwriter elicits a huge grin. She waves her arms, her eyes light up, and she leans toward me as she starts to talk about her plans to bring poets and directors into the conversation around the day's news.
The 44-year-old journalist has plenty to be excited about when I meet with her: In June, the network announced that she would be replacing Maddow in the network's plum 9 p.m. time slot four nights a week, and the debut of Alex Wagner Tonight is days away, on August 16. She compares the moment MSNBC president Rashida Jones called to offer her the job to the climactic scene in a romantic comedy, when the main character finally gets the marriage proposal they've been dreaming about. "You wanted this for so long, and you feel like your entire life is going to change," she says. "And much like all marriages, there are going to be challenges and complications inevitably in the road ahead, but you're making this lasting commitment."
What her enthusiasm elides is that Wagner has been diligently preparing for this moment her entire career. For two decades, she has bounced along a nontraditional career path, adapting from scene-y culture magazines to a genocide-fighting nonprofit to cable news. Her former colleagues describe her as a workhorse who puts a lot of research behind her improvisational interviews, pitches in with booking guests, and is a thoughtful manager. Her co-host on Showtime's The Circus, former White House communications director Jennifer Palmieri, credits Wagner with teaching her how to ask better questions. "She's very good at making television," Palmieri says. "She knows how to use that medium to tell a compelling story."
By all accounts, Wagner is a person who has worked hard to develop the skills necessary to succeed in a situation that could be seen as setting her up for failure. Maddow, the network's biggest star, delivered her eponymous show for almost 14 years and will continue to do so on Mondays. MSNBC viewers love watching her — the show peaked with an average of 4.3 million viewers in January 2021, when fallout from the Capitol riots and the transition to the Biden administration dominated the news — and they may resist change. When Wagner guest-hosted in February, viewership fell 21 percent compared to the nights Maddow sat at the desk. (Jones has said their metric of success "isn't Rachel's numbers or bust.")
Wagner has an impossibly large office chair to fill, and during our interview, it's clear she's trying to give herself grace. She says she's not striving for perfection and expects the show to continuously change, with a different look three months from now and three years from now. "Not to sound like too much of a person throwing Zen koans out, but the path is the destination, or whatever," she says. "I want to enjoy the evolution."
Wagner was raised in the suburbs of Washington, D.C., the only child of Tin Swe Thant and Carl Wagner. Her mother, an exile from Myanmar, once known as Burma, and her late Luxembourger Irish father met at a national trade-union center. She grew up steeped in Democratic politics: Wagner's father was a prominent party strategist who counseled President Bill Clinton as well as Senators Edward M. Kennedy and George S. McGovern. "I certainly grew up hearing my father say negative things about Ronald Reagan," she says. "And then I remember, in the '90s, him coming in through the front door saying Bill Clinton has just ended welfare as we know it and effectively saying, and I'm paraphrasing here, 'He is dead to me.'"
In her 2018 memoir, Futureface: A Family Mystery, An Epic Quest, and the Secret to Belonging, Wagner wrote that she was a nerd who spent a lot of time alone playing solitaire. She was aware from a young age of how often other people didn't view her the way she saw herself: When she was 12 years old, a white line cook asked her if she was adopted. It wasn't the first time she was asked that question. "In the eyes of certain folks, who were universally certain white folks, I was not generically American," she wrote. "I was something else." Just before Wagner turned 16, Time magazine published a computer-generated image of a woman's face, meant to represent what a future, multicultural American would look like, on its cover. It bore enough of a resemblance to Wagner that she considered it a revelation. It also prompted a deep existential question she would attempt to answer in Futureface: Where did she belong, and whom did she belong to?
Wagner went on to attend Brown University and built up an eclectic resume. She landed her first internship at Ray Gun, a boldly designed Los Angeles music journal covering alternative rock, after cold-calling them while on spring break in Los Angeles. She also worked for the Tokyo-based Tokion, which covered street art and culture. "We thought we were such hot shit," she later said of the experience. Knowing what's cool before everyone else seemed to pay off once John Podesta, Clinton's former chief of staff and a childhood neighbor of Wagner's, started the Center for American Progress and gave her the vague-sounding position of minister of culture. Wagner left for the music publication The Fader and rose to editor-in-chief before being poached by Not On Our Watch, a humanitarian organization co-founded by George Clooney, where she learned the power of television to get people's attention.
Wagner returned to Washington in 2010 to report on the White House for an AOL-owned politics news site — "another unsolicited job offer," according to a 2012 Elle profile — and was soon appearing on MSNBC several times a week. She quickly garnered a reputation as a generous host when NOW With Alex Wagner, a program featuring dinner-party-style panel discussions on politics, breaking news, and pop culture, debuted in 2011. "Her range of expertise and interests is so varied that it allowed the show to feel different and be able to pitch to a wider audience," says Joshua Chaffee, who worked as a senior producer on the show. "Alex can have a fascinating interview with the director of the White House [National] Economic Council and then have 2 Chainz on and have an equally fascinating conversation about music and about government surveillance and income inequality."
After the show was canceled in 2015 as part of a network transition to more breaking-news coverage, Wagner eventually landed at The Circus, a weekly documentary series, replacing Mark Halperin in 2018 after he was accused of sexual harassment. The production required intensive research and shooting field segments across the country with very little time off; she'd frequently show up to shoots hungry and be filmed shoving tacos or beignets into her face. Wagner's interviews with hard-core Trump fans in North Carolina, anti-government Three Percenters, and anti–critical race theory activists were often difficult, but she knew there was value in challenging their perspective on camera. "You watch her once and you can see that she's different from everyone else," says Lisa Ling, host of CNN's This Is Life and HBO Max's Take Out With Lisa Ling. "She just has this sharpness, and I think she's disarming in a lot of ways because she often has this sort of smile on her face when she goes for the jugular."
For one segment, Wagner interviewed Patti Hidalgo Menders, who is the president of the Loudoun County, Virginia, Republican Women's Club and an anti–critical race theory activist. When Wagner asked Menders for evidence to back up her assertion that teachers disparage children for the color of their skin, Menders cited a rap song with lyrics "putting down Andrew Jackson" that she said was being taught to sixth-graders. "Well, I think a lot of people would credit Andrew Jackson with the genocide of the Native population," Wagner told Menders. "Yes, but how do you discuss it without —" Menders paused. "Denigrating whiteness?" Wagner offered. "Yeah!" Menders agreed. "Like, at what point do you forgive and stop segregating?"
Wagner reveals exactly who her interviewee is without condescending to them and without the exchange getting contentious. "I don't want to sound overly solicitous of people who have willingly had their minds and hearts poisoned by misinformation or social media or circles of friends," she says, but at the same time, "just because someone is unsavory or holds racist viewpoints, doesn't mean that we can stop seeing them as human."
Those experiences on The Circus made Wagner want to incorporate field reporting as a core component of her new program. ​​"I think every show is a reflection of the anchor in many ways, with few exceptions," she says. This includes being a mom of two young boys — Cy and Rafael — with her husband, Sam Kass, an entrepreneur who was Barack Obama's White House chef and senior policy adviser for nutrition (the entire Obama family attended the 2014 wedding of the pair, whom Vogue dubbed politics' It couple of the year). Wagner worries about how her kids will grapple with the effects of climate change as they grow older and about their safety as they start at a new school this fall. Those concerns will influence her coverage. "I was on the air when Newtown happened, and it was gruesome and horrific at that time," she says. "Having a kid who just turned 5 and is going into kindergarten certainly makes you think about that shooting and all school shootings differently."
Ultimately, Wagner has a clear definition of success for her show: "I want to garner the largest audience we can, and I want to do that by putting a really quality show on the air," she says. "As far as the external forces, I can only worry about so many things at once." When Alex Wagner Tonight debuts, she'll also be the only Asian American helming a prime-time cable news program. Her ascension can't be reduced to one moment of representation in an industry that has been antagonistic to Asian American women for decades – Ann Curry was pushed out of NBC's Today just ten years ago – but it does drive home how limited ideas about who can be a news anchor fail viewers.
The show arrives at a moment where Asian American and Pacific Islanders (AAPIs) are the fastest growing demographic in the United States and a key voting bloc in states like Georgia; where the nationwide increase in anti-Asian hate crimes brought on by the Covid-19 pandemic shows no signs of abating; and where, despite improvements in AAPI representation in the media, many newsrooms still were caught off-guard when a white gunman went on a shooting rampage at three Atlanta-area spas, killing eight people, six of them Asian women. For too long, the community has been covered by white journalists as if it's a foreign country. I didn't know seeing someone like Wagner take on this position would feel so important until I saw the show teaser. Hearing about what's going on in Asian America from someone who is a part of it always feels momentous.
"I have no intention of ignoring what's happening to Asian American people in this country" on the show, Wagner tells me at one point during our interview. "My mother, who is 78 years old, doesn't feel comfortable walking down the street in the swing district where she lives. And that's a problem for not just me, but for our society, that people feel like they could just be pushed onto a train track or off of a subway platform because of the way that they look."
Wagner knows what it's like to be the daughter of an immigrant and worry about her safety on the train, and when she talks about it on the air, that's going to feel radically different. Wagner knows that if she has that concern, a lot of others are dealing with it, too — and because she's the boss now, she's going to help a lot of other people at her network empathize with, if not fully understand, what that feels like.
Since Connie Chung's debut as co-anchor of CBS Evening News nearly 30 years ago, only a handful of other Asian American women have become anchors or hosts at major national news networks. When I sheepishly ask Wagner what it feels like to join this cohort, she says, "It's insane. I feel so honored to be one of them. And also, that's got to change." But it's happening, I tell her. You're in the group now. "I know," she says. "Let's hope I can stay here."