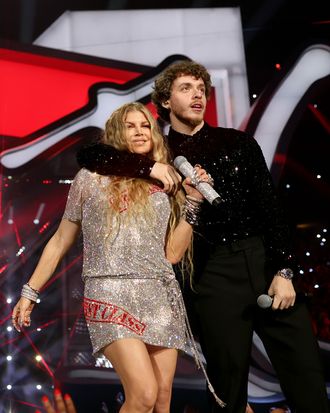 Photo: John Shearer/Getty Images for MTV/Paramount Global
Have you ever wanted to be on a fake private jet with Jack Harlow? Neither have I, but that's where we began the VMAs against our will. Harlow walked the star-studded aisle of the plane, filled with fellow musicians like Saucy Santana (and his face fan) and Chloe Bailey, in what we assume was meant to be a flight attendant's outfit, before it was ripped off to reveal a sequined mock turtleneck.
While we were distracted by Harlow cosplaying as Harry Styles in his sparkly outfit, none other than Fergie herself walked out onstage in a bedazzled set of her own to sing alongside Harlow, who sampled her banger "Glamorous" in his song, "First Class." Everything was going great, and I found myself thinking bring Fergie back, she really deserves more, until she started grinding on Harlow — which is fine, have your fun, but please. Anyone but him.
I lost focus after that and only regained it when an assortment of random, brightly colored shapes began appearing on a screen behind a solo Lizzo onstage. She performed her entire set alone, which we assume is a nod to Beyoncé's 2011 Billboard Music Awards performance, but it wasn't quite giving the same energy. (Do not come for us! We still love Lizzo in this household!) During all of this, Harlow somehow managed to get back to his seat, where the camera panned to him as he literally picked his nose while Lil Nas X sat next to him looking slightly confused.
We feel you, Lil Nas X, we feel you. We're still confused about everything we just watched too.