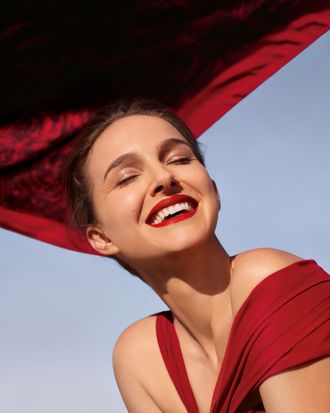 Photo: Courtesy of Dior Beauty
If you are a movie lover, you recognize Natalie Portman for her roles in Black Swan or Closer, but if you are a beauty lover, you might recognize her for her signature red lipstick. "Red lipstick absolutely makes me feel tougher and bolder," she said over the phone recently. "I feel like I can go into a room and be my biggest self. You announce yourself when you come in with red lips; it's like you can't hide. There is this confidence and brashness that comes from wearing red lipstick."
Because of that, she's been a longtime beauty ambassador for Dior, working with the brand on its beauty collections. Dior's latest launch is part of a 22-color collection of the Rouge Dior collection, the Forever lippies. The campaign features Portman as well as Yara Shahidi. Portman talked to us briefly about lipstick (of course), what brings her joy, and what returning to the big screen for Thor: Love and Thunder was like this year.
Okay, let's start with the movie news. You returned to the big screen in Thor alongside Taika Waititi, Chris Hemsworth, and Tessa Thompson. I've read about your super-tough workout routines — five days a week and a mix of cardio, boxing, and weight lifting — preparing for the film. What's been the most challenging part of your body transformation? 
They made my character much taller than I am, so that was interesting. Obviously there's some movie magic that goes into that, but they would build decks for me on set that I would walk on and be like, Oh my God! When I was working with Chris and Tessa, they would unfortunately have to hop over the decks all the time, so that was pretty funny and definitely unusual. I don't know that I'll ever, ever be cast again as a six-foot character.
A deck that you would stand on? That's such a big difference from your height IRL of five-foot-three.
Yeah. I'm not sure if it's five-ten or six-foot. Whatever the exact measurement is, it's not my real-life five-three. It is interesting to think of how it affects your personality. If you walk in and you're one of the tallest people in the room instead of the shortest, it completely affects who you are as a person.
I read that you are vegan and had to get lots of protein as part of your Thor training. What kind of vegan meals do you eat?
Being an L.A. girl, I am partial to tacos. It's pretty amazing vegan tacos you can get here. There's one place in particular I love, Guerrilla Tacos. They make these incredible sweet-potato tacos. There's also incredible Thai food in L.A. I love vegan Thai curry.
Is there anything you don't eat?
I don't eat a lot of replacement meat. I'm not trying to pretend I still eat meat.
Fair. You've worked with Dior for years, so you've seen the products evolve over time. This new lipstick has a wear of 16 hours, which is super long. Does it really last that long?
I have eaten full meals, I've kissed my husband, and it survives without reapplication, which is incredible. In the past, I've had nightmares of eating dinner, then having that line around my mouth. The worst.
Other than that long-wear lipstick, what is bringing you joy right now? 
I've started meditating quite a bit at work. It's been helpful for staying focused and fully in my creative space. I also started painting with my kids. I'm not very good at it, but it's been relaxing and another way of expressing myself. And, of course, a wonderful way to spend time together. I spend a lot of time outside too; it's always extremely helpful to be in nature.
This interview has been edited and condensed.