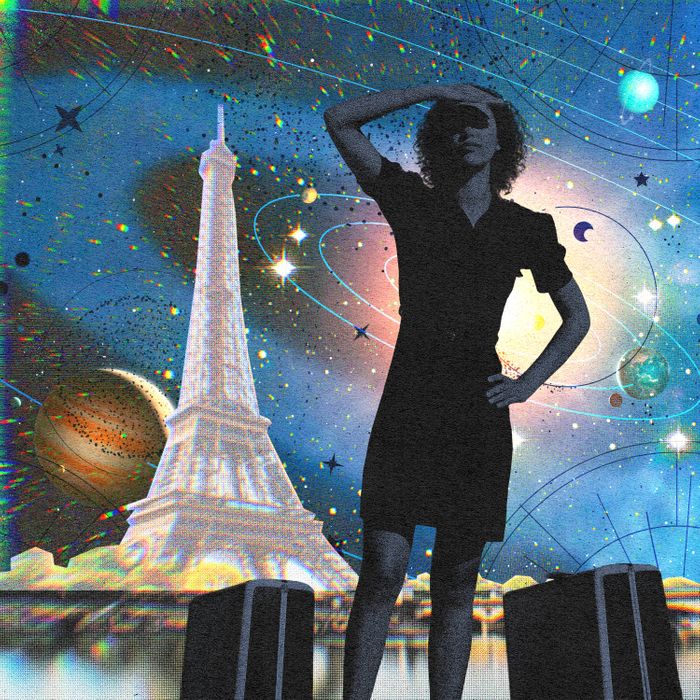 Photo-Illustration: by the Cut; Photos Getty Images
I had given up.
I was forty-three years old, soon to turn forty-four, a single working mother renting a tiny yellow bungalow and barely scraping by in the Pacific Palisades, a quiet but expensive neighborhood in the west side of Los Angeles. After my divorce, I put almost my entire budget toward renting this house so I could be around the corner from my older sister, Tara. She helped with the childcare I could no longer afford. Money was a constant source of worry, one I had to hide from the glittering industry in which I now worked: high-end residential real estate.
Which is why, after my first sale, I used most of the commission to buy a few "essential items" for my new career: one fancy purse, one trendy pair of overpriced sneakers, a leased Audi, and a weekly car wash. I had no choice back then. I needed many more sales than just the one, and fast. My son, Dashiell, was only eight and my daughter, Margot, just eleven when I started selling real estate out of necessity. They depended on me. Blending in as best I could with the sleek agents at my office was critical. As my friend Katie reminded me, "Who in their right mind would list a ten-million-dollar home with an agent driving a mom-mobile and carrying a bag from Forever Twenty-One?" Then there was the problem of my smashed-to-shit heart. Some days I thought heartbreak might, well, break me. That's how much I missed a man named Philippe. And how scared I was about what my near future held. But Philippe first. He was always easier to talk about. Endlessly. To anyone who would still listen. Philippe and I had recently broken up. Again. We'd tried and tried to turn our passionate-but-batshit-crazy love affair into a practical relationship. We were both divorced, both parents. With responsibilities. We knew what this was supposed to look like. And yet.
I thought of him every single day.
But the worst heartbreak of all, far more horrible than my divorce or financial woes or even Philippe, was my beloved father's prognosis. Two years earlier, he'd been diagnosed with a terminal disease, one that steadily ravaged his lungs. His doctors now said he had three months at most to live. My father was the one person in my life who never failed to listen to even my smallest problems and who somehow still believed his daughter could do anything. So when my totally out-there but true-blue best friend Nicole gifted me a reading with a sought-after astrologer for my birthday that October, I thought, Why the fuck not? Whatever else had been guiding me thus far clearly wasn't working. I had never been the kind of person who saw an astrologer. But now, without Philippe and, unimaginably, soon to be without my father, I no longer knew for sure what kind of person I was. Or who I would become.
I met Philippe on the heels of my disastrous divorce. He was handsome, French, tan, and, most of all, fun. A welcome distraction from my newly up-in-flames world, gorgeous Philippe chain-smoked cigarettes, guzzled endless bottles of rosé, and rudely yelled things like "Merde!" and "Putain!" from his white Porsche convertible as he sped down Abbot Kinney Boulevard to his bachelor pad in Venice. Everything about the man felt wrong. Except for his heart. Which is perhaps why I fell so hard for him.
Before I knew it, we were a thing. One night turned into one month, one month turned into one year, and one year turned into half a decade.
As wonderful as our affair was when it began, given Philippe's carefree, joie de vivre lifestyle, it simply wasn't sustainable. After one too many disagreements about where our relationship was heading, I packed my bag and said goodbye. It was one of the hardest things I'd ever done.
"Just so you know, I don't believe in astrology," I told the astrologer when she phoned a few days after my birthday.
"I understand," she said in a calm, all-knowing voice. "You don't have to."
The astrologer, Stephanie Jourdan, was well known in certain circles and had amassed a cultish but discreet following of top celebrities and politicians all over the world. She accepted new clients by referral only and the waiting list ran six months to a year. "Now, let's take a look at your chart," she continued. "When you were born, the Earth, sun, and Pluto were all lined up. This is called a Pluto alien, or a Pluto power alien, in astrology. Pluto rules things like birth, death, sex, and taxes. It rules transformation and mysteries, people who see things that others don't see. It rules shamanism, and it rules power. On your chart, it's in the Eighth House. People who are born with it here mostly die at birth," she said matter-of-factly. "Or at seven and a half, fifteen, twenty-one, or thirty. It's not an easy beginning. But it's a fantastic life once you make it to forty-four. That's when it starts to activate. That's when you get strong and start to reap the benefits of that power. You just turned forty-four, right?"
"Two days ago," I replied, dumbfounded, flashing back to four of the most pivotal moments in my life: almost drowning in a pool at age seven, being expelled from boarding school at fifteen, battling panic attacks and an awful drug addiction at twenty-one, and having an unexpected fight with severe postpartum depression at thirty. Floaty-scarved wingnut astrology lady or not, Stephanie Jourdan suddenly had my full attention.
"Okay, great!" She exclaimed. "So you are in your superpower time now. Fun! Essentially, this is saying that the hard part of your life is over and now your job is not to care what anybody thinks anymore. We call a person with this kind of chart an alien, because you're not like anyone else. You're a Libra, so it's difficult for you to stop comparing yourself to other people, but it's time to stop. You are going to be different from most people. That's just the way it is."
As Stephanie went on to explain the other characteristics of my chart, I found myself hanging on her every word. "You were born when Pluto and Venus were at six degrees," she said. "Venus rules attachment and Pluto rules detachment. This gives you an interesting dynamic of being intensely passionate and all in, then immediately saying, 'This is it, I'm done,' if something doesn't feel right. Does that make sense to you? Do you identify with this?"
"I do," I said. It was the story of all my relationships.
"Now, at age forty-four, you will start to understand the definition of a life partner," Stephanie continued. "How you are meant to go into a relationship as whole and complete, not really needing a partner, but open to sharing your life. To having fun. Now you need to just be out there, making an entrance. You've got a weird chart, and it's great. This is a big, wonderful year for you. There's an adventure on the horizon!"
For sixty minutes I listened in silence as Stephanie gave me great insight into my childhood, my family, my career, my life path. "Is there anything specific you would like to know before we end the session?" she asked.
"Yes," I said sheepishly. "There's a man in my life, someone I just can't get over. Could you maybe look at that?"
"Sure," Stephanie said. "Do you happen to know his birth date and birthplace?"
"Yes, um, let me think …" I racked my brain. I've never been one to remember dates. I traumatized my kids when they were little by repeatedly showing up for parties on the wrong day. Once, very memorably, I was mistaken for a stalker outside Kiss guitarist Paul Stanley's Mulholland estate two weeks before his son's actual birthday.
"November fourth, 1968," I spat out, worried we were running out of time. "Paris, France."
"What's his first name?"
"Philippe."
"Philippe, great. I'm going to assume you don't know his time of birth, so I'll just put in twelve noon." Stephanie went quiet for a few moments, and I could hear her typing away and mumbling a bit to herself. I held my breath, waiting.
"I don't know that this person wants to grow with you," she said reluctantly, giving me details of how our birth charts and planets were not in alignment. Then, finally: "This isn't your guy."
It's hard to describe the tidal wave of emotion that washed over me at that moment. It wasn't relief so much as a mixture of love, sadness, grief, and an immediate sense of letting go. Philippe was not my destiny. Our love story was not written in the stars. It was time to move on.
With my father's condition deteriorating, I knew the next few months would be some of the hardest of my life. And yet, my newfound release from obsessive thinking about what might have been with my ex gave me a sense of hope that I had not felt in years. I bragged about my all-knowing astrologer all around town and walked with a fresh skip in my step.
That is, until Facebook sent me a birthday notification one morning.
Philippe has a birthday today blinked on my phone on my bedside table. I sat for a moment in quiet contemplation, the golden autumn sun filling my room. For the first time in years, seeing Philippe's name did not come with the shock-to-the-system adrenaline rush that I had grown so accustomed to. I tapped on his profile, saw a photo of him drinking margaritas with a cute brunette, and felt nothing. It was official. I was over him.
That's when I saw Friday, November 2, staring back at me.
Philippe's birthday. It was November 2, not November 4.
November. Fucking. Second.
I rushed to my computer and opened a new e-mail, the kettle screaming in the background.
Hi, Stephanie,

I just learned—after our reading—that the man I was asking you about (my ex-boyfriend, Philippe) was born on Nov. 2 in Paris (not Nov. 4 in Paris). Does this change what you would have told me about him? I hope I didn't make a big mistake!

Natasha
Stephanie's assistant (Astrologers have assistants? I thought) e-mailed me back immediately.
Hi, Natasha,

I'm afraid Stephanie is booked solid for the next six months, but if you have a specific question, I can call you with the answer in about three weeks. She charges seven dollars a minute.

Sheri
Seven dollars a minute? That's more than my divorce attorney! I thought, recognizing the absurdity of it all. And yet:
Amazing, thank you, Sheri. Five minutes would be great.
I was stuck in rush-hour traffic on the 405 freeway when I got the call from Stephanie's assistant three weeks later."Hi, Natasha, it's Stephanie Jourdan's assistant, Sheri. Do you have five minutes to chat?"
"Sure," I said, looking at the endless sea of cars in front of me. I could taste the smoke in the air.
"Okay, great. Starting the clock now," she began. She took a deep breath and rustled some papers. "November second, 1968, Paris … ready for this? He's perfect for you!" she exclaimed, her voice bubbling with the pleasure of delivering good celestial news.
"I'm sorry, wh—"
"The time could make a difference," Sheri continued, "but Mars is in the Seventh House, which is your husband. Venus is sixty degrees from the sun—that's a long-term relationship or marriage. And, most important, he's aligned with your point of destiny! This is so exciting! He's perfect for you!"
As Sheri went over the details, I stared ahead at the gridlock, unable to speak.
The next day, I woke up to a missed call from my sister.
"Hey, sis. Dad took a turn last night, and it's not good," Tara said on my voice mail. "He's asked for a family meeting today to discuss his end-of-life options. He's looking into something he calls assisted suicide. And he's obsessing over finding the perfect song to listen to when he pulls the plug. Yeah … I … need help. Call me when you wake up."
Up until that moment, I had done a pretty good job of remaining stoic in the face of my dad's battle with pulmonary fibrosis, a disease that slowly hardens the lung tissue and makes it progressively difficult to breathe until one day, you simply can't. Even after being shown dozens of grim X-rays, consulting with countless doctors, untangling an endless spiderweb of oxygen tubes, and interviewing nearly every hospice nurse in Santa Barbara County, I was in relative denial that my dad was dying. People like my father didn't get sick, and people like my father most certainly didn't die.
But this was it.
End of life.
Assisted suicide.
I sank to the shower floor, gasping for breath, unable to escape the reality of my crumbling world. I curled into a ball and hugged my knees to my chest as water pelted my skin and tears ran down my cheeks. This time, I cried for the loss of not just my father, my rock, but also Philippe, who was apparently my one shot at true love but who was also uninterested in building an adult future. My destiny, as it turned out, was for me to live life alone. I cried and I cried and I cried. I finally pulled myself up, stepped out of the shower, and took a hard look in the mirror. I no longer recognized the woman looking back at me. My eyes were swollen and red, devoid of light and life; my face was gaunt and exhausted. I was gone.
Then, just past my reflection, something caught my attention: a photo of me as a child, tucked behind an endless supply of anti-aging creams and tonics. I picked the photo up and studied it. Age six. Floral dress. Blond pigtails. Bright blue eyes. Tiny Natasha, full of hope. Six was an age when I believed in love, magic, and the infinite possibilities of the Universe. An age when my heart was open, and my imagination soared.
I turned the photo over. In my dad's handwriting, faded but still legible:
Anything can happen, child, anything can be

—Shel Silverstein
That's when it hit me. I texted Nicole.
I just had the most brilliant epiphany! I need to find as many men as possible born in Paris on Nov. 2, 1968. Philippe's not the only one, is he?
Nicole immediately wrote back.
Ha-ha-ha-ha Ha-ha-ha-ha! Perfect! Let's take out an ad.

Me: OMG that's BRILLIANT!!!! YES!!!

Nicole: And then you can write about it, like Stephanie said.

Me: Yeah, sure. I'll call it MY PATHETIC LIFE.

Nicole: No. THE AMAZING AND INCREDIBLE TALE OF HOW NATASHA FOUND HER SOULMATE.

Me: I like the soulmate part

Nicole: We'll have to go to Paris, of course.

Me: YES!!!

Nicole: I love you, Tash.
Adapted from All Signs Point to Paris: A Memoir of Love, Loss, and Destiny by Natasha Sizlo, published by Mariner Books. Copyright © 2022 by Natasha Sizlo. Reprinted courtesy of HarperCollins Publishers