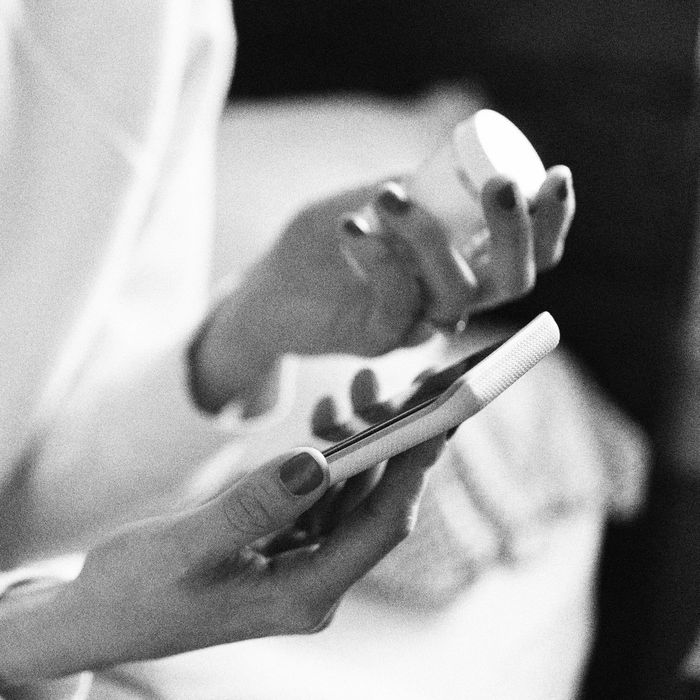 Photo: Jamie Grill/Getty Images/Tetra images RF
A mother and daughter from Norfolk, Nebraska, are facing criminal charges in connection with an alleged self-managed abortion that took place earlier this year. It's a scenario that abortion-rights advocates have long feared, in which social-media activity or other personal data are used to prosecute those seeking care and the people who help them: Police obtained Facebook messages where the two discussed ending the teenager's pregnancy with abortion pills.
The investigation into Jessica and Celeste Burgess began in late April, months before the fall of Roe v. Wade. A Norfolk police detective received a tip that Celeste, then 17 years old, had a stillbirth and that her 41-year-old mother helped her secretly bury the fetus, according to a search-warrant affidavit. (The case was first reported by the Lincoln Journal Star.) Court documents show the detective went on to obtain Celeste's medical records — it's unclear how — and determined that she had been around 28 weeks pregnant at the time.
According to the affidavit, the teen told police in an interview that she unexpectedly had a stillborn baby in the shower during the early hours of April 22, woke up her mother, and then drove north of town with her to bury the body. They had the help of a 22-year-old identified in court records as Tanner Barnhill, who told police that the Burgesses attempted to burn the body before burying it. An autopsy later confirmed the stillbirth.
Court records show the Burgesses were each charged on June 1 with a felony count of removing, concealing, or abandoning a dead human body, as well as two misdemeanor counts of concealing the death of another person and false reporting. But a week later, the detective served a search warrant on Facebook and obtained their chat history. He found messages suggesting that Jessica had obtained abortion pills for Celeste and instructed her on how to take them. "C. Burgess talks about how she can't wait to get the 'thing' out of her body and reaffirms with J. Burgess that they will burn the evidence afterward," the detective wrote in an affidavit.
Then, on June 14, a friend of Celeste contacted the Madison County Attorney's Office to say she had witnessed the teen "take the first of the two pills meant to cause a miscarriage," according to the affidavit. She added that the Burgesses owned several computers in their residence.
As a result of the search warrant, two additional felony charges were brought against Jessica Burgess in July: performing or attempting an abortion at greater than 20 weeks and performing an abortion when not a licensed doctor. Celeste, now 18, is being tried as an adult. Both mother and daughter have pleaded not guilty to the charges, and are due back in court on September 2 and August 29, respectively. Barnhill pleaded no contest to a misdemeanor charge of attempted concealing the death of another person and will be sentenced in late August.
The public defender's office representing Celeste Burgess declined to comment. Jessica Burgess's attorney didn't immediately respond to the Cut's request for comment.
While abortion is highly restricted in Nebraska, and termination after 20 weeks postfertilization is illegal unless the pregnant person's life is at risk, self-managed abortion is not explicitly banned. According to court documents, Jessica Burgess purchased Pregnot — a kit that contains mifepristone and misoprostol — from "an online source." Medication abortion is recommended only up to ten weeks of pregnancy in the U.S., but research has shown that with the right dosage of a mifepristone-misoprostol combination, or misoprostol alone, it can be used to end pregnancies well into the second trimester.
The court documents don't indicate who first tipped off police to the alleged abortion. But according to a new report from If/When/How, a legal-aid network focused on reproductive rights and abortion access, the majority of self-managed abortions are reported to law enforcement by health-care providers (39 percent) or loved ones and other acquaintances who've learned about it (26 percent). Police can also learn about these cases through other means, such as the recovery of fetal remains and 911 calls (18 percent) or reports by social workers (6 percent). The organization says the "trigger" for law enforcement was unknown in 11 percent of cases.
Once someone is turned in to the authorities and a crime is suspected, police have nearly free range to request personal data from tech companies. Even without a court order, law enforcement can easily purchase information ranging from internet search queries to location information from data brokers, putting abortion seekers and anyone who aids them at risk.
The U.S. has a long history of prosecuting pregnant people, even when Roe was in place: Between 2000 and 2020, 61 people were arrested or criminally investigated for allegedly self-managing their abortions, according to If/When/How. Over a third of cases studied in the report ended with a guilty plea or verdict.
In 2015, Purvi Patel was found guilty of feticide and sentenced to 20 years in prison in Indiana, even though she claimed she had a stillbirth. Two years later, Latice Fisher was charged in Mississippi with second-degree murder after having a stillbirth at home. And earlier this spring, following the passage of SB8 in Texas, Lizelle Herrera was arrested and charged with murder over suspicions she had a self-managed abortion. Patel's sentence was overturned a year later, while the charges against Fisher and Herrera were dropped. Now that abortion is likely to be banned in more than half of the country, and laws criminalizing it are set to become even more punitive, the case of Jessica and Celeste Burgess feels like a harbinger of what's to come for abortion seekers in hostile states.
This story has been updated.