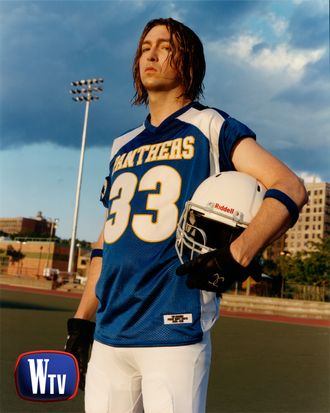 Two sex symbols, united as one.
Photo: Lea Winkler/ W Magazine
What do you see in this photo? Is it beloved football hunk Tim Riggins of Friday Night Lights? Look again. Would you believe me if I told you it's actually Nicholas Braun, a.k.a. Succession's Cousin Greg and soon-to-be sandwich mogul?
It appears that Braun, who has managed to fashion himself into a sex symbol while playing one of TV's least sexy characters, was asked to dress up as his favorite TV character for W's TV Portfolio. Naturally, he picked Tim Riggins. Even though Braun's appeal is more "quirky tall guy who can pull off Crocs" than "troubled lead of a teen soap," he is not exactly wrong to cosplay as one of TV's most lusted-after characters. Still, there is something unsettling about this mash-up. I would much rather see Jesse Plemons and Kirsten Dunst dress up as Shiv and Tom, but that's just me.
When asked if he ever aspired to a Riggins-esque role, Braun said, "I would never get cast as that guy. A lot of it is the look — you gotta have a strong jaw line and great, long hair and a big, muscular bod." As always, the man knows his strengths. In fact, Braun's assessment of his own football history might even make him more appealing. According to his account, he played the sport for three days during his freshman year of high school but quit after being tackled proved about as painful as it looks. "I was like, 'Oh, fuck this,'" he recalled. "Putting pads on took me, like, 30 minutes." A practical king.