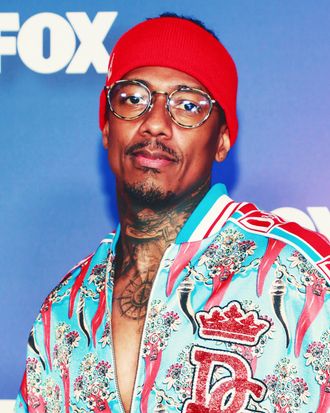 Photo: Jason Mendez/WireImage
It has been less than a month since we've heard news of Nick Cannon's sperm, which means it's high time for an update. And boy, has he delivered. Astoundingly, Cannon announced via Instagram that he is expecting yet another child — his third with model Brittany Bell.
Cannon posted what appear to be outtakes from a pregnancy shoot with Bell, writing in the caption, "Time Stopped and This Happened…"
I do believe time works differently for Cannon, who has managed to conceive no fewer than six babies in the past two years. His announcement comes two months after the arrival of Legendary, his baby with Bre Tiesi. Featured in the video were Cannon and Bell's two other children: 1-year-old Powerful Queen and 4-year-old Golden. I refuse to believe he has this much time and sperm.
In case you do not currently have access to your Google spreadsheet tracking Cannon's offspring, let me fill in the gaps. Aside from his kids with Tiesi and Bell, he has two sets of twins: Roc and Roe (with Mariah Carey) and Zillion Heir and Zion Mixolydian (with Abby De La Rosa, who's rumored to be carrying a third child with him). Cannon and Alyssa Scott lost a 5-month-old son, Zen, in December.
While Cannon claims to have briefly considered both celibacy and a vasectomy, something tells me he's not planning on stopping anytime soon. Maybe he's pitching a Masked Singer season in which all the contestants are his kids? I'd watch.