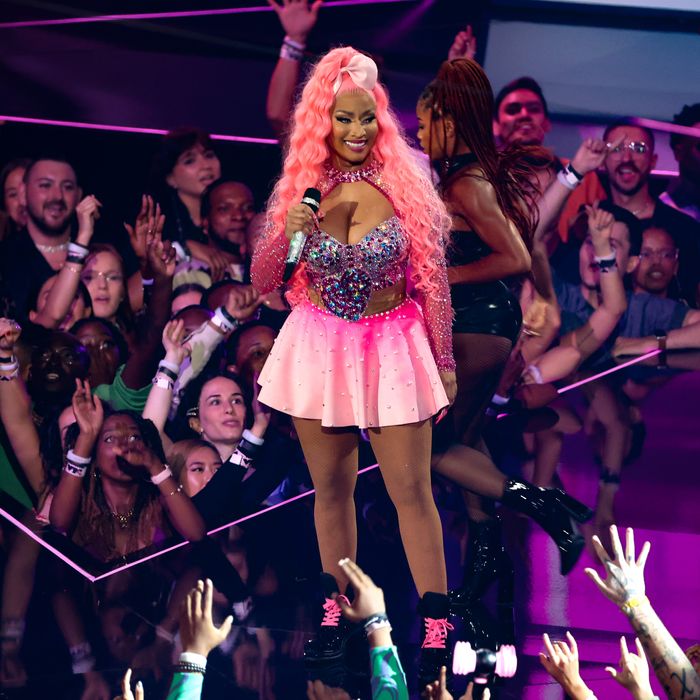 Photo: Arturo Holmes/Getty Images
First the Met Gala, now the MTV Video Music Awards: Nicki Minaj is back, Barbs. The rapper accepted the 2022 MTV Video Vanguard Award (formerly known as the Michael Jackson Video Vanguard Award) on Sunday after a lengthy performance of hits, culminating in her new single, "Super Freaky Girl," which just became her first solo Billboard No. 1.
Minaj's medley of her greatest hits blazed through "All Things Go," "Roman's Revenge," "Monster," "Beez in the Trap," "Chun-Li," "Moment 4 Life," "Super Bass," and "Anaconda." The crowd loved it — even Taylor Swift was caught mouthing the words to "Super Bass." Minaj's performance took her through multiple set pieces, including one particularly odd setup that involved her rapping in front of a woman who was tied up and gagged.
The rapper accepted the award from a group of fans, and thanked all of the rappers who inspired her as well as the artists who collaborated with her over the years, including Kanye West, Beyoncé, Britney Spears, Madonna, and Rihanna. She then went on to give a shout-out to Whitney Houston and Michael Jackson, saying, "I wish that Whitney Houston and Michael Jackson were here. I wish that people understood what they meant and what they were going through. I wish people took mental health seriously, even for people you think have the perfect lives." Minaj then thanked "all the artists, producers, and writers who have contributed to any of my projects," as well as those who invited her to feature on their songs. She ended her speech with a special shout-out to her son, whom she calls Papa Bear: "Mommy loves you so much!" Minaj returned to the stage later in the show to fulfill her much-hyped emcee duties.
Minaj's appearance is not without controversy. The rapper has been accused of harassing the woman who says Minaj's husband, Kenneth Penny, raped her in 1994. Minaj has denied the allegations.