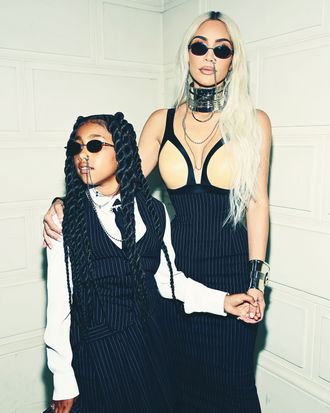 Photo: Pascal Le Segretain/Getty Images
I hope the Skkn cleanser is as good at removing makeup as it claims because Kim Kardashian's going to need some serious scrubbing after North West turned her mother into a Minion on TikTok. Between painting Kim banana yellow in front of the whole world and insulting her haunted house, North sure knows how to check her famous mom.
The mother-daughter duo hopped on the TikTok trend in which users turn themselves (or their boyfriends, their siblings, and even their children) into Minions. You know, the weird yellow creatures that have somehow become a global sensation with their own movie franchise. JoJo Siwa did it, and it has become so popular that user @braeden.obrien created Instagram and TikTok filters to turn anyone into a Minion. As with any trend, the Kardashians had to add their own spin.
In the short clip uploaded to Kim and North's joint TikTok account (@kimandnorth), North uses her expert makeup skills to turn her mom into "MOMMY MINION." First, she coats her mom's face in concealer as a base. Then it looks like she covers her mother in yellow eyeshadow before painting black goggle outlines on her eyes and finishing off the whole look with blue lips. It's honestly not the most startling look Kim K's ever worn.
This isn't the first time North has completely transformed her mother's look on TikTok. As a budding special-effects makeup artist, she previously turned her mother into some kind of demon. "North is really into special-effects makeup, and she's really good at it," Kim previously told Allure, adding that her 9-year-old is so talented she accidentally made a housekeeper think there had been a murder in a home they were renting at the time. "She decided not only to prank me, and do [bloody makeup] on her and Chicago, but she made the whole room look like a murder scene. I cleaned up the kids, but I was really too tired to clean the whole room," she recounted. "The housekeeper came and tried to call the authorities and called the homeowner thinking that it was a full, real murder scene, and I had to let them know that it was completely just a prank and my kids were doing special-effects makeup." Absolutely despicable behavior.