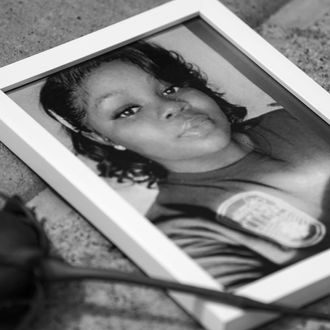 Photo: Leigh Vogel/Getty Images for Frontline Actio
More than two years after Breonna Taylor's death, the current and former police officers involved in the incident now face federal charges. The long-awaited development, which was announced by U.S. Attorney General Merrick Garland at a press conference on Thursday, comes after an in-depth investigation that alleges the Louisville cops lied to get a search warrant and later, after the botched raid on Taylor's apartment, created a false cover story.
Taylor's death sparked national outrage after details emerged that the 26-year-old EMT and her boyfriend were lying in bed when the officers busted down her apartment door, supposedly to investigate her ties to a drug dealer, even though the case's main suspect had already been arrested. They shot more than 30 rounds, leaving Taylor dead on her hallway floor and fueling a wave of protests against racist police brutality.
Six months after the tragedy, a Kentucky grand jury decided none of the officers should face charges directly related to Taylor's death. Now, the federal indictments fill in yet more alleged details of the injustice: Two of the men, officer Joshua Jaynes and former detective Kelly Goodlett, are accused of using a false affidavit to get a search warrant for Taylor's home, despite having no probable cause to do so. Prosecutors say they then met in a garage and fabricated a story to evade responsibility. Along with officer Kyle Meany, they are accused of violating Taylor's Fourth Amendment rights by pursuing the raid on false grounds.
Brett Hankison, the officer who shot ten rounds through a window and glass door in Taylor's home and was recently exonerated on charges that he endangered her neighbors, will now face a two-count federal indictment for use of "unconstitutional excessive force."
In a previous interview with the Cut, Taylor's mom, Tamika Palmer, described her daughter as someone who "loved life" and "lit up a room." "She did everything right," Palmer said. "She always wanted to do anything that would help her be a better friend, a daughter, a girlfriend. I was definitely in awe of her."
"We share, but we cannot fully imagine, the grief felt by Breonna Taylor's loved ones and all of those affected by the events of March 13, 2020," Garland said on Thursday, adding, "Breonna Taylor should be alive today."