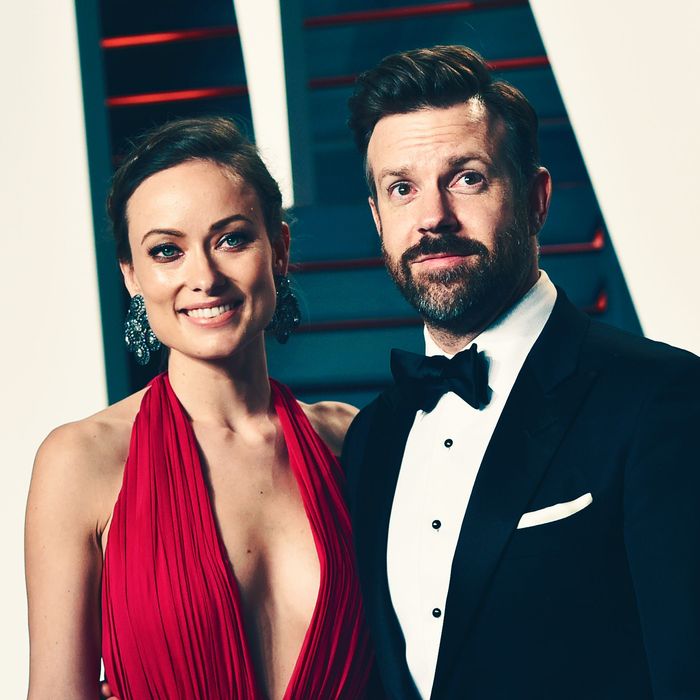 Photo: John Shearer/Getty Images
Months ago, Olivia Wilde made headlines after she was slipped a mysterious yellow envelope marked "Personal and Confidential" during a presentation at CinemaCon for her new movie, Don't Worry Darling. The actor-director hasn't spoken about the incident publicly, but new court documents confirm initial reports that the envelope was full of court documents relating to her ex, Jason Sudeikis, and their ongoing custody battle.
After the April 26 incident, a representative for Sudeikis, who shares two children with Wilde — Otis, 8, and Daisy, 5, confirmed the contents of the envelope, telling Deadline that the actor "had no prior knowledge" of how the papers would be served. The statement continued, insisting that the actor "would never condone her being served in such an inappropriate manner." But new filings obtained by the Daily Mail suggest Wilde isn't buying it. "Jason's actions were clearly intended to threaten me and catch me off guard. He could have served me discreetly, but instead he chose to serve me in the most aggressive manner possible," she said in the documents. She added, "The fact that Jason would embarrass me professionally and put our personal conflict on public display in this manner is extremely contrary to our children's best interests."
According to the new court documents, Sudeikis initially filed for custody in New York after a disagreement on where their family would be based in the coming years. While the former couple had been successfully co-parenting while splitting time between Los Angeles, London (where Ted Lasso films and Wilde's boyfriend, Harry Styles, lives), and New York, Sudeikis claims that he wanted to relocate to New York after Ted Lasso concluded filming, but Wilde wanted to stay based in Los Angeles. "For better or worse, I am a New Yorker," Sudeikis reportedly wrote in his filings, noting that he wanted to make New York his permanent home. "First, Olivia said that if I did not reside full-time in Los Angeles, she would allow me to spend time with Otis and Daisy on weekends and during vacation periods — thus depriving me of my right to parent the children during important periods of their lives," he said. "Second, Olivia said that she intended to relocate with the children to London following the close of school in 2023."
Wilde reportedly takes issue with Sudeikis's plan to move the kids to New York City. She filed her own petition for custody in L.A. and asked the courts to dismiss Sudeikis's case in New York, writing in her court filing that she "did not agree, since the children have not lived in New York for several years." She also implied that she had hoped to keep this matter out of the courts entirely. "Since Jason has made it clear that we will not be able to work this out for our children's sake outside of the court system, I filed a petition for custody in Los Angeles."
As for the CinemaCon incident, Sudeikis has continued to deny intentionally having them delivered to Wilde there. "I did not want service to take place at the home of Olivia's current partner because Otis and Daisy might be present. I did not want service to take place at the school because parents might be present," he said in the filings. According to the documents, the process server attempted to deliver the documents to Wilde at Heathrow Airport, and then later at her hotel in Las Vegas, where she was staying for CinemaCon. Sudeikis claims that the process server then decided to deliver the papers at the event. (As many have pointed out, CinemaCon is a closed gathering, and all attendees were required to have CinemaCon credentials.) "I deeply regret what happened. Olivia's talk was an important event for Olivia, both professionally and personally, and I am very, very sorry that the incident marred her special moment," he said.
A legal filing reported by "Page Six" shows a court hearing in July determined that the children resided in Los Angeles and that "New York does not have the jurisdiction to hear the custody petitions as New York is not the home state of the subject children." The New York case has reportedly been dismissed, and the custody case will likely continue in L.A.
This post has been updated.