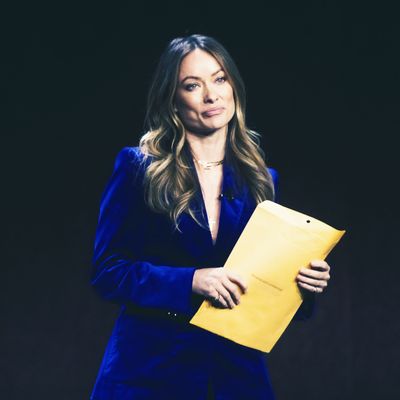 Photo: Greg Doherty/Getty Images
In April, Olivia Wilde was slipped a manila envelope labeled "Personal and Confidential" while onstage promoting her new film Don't Worry Darling at CinemaCon. The incident, quickly reported to have been part of a custody battle between Wilde and her ex-fiancé Jason Sudeikis, surprised many — especially fans of Ted Lasso and Sudeikis's nice-guy, aw-shucks persona. But one person it didn't surprise was Wilde herself.
"Sadly, it was not something that was entirely surprising to me. I mean, there's a reason I left that relationship," Wilde said in a new interview with Variety. This is the first time the actress and director has spoken about the incident publicly, though she previously addressed it in legal documents accusing Sudeikis of trying to "threaten" her by serving her papers at CinemaCon — a closed work event where filmmakers and studios essentially sell their movies to theater owners. This was one of the first times Wilde has spoken explicitly about her split with Sudeikis, which she told Variety was "a decision that was for my own health and happiness."
In fact, neither she nor Sudeikis has said much about their breakup since Sudeikis officially confirmed it in a 2021 interview with GQ. At the time, he said that the two had officially gone their separate ways in November 2020 but didn't elaborate. Everything between them seemed mostly amicable until CinemaCon, which made the incident there all the more shocking.
For Sudeikis's part, he has denied having any knowledge of the process server's plans, saying in a statement that he "would never condone her being served in such an inappropriate manner." But Wilde clearly has her doubts. "In any other workplace, it would be seen as an attack. It was really upsetting," she told Variety. "There was a huge breach in security, which is really scary. The hurdles that you had to jump through to get into that room with several badges, plus special COVID tests that had to be taken days in advance, which gave you wristbands that were necessary to gain access to the event — this was something that required forethought."
Wilde and Sudeikis are in the midst of a court battle to determine custody of their two children, Otis and Daisy, who have been splitting time between London — where Sudeikis films Ted Lasso and Wilde lives part time with her boyfriend, Harry Styles — and Los Angeles. According to legal filings published by the Daily Mail, Sudeikis wanted to relocate the children to New York after he wrapped on Ted Lasso, but Wilde objected, leading him to file for custody and resulting in the CinemaCon debacle. "The only people who suffered were my kids, because they'll have to see that, and they shouldn't ever have to know that happened," Wilde continued in the Variety interview. "For me, it was appalling, but the victims were an 8- and 5-year-old, and that's really sad."
A judge recently dismissed Sudeikis's petition for custody in New York City, moving the case to California, where Wilde filed a separate petition in response.