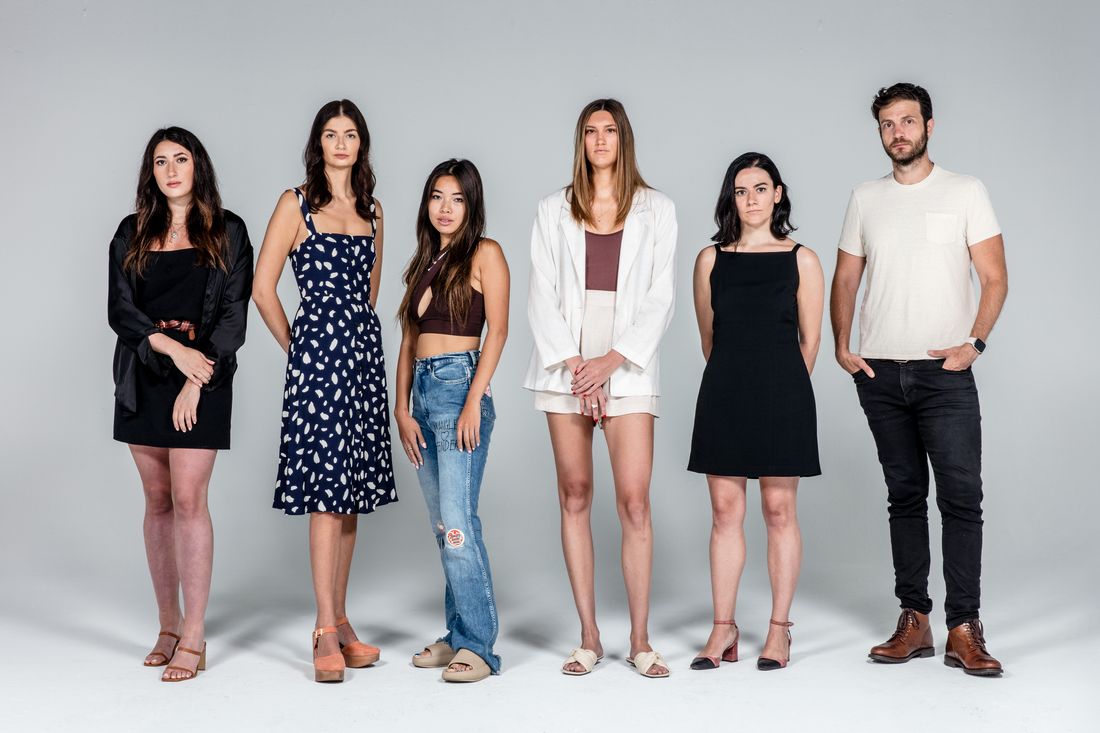 From left, Lauren, Taylor K., Ellery, Taylor B., Morgan, and Jeremy.
Photo: Stefan Ruiz
Imagine that a group of people you've met on dating apps over the years were to gather in one room, make idle chitchat, then talk to a reporter about you. What would they say? What patterns might be revealed? Jeremy Jacobowitz, a 35-year-old TV producer turned food influencer who runs an Instagram account called Brunch Boys, decided he'd be willing to find out. By his estimate, he has met around 50 women from the apps over the past ten years. Of those women, five agreed to meet him again in New York, while five others opted to weigh in from afar.
Most of these app dates followed a similar arc. "My rule is always 'Let's just get drinks,' " Jacobowitz said. "If it's terrible, you just get out of there." The location tended to be one of a handful of his regular bars — partly out of laziness, partly to quell his social anxiety. "For most of my life, I was very overweight and I didn't know how to speak to women," he says. "The apps allowed me to practice and see what works." For the most part, these interactions fizzled out after one date.
When asked to recall Jacobowitz, some of the women from his past couldn't go beyond generalities. "I really do not remember his profile," admitted Taylor K. of their Bumble date a year ago. "I looked him up to remember him for this, and there was one picture where I was like, Oh, I've seen that one." Others recall him as a bit self-absorbed: "The thing I remember the most is that over the course of three hours, he did not ask me a single question," said Morgan, a match from 2015. ("I don't want these dates to feel like we're just quizzing each other," Jacobowitz said in response to this. "If I'm racking my brain like, Oh God, what should I ask this girl next?, that's not natural.") Still, the women reported that overall Jacobowitz seemed like a nice guy. Julia, who matched with him in 2020, told me that, among her track record of dates in New York City, he was remembered as "more of a positive one."
Taylor K. felt excited to meet the other matches. "You're assuming there must be at least a thread in common. It was a great networking event for us," she said. Jacobowitz, however, was on edge. "What made me anxious was that I just don't remember these dates, you know what I mean?" he told me. Morgan said that when she walked in, "I saw him, and I could tell by the blank look on his face he had no clue who I was." She described the photo shoot as "just a few really hot girls in a room and silence." Reflecting on the reunion, Jacobowitz said, "It was fun! For me. Hopefully everyone else enjoyed it."
Hinge prompts:
The dorkiest thing about me is: I'm a Simpsons nerd.
The one thing I'd love to know about you is: What sushi roll are you ordering?
Let's make sure we're on the same page about: Rainbow bagels are stupid.
Apps he uses: Hinge, Bumble, Raya, Lox Club
Instagram followers: 432,000
Years on the apps: 10
Number of matches: More than 100
Longest relationship from the apps: 3 months
Meet His Dates
Lauren, 28, brand marketer
Matched in 2021
"Our date was a good time, but I called an Uber from the bar. He was nice and waited with me for my car to arrive. I think he picked up that I wasn't interested, so there wasn't any texting after that."
Taylor K., 29, TV producer
Matched in 2021
"It wasn't the most memorable date. But it's not so bad to be unmemorable — the memorable dates are either Oh my God, we're falling in love or so bad that you tell your friends about them for years to come."
Ellery, 23, content creator
Matched in 2017
"When the bar was closing, he stood up and I was like, Wow, he's tall. We just went out that one time. I didn't mind the age difference because I'm obviously into older guys."
Taylor B., 27, marketer at a fashion-rental company
Matched in 2022
"We ended up seeing each other a few months. I was dating to find something serious, and I just wasn't feeling pursued. A couple weeks after we last went out to dinner, he texted me something along the lines of, 'Hey, I don't feel like this is at the point where it should be, after we've been getting to know each other.' I hadn't planned on saying anything because it did seem like a very natural drifting apart, but it was a nice gesture."
Morgan, 27, brand and communications consultant
Matched in 2015
"I remember thinking, Wow, he's tall. He was sweating profusely. The other thing I remember is that he had worked with Bobby Flay in some capacity and really loved him, so for the week after the date, I referred to him as 'Bobby Flay' to my friends."
Jacki, 35, former reality-show cast member
Matched in 2018 "We just got cocktails. I was a little disappointed because he's supposed to be this big foodie, so I was hoping he'd order some food. But we had a great conversation about content creation, and he gave me a lot of advice. He kissed me at the end, then I just never heard from him in a romantic capacity again."
Julia, 28, music-industry marketer
Matched in 2020
"I definitely felt chemistry; we saw each other a few times. A lot of what we talked about had to do with his career. There was one incident where we were having a conversation about something and he asked my opinion. And then a couple days later, he made an Instagram video about that topic. I have no hard feelings, but I think he should go in with a bit more curiosity about the other person."
Julie, 35, cake designer
Matched in 2014
"We went to this place in the East Village and talked food — I had a restaurant at that point. I don't think either of us asked the other out again, but we've ended up working together on a handful of occasions."
Arielle, 25, journalist
Matched in 2022
"We met on Raya but never actually went out. If he reaches out, I'd be happy to go on a date with him."
Caitlyn, 31, modeling agent
Matched in 2021
"After matching on Tinder, we tried to meet up, and I was like, 'Oh, sorry, conflict.' I'm sure he felt like I was blowing him off, but that wasn't the case."