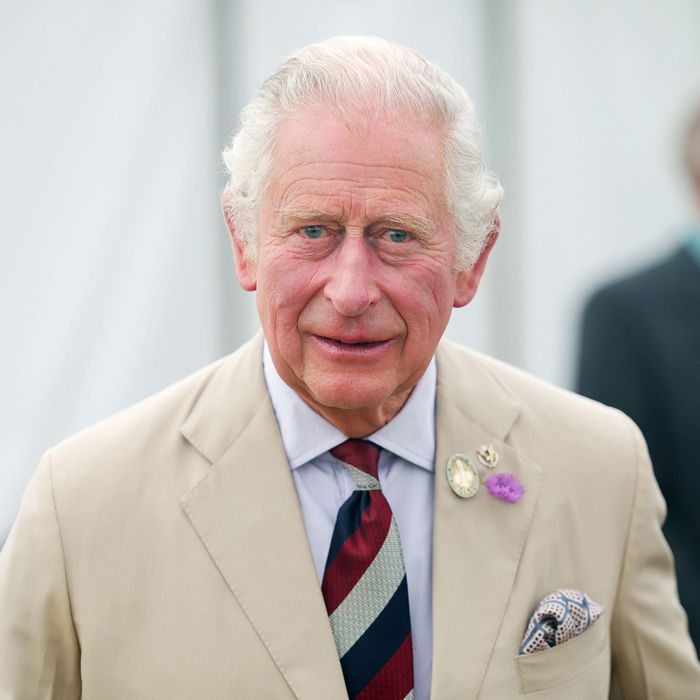 Prince Charles.
Photo: Chris Jackson/Getty Images
"Prince of pegging"? Probably not. Prince of gratuitously suspicious financial transactions? Apologies to the perv Prince Andrew: Charles has stolen that crown. Britain's future king has apparently been wheeling and dealing in a reckless manner, according to a new report from the Sunday Times, entitled "Prince Charles accepted £1 million from family of Osama bin Laden." This news comes mere weeks after the same paper announced that Charles personally accepted suitcases full of cash from a foreign dignitary, and raises a pertinent question: "Why would you do this?", as one source framed it to the Times.
According to the new report, Charles thought it would be "too embarrassing" to return the money, even though certain people close to him encouraged that solution. In Charles's defense, none of these payments went to him, personally, but to the Prince of Wales' Charitable Fund; the bin Laden donation, specifically, came from two of the Al Qaeda founder's half-brothers in 2013, almost two full decades after Osama bin Laden was disowned by his family, according to the BBC. Charles reportedly accepted the money from Bakr and Shafiq bin Laden after meeting with the former at Clarence House, which now insists the PWCF did "thorough due diligence" before its trustees approved the donation, and "any attempt to characterize it otherwise is false." A PWCF source told BBC royal correspondent Jonny Dymond that "the sins of the father" — which is to say, the half-brother — shouldn't disqualify Bakr and Shafiq from making a sizable donation to the Prince of Wales' Charitable Fund if they want to, geez.
And sure, I guess, but then there is the whole "bags full of bank notes" thing. In June, the Times reported that in 2015, Sheikh Hamad bin Jassim bin Jaber Al Thani — formerly the prime minister of Qatar — handed Charles bags crammed with €1 million on three separate occasions. These gifts were also earmarked for the PWCF, but more importantly, what kind of bags are we talking here? "One time the money was stuffed into plastic shopping bags from the luxury Chelsea grocer and department store Fortnum & Mason, which holds a royal charter from the prince," the Daily Beast explains. "Another time the money was in a suitcase, and the third time it was in a holdall," i.e., a duffel. The Daily Beast also notes that the payments had been portioned out in €500 bills, "sometimes dubbed 'bin Ladens' because of their use by terrorist-linked organized crime gangs." Personally, I don't know what to make of this association, which seems like an attempt to add a salacious layer to a series of transactions that needed no help in that department.
In any case, a Clarence House spokesperson insisted that the cash was "passed immediately to one of the prince's charities who carried out the appropriate covenants and assured us that all the correct processes were followed." At this point, though, I think it would be reasonable to wonder what the PWCF does and why so many political figures want to throw money at it? According to the fund's website, the "mission is to transform lives and build sustainable communities by awarding grants to a wide range of good causes within our core funding themes: Heritage & Conservation, Education, Health & Wellbeing, Social Inclusion, Environment and Countryside." Some examples include COVID aid, hospice care, suicide prevention, and environmental initiatives. (Prince Charles loves plants!) Does that answer your questions?