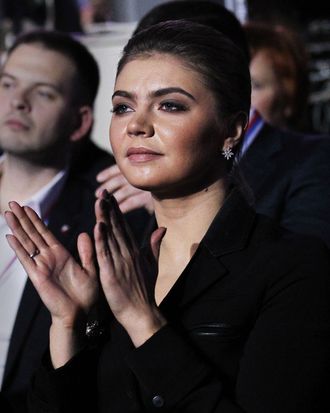 Alina Kabaeva, Putin's alleged girlfriend.
Photo: Sasha Mordovets/Getty Images
Alina Kabaeva, 38, wears many hats. She is among the most decorated rhythmic gymnasts in the sport's history. She's a politician, having previously served as a deputy in the Russian Federal Assembly's lower house. In 2014, she was appointed chair of a Russian media group linked to pro-government programming. She's been on the cover of Russian Vogue. Also, she's the alleged girlfriend of Russian president Vladimir Putin.
Amid the war in Ukraine, the U.S. and its allies have imposed personal sanctions on Putin, some people in his inner circle, and certain members of his family, including his two adult daughters. However, in April, the U.S. made a last-minute decision to spare Kabaeva from these sanctions, which effectively cut those named from U.S. financial systems, freezing any assets they hold here. According to The Wall Street Journal, some officials say that decision was made to avoid escalating tensions between Russia and the U.S., since sanctioning Kabaeva would be "so personal a blow" to Putin.
At the time, White House press secretary Jen Psaki responded to questions about why Kabaeva was not on the initial list. "No one is safe from our sanctions," she said. "There's more we will likely do." And in August, the U.S. Treasury Department officially announced sanctions on Kabaeva. While much is still uncertain about her and her relationship to Putin, here's what we know.
She was first photographed with Putin when she was 18.
Before retiring from gymnastics in 2007, Kabaeva won two Olympic medals for Russia along with dozens of world-championship and European-championship titles. Despite a doping scandal in 2001 — she tested positive for a banned diuretic and was barred from competition for one year — Kabaeva has been revered for her extreme flexibility. Her romantic relationship with Putin is rumored to have started around the time she retired from gymnastics. She was about 25 years old, and he would have been around 55.
However, according to the Journal, the two had met years before. Kabaeva first appeared on the Kremlin's website in 2001, when she was photographed alongside Putin during a sports event. Kabaeva would have been 18 at the time.
The Kremlin has long denied their alleged relationship.
Despite their long history and the fact that Kabaeva is believed to be the mother of at least three of Putin's children, the Kremlin has continuously denied that she has any romantic relationship with Putin. In 2008, a Russian tabloid claimed Putin was leaving his wife, Lyudmila Aleksandrovna Ocheretnaya, to marry Kabaeva. The president vehemently denied the rumors. "I have always reacted negatively to those who with their snotty noses and erotic fantasies prowl into others' lives," he said. Shortly after, the newspaper was temporarily shuttered.
In 2014, Putin and Ocheretnaya announced their divorce after 30 years of marriage, which Putin said was a "joint decision." It's unclear where Ocheretnaya, who is the mother of Putin's aforementioned adult daughters, is currently located.
Putin is notoriously quiet about his private life and has said little if anything about Kabaeva publicly, aside from denying their relationship. Adding to the confusion, Kabaeva has been secretive about her own personal life, temporarily "disappearing" in 2020 after allegedly giving birth to twin boys, of whom Putin is believed to be the father.
Some officials believe Putin is using Kabaeva to hide money.
"Putin and many of his cronies and the oligarchs hide their wealth, hide their assets with family members," an anonymous official in the Biden administration told the Washington Post. Kabaeva has been linked to Putin's money in the public record and in at least two U.S. government documents. In 2013, Kabaeva's grandmother reportedly gained ownership of property in one of Russia's most expensive neighborhoods. Kabaeva was named a beneficiary of Putin in a U.S. intelligence report that investigated Russia's alleged interference in the 2016 election, according to the Post. A January bill, meant to urge Putin to not invade Ukraine, also named Kabaeva, calling for a report "on the estimated net worth and known sources of income of Vladimir Putin and his family members, as well as of Alina Kabaeva."
Kabaeva was sanctioned in August.
Putin is rumored to be hiding Kabaeva and her children in Switzerland, though that is unconfirmed. But her unknown whereabouts did not stop the U.S. from finally sanctioning her on August 2 for "being or having been a leader, official, senior executive officer, or member of the board of directors of the Government of the Russian Federation," per CNN. A statement from the U.S. Treasury Department identified her as the "current head of the National Media Group, a pro-Kremlin empire of television, radio, and print organizations" and noted her "close relationship to Putin." Kabaeva was previously sanctioned by the U.K. in May and the E.U. in June.
Kabaeva is one of a handful of Putin allies to receive sanctions this week. Others include Andrey Grigoryevich Guryev, an oligarch who reportedly owns the second-largest estate in London after Buckingham Palace, Guryev's son, and businessman Viktor Filippovich Rashnikov, who was previously sanctioned by Australia, Canada, the E.U., Switzerland, and the U.K.
This post has been updated.