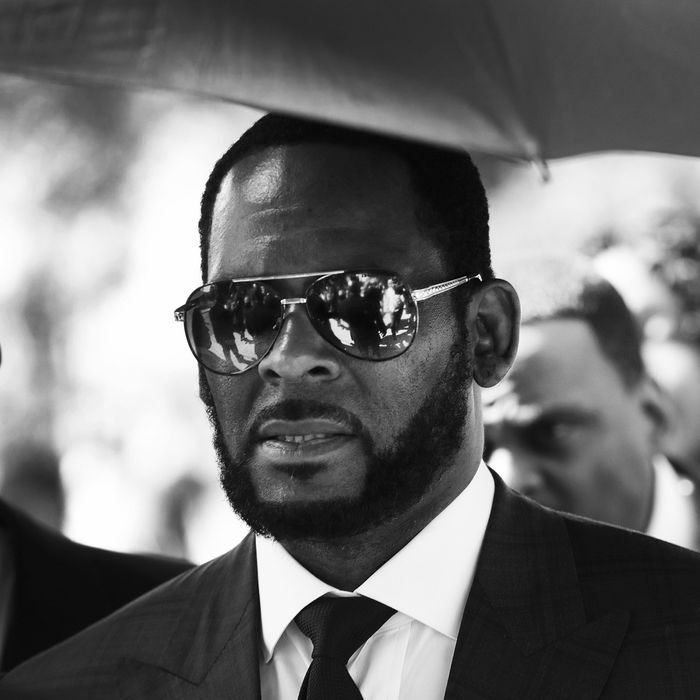 R. Kelly
Photo: Scott Olson/Getty Images
R. Kelly, who has just been handed a 30-year prison sentence for crimes including sex trafficking and racketeering, is apparently engaged to one of the women he allegedly abused. TMZ reports that Joycelyn Savage submitted an unsigned letter to Judge Ann Donnelly ahead of the singer's sentencing, identifying herself as "Robert Kelly's fiancé [sic] " and asking for leniency. Savage has since claimed to be pregnant with Kelly's child.
"I'm not the victim the government has portrayed me to be," Savage wrote, and "Robert is not the monster that the government has described him to be. The Robert I know is very sweet, gentle, and kind. At the end of the day, he has always made sure that I'm taken care of, and any other women he was with as well."
A month after the letter went public, Savage reportedly claimed that she was pregnant with the singer's baby. In an excerpt from her self-published memoir, as reported by TMZ, she revealed that she was expecting. "I thought I had contracted COVID-19, but the most amazing news of all was that I was expecting," she wrote, according to Complex. "Robert is extremely excited about the news that I am having a baby and feels sad that Robert will not be ab here with us."
Kelly's lawyer, Jennifer Bonjean, has denied the news, telling TMZ that Savage "is certainly not pregnant with R. Kelly's child." She also dismissed Savage's book, reportedly saying, "people are just insane."
Through their attorney, Gerald Griggs, Savage's parents said they didn't know anything about the would-be marriage and that the family "strongly doubts" it's real. Responding to the news of their daughter's possible pregnancy, a lawyer for Savage's parents had no comment. But then Savage doesn't often speak to her parents anymore — and hasn't since she dropped out of college at 19 to live with Kelly. She reportedly met him backstage at one of his concerts in 2015.
Savage was one of two women to sit for a 2019 interview with Gayle King, in which they claimed to be Kelly's live-in girlfriends and defended him against allegations of sexual abuse. After his conviction, the other woman, Azriel Clary, said the singer "coached" their responses. She explained that she went along with it because she was scared: Kelly was sitting nearby, watching the taping. Meanwhile, in their own interview with King, Savage's parents said they believed she had been "brainwashed," a claim they also made in the Lifetime documentary Surviving R. Kelly. Savage, however, still stands behind him. "Robert and I are deeply in love and it breaks my heart that the government has created a narrative that I'm a victim. I'm a grown woman, and can speak for myself," the letter reads. "My relationship with Robert is amazing. He's the best thing that's ever happened to me. We have a very special connection and are deeply in love. I still support Robert to this day because I love him and will always be here to support him."
Meanwhile, dozens of women say that Kelly imprisoned, coerced, raped, and threatened them. On top of his three-decade prison sentence, he will soon stand trial in Chicago on federal child pornography and obstruction charges.
This post has been updated.