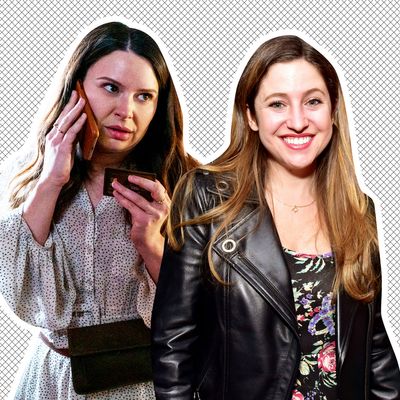 Photo-Illustration: by The Cut; Photos: Getty Images, Nicole Rivelli/Netflix
Though Inventing Anna, Netflix's adaptation of a New York story about the high-flying scams of fake German heiress Anna Delvey (born Anna Sorokin) came out months ago, the show is still apparently ruffling feathers. On Monday, Rachel DeLoache Williams — an ex-friend of Delvey's who alleged that she had been cornered into footing the bill for an exorbitant Morocco vacation — filed a defamation lawsuit against Netflix for her depiction in the series. "We had to file the case because Netflix used Rachel's real name and biographical details, and made her out to be a horrible person, which she is not," Williams's lawyer told People. 
According to a 2018 essay Williams wrote for Vanity Fair, the two became fast friends after meeting in 2016. "She walked into my life in Gucci sandals and Celine glasses, and showed me a glamorous, frictionless world of hotel living and Le Coucou dinners and infrared saunas and Moroccan vacations," Williams wrote. "As an added bonus, she paid for everything." But their friendship soon deteriorated after Delvey invited Williams on a Moroccan vacation and allegedly stuck her with a $62,000 bill. Williams later cooperated with law enforcement in the sting operation that led to Delvey's 2017 arrest. Delvey was later found guilty on eight charges, including attempted grand larceny — though the jury in her trial didn't find her guilty of stealing from Williams.
The dramatic relationship, from private fitness classes to post-Marrakesh arrest, was all chronicled in the Netflix series. Per People, Williams is refuting much of her dramatic portrayal, including her character making derogatory comments about one of Delvey's friends portrayed in the series, lying about her involvement in Delvey's arrest, abandoning Delvey in Morocco and ending their friendship once it became clear Delvey could no longer foot extravagant bills. Williams — who published a book in 2019 about her experiences with Delvey and optioned the story to HBO — claims Netflix retaliated against her for the HBO deal by neglecting to conceal her identity and showing her "doing or saying things … which portray her as a greedy, snobbish, disloyal, dishonest, cowardly, manipulative and opportunistic person." (Netflix did not respond to the Cut's request for comment).
Williams has voiced her frustrations with the series since it premiered in February, telling interviewers the show was "dangerous" for glamorizing Delvey's crimes and financially rewarding her for them, leading to Instagram beef between the two women earlier this year. Katie Lowes, who portrayed Williams in the series, has spoken to the dissonance between real-life Williams and her fictionalized counterpart. The character she plays is "young, naïve, and had a privileged life," she told Vulture. "I don't think this is necessarily true of Rachel Williams in real life; I think this is true of the character."